"Don't die with the music still in you."
We all have everything we need within us, and the only thing that stops us are the stories we tell ourselves. Once you are able to move beyond the story, you can go do it. Go live it, go experience it, go be it. 
In this episode, I chat with Lisa Winneke, host of the Good News Guide. From her platform she shares information, ideas, and concepts to connect others with information to expand our minds and connect us with our hearts. Her inspiration and her WHY is to support people in reconnecting with the immense power that resides within them and from this place bring their dreams and visions to life. 
Join this open-hearted conversation that leads you back to knowing – you are more powerful, more beautiful, more extraordinary than you may have ever known.
WHAT YOU'LL DISCOVER IN THIS EPISODE:
The Good News Guide (01:45)

Trusting yourself deeply (2:38)

The value of integrity (3:40)

From conceptualization to execution (7:24)

Stepping into the vision as if it's already done (8:08)

Getting out of your way (8:40)

Stepping beyond the limited mind (9:48)

Soothing yourself (10:00)

Aligning your thoughts, feelings, and actions (10:16)

Your future self (11:07)

Fear and ego (11:20)

Accessing a deeper state of self (11:55)

Asking the right questions (13:02)

Disempowering questions (15:25)

Building your audience (15:56)

Knowing your WHY (16:50)

Being outward-focused (19:57)

Detaching yourself from the outcome (24:39)

Things change and flow (30:30)

Ever-expanding universe (30:54)

Judgement of ourselves (32:00)

Moving beyond the stories we tell ourselves (36:15)
RESOURCES MENTIONED:
Lisa's Lead Magnet
Lisa is Host of The Good News Guide, a Speaker and Author who has been deeply immersed in the 'personal development' space for 15 years. Initially motivated by a desire to heal from decades living with depression, along the way she rediscovered herself and the innate love and wisdom that resides in each of us. It's with this experience and energy that she now inspires others to connect and lead from within.
CONNECT WITH LISA WINNEKE
https://www.lisawinneke.com/
Connect with Lisa on LinkedIn
Connect with Lisa on Instagram and Twitter
Connect with Lisa on Facebook
Subscribe to Lisa's YouTube Channel
Subscribe to Lisa's Podcast
CONNECT WITH SAMANTHA RILEY
Connect with me on Instagram and Facebook
Connect with me on LinkedIn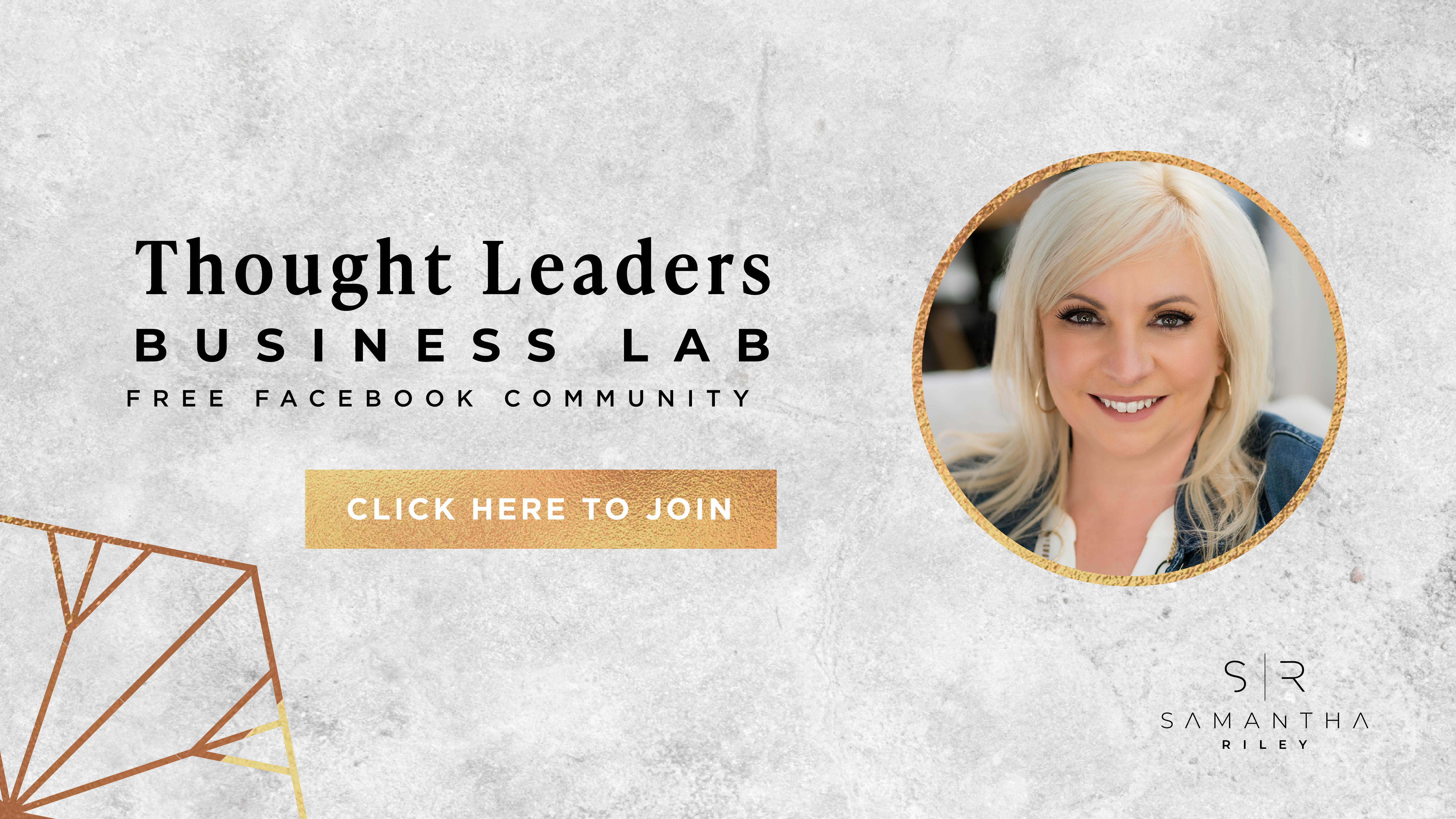 Haven't left a review yet?  We'd love your help to get to 100 reviews.  All you have to do is go to https://samanthariley.global/itunes Thanks so much for your support of the show.
Do you have a guest suggestion for the Thought Leaders Business Lab podcast, a suggestion for a topic, or maybe a question you'd like answered on the show?  Click here and let us know:  https://samanthariley.global/submit-suggestion/