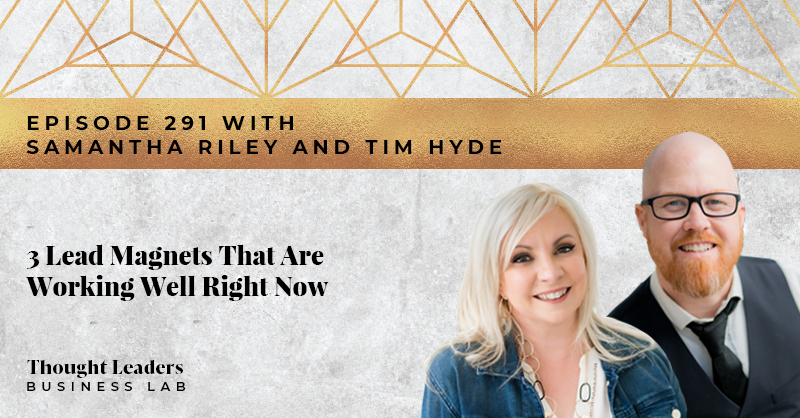 Lead magnets are what you give to your prospects in exchange for their contact details. 
We use multiple lead magnets in our business, and use them at different times depending on our promotions. They are an important part of your business to build your list and attract new leads.
But not all lead magnets are created equal. For example, ebooks have a low perceived value as a lead magnet. On the other hand, the best lead magnets today are those that people believe have a deeper value. 
In this episode, Tim and I are going to share the three lead magnets that we've seen working very well right now. So, hop on as we tackle these top 3 lead magnet ideas to help you convert your prospects into opportunities. 
Gone are the days of PDFs with a "that'll do attitude". People don't exchange their email address for something like that anymore. Instead, you need to give them something that will show your expertise and authority as a thought leader in your industry. 
WHAT YOU'LL DISCOVER IN THIS EPISODE:
Tim's most downloaded lead magnet (6:27)

The marketing diagnostic tool (8:16)

20 questions to ask your business coach (9:18)

Get an actual book (9:58)  

Author is an authority (12:56)

Mini workshops (14:13)

Challenges are opportunities (14:56)

Give people quick wins (16:10)
RESOURCES MENTIONED:
Marketing Quiz
The Thought Leaders Positioning Checklist
CONNECT WITH SAMANTHA RILEY
Connect with me on Instagram and Facebook
Connect with me on LinkedIn
CONNECT WITH TIM HYDE
Connect with Tim on Facebook
Connect with Tim on Instagram