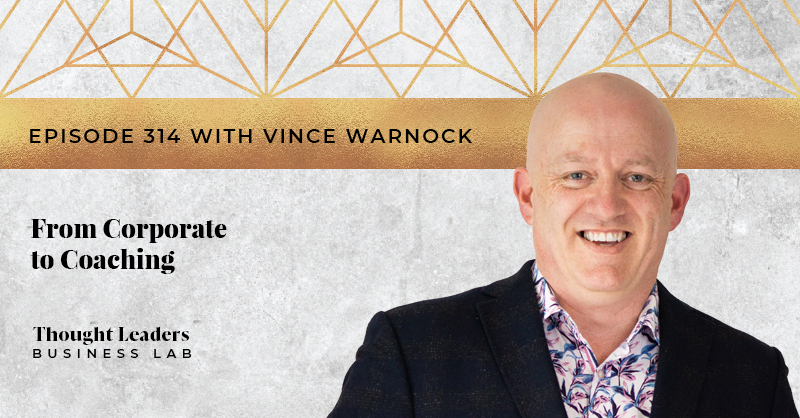 Most of us reach a point in our lives where money and recognition are no longer the key indicators of success.  This is exactly what happened to today's guest, Vince Warnock when decided to make the transition from corporate to coaching.
In this episode, Vince shares his unexpected journey from working in a corporate role for many years, to discovering and transitioning into the coaching industry.
Despite being financially successful in the corporate world, Vince felt like something was missing in his life. He felt like he was living in a bubble where he questioned everything that he was doing. He felt like he wasn't being true to himself, or making a big enough impact.
At the beginning of the pandemic, most people took some time to pause and reflect on what their life looked like. However, for Vince, his self-analysis happened back in 2019 when he made both the easiest AND the hardest decision he ever had to make.  To leave his corporate job.

During this process, he accidentally discovered the coaching industry and fell in love with it. 
Tune in to hear Vince's story on how he has finally felt fulfillment and making a bigger impact.
WHAT YOU'LL DISCOVER IN THIS EPISODE:
Vince's career description (01:21)

Vince's journey in the corporate arena (05:35)

The turning point moment (12:50)

"Tickle, slap and whack" analysis (24:00)

What needs to happen to take that giant leap? (26:45)

Sales and proof of concept (32:06)

The importance of asking the right questions (40:03)

Top 3 things that start-ups should do to get traction (43:40)
RESOURCES MENTIONED:

Vince Warnock is an award-winning Business and Marketing Coach, author and host of the Chasing the Insights podcast. Previously the CMO at Cigna and ex-radio announcer. Vince has won numerous awards including being named by Adobe as a Fearless50, a program to recognize the top 50 marketers in the world. 
CONNECT WITH VINCE WARNOCK
https://chasingtheinsights.com/
https://vincewarnock.com/
Connect with Vince on LinkedIn
Connect with Vince on Facebook
CONNECT WITH SAMANTHA RILEY
Connect with me on Instagram and Facebook
Connect with me on LinkedIn