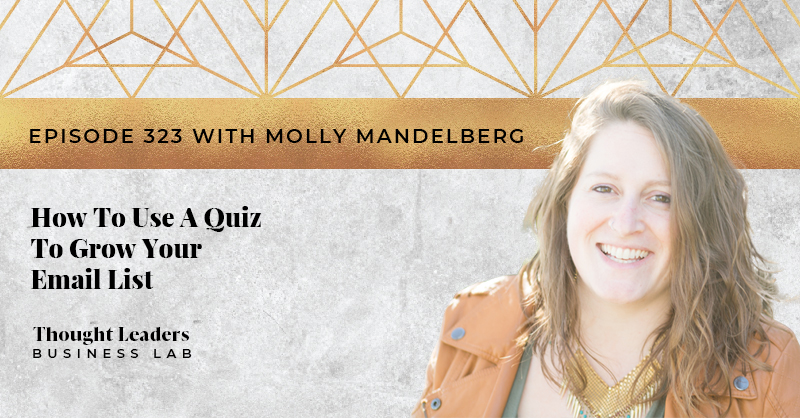 Even before civilizations were established, humans have always loved playing games. We like to engage ourselves in various forms of entertainment, and a good example of this in the business space, are the quizzes we see online.  
In this episode, Samantha chats with Molly Mandelberg, a master of content creation and online marketing. Molly shares an effective strategy for building her email list – using quizzes.
The quizzes she creates are not the usual "which Disney princess are you? Or what kind of sandwich you are".  These are informative and are created to specifically relate to your prospects journey with your business. 
Molly saw the opportunity of using quizzes as an interactive strategy for people to learn more about themselves and also as a way for them to pre-qualify if they are fit to work with you. Furthermore, quizzes build deeper connections by letting the clients know the next step of the process.
If you want to learn more about how you can take advantage of quizzes to grow your list, let's enter the lab.
WHAT YOU'LL DISCOVER IN THIS EPISODE:
Molly's career journey (02:08)

The significance of growing an email list (08:05) 

Utilizing quizzes to build your list (12:33)

How to select topics for your quiz (15:20)

The key to not giving it all away (18:10)

Technologies used to create a quiz (19:30)

The benefits of using quizzes for businesses (21:15)

How long does it take Molly to produce her quizzes? (23:39)

The comprehensive process of creating a quiz (26:10)

Molly's $5 a day Facebook strategy (27:50)
QUOTES: 
"One of the best things we can do as an entrepreneur is to enroll the help of others around you, to give you the space to lean into your gifts. The more that you lean into those gifts, the more people that you can help." – Samantha Riley (06:05)

"Building your list makes every launch, program offering, event, retreat, workshop you want to throw in the future so much easier to fill, and it can also save your butt when you are in a hard spot."- Molly Mandelberg (11:38)

"If you haven't been building your list, start today.  The best time was yesterday, but the next best time is today." – Samantha Riley (12:22)
Resources: 
Molly Mandelberg is the Founder of Wild Hearts Rise Up, Creator of "Magnetic Influencer Collective" and also the writer and illustrator of "The Wild Hearts Rise Up Oracle Deck".  She is the host of both the "Tactical Magic" Podcast and "Reveal the Game of Life" Podcast. 
After spending years mastering content creation and online marketing, Molly finds her bliss in bridging the worlds of heart-centered healing and transformation, with the practical business strategies of leveraging a message into a global movement. She is a certified NLP Coach, an Access Consciousness Bars Facilitator, a Transformational Leadership Coach, and a full-time Nomad. 
Molly works with coaches, healers, and conscious leaders to broadcast their messages with ease, so they can reach more people, and make more money with less time spent. She travels the world full-time and runs her 6-figure business out of her self-converted sprinter van tiny-home. Molly loves helping her clients to systemize their work and master the magnetics of marketing, so they can experience more freedom and make an even bigger difference.
CONNECT WITH MOLLY MANDELBERG
https://www.wildheartsriseup.com/
Connect with Molly on Facebook and Instagram
Listen to Molly's Podcasts Tactical Magic and Reveal The Game of Life
CONNECT WITH SAMANTHA RILEY
Connect with me on Instagram and Facebook
Connect with me on LinkedIn