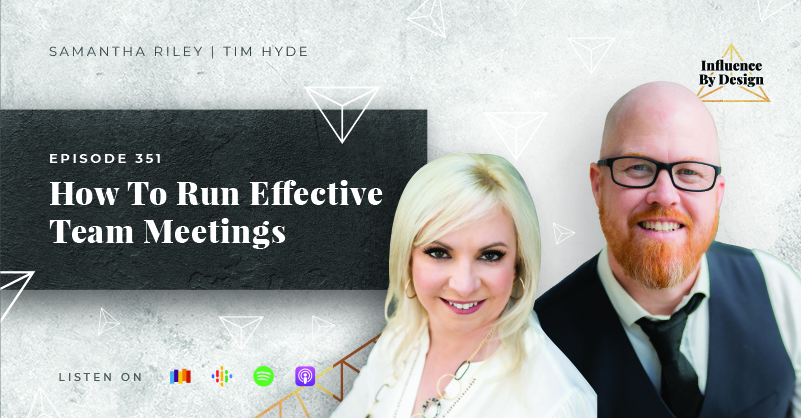 How To Run Effective Team Meetings
To have a cohesive team, team meetings are an absolute must.  They are needed to establish a good company culture and to have all team members working toward a shared goal. Taking part in meetings is a great way to establish two-way communication for you and your employees. 
In this episode of the Influence By Design podcast, Samantha and Tim chat about effective ways to run team meetings. 
Gathering the team to discuss business updates establishes engagement and camaraderie. It also highlights the value of working towards a shared purpose. 
However, a meeting shouldn't be a regular talk session, it needs to be systematized and structured. Business owners should set up the agenda for every team meeting for it to be successful.
A structured team meeting ensures that business runs smoothly by making sure that members are aware of their roles and business goals.
IN THIS EPISODE YOU'LL DISCOVER:
The indicators of a successful team meeting (03:18)

The structures in a team meeting (05:05)

Setting the purpose of the meeting (05:32)

The value of celebrating wins (06:29)

Housekeeping discussions in team meetings (07:45)

The importance of reviewing KPIs (09:38)

Give a bigger context through project updates (12:20)

Actions and commitments (13:25)
QUOTES:
"One of the most important parts of team meetings is bringing people together with shared purpose and camaraderie." -Tim Hyde 
"Sharing personal wins makes people less robotic and more relatable to other team members." -Tim Hyde
"Having a structure in team meetings ensures that everyone knows where we're heading, they understand their roles, and that the business is running as smoothly as possible." -Samantha Riley
"You can't improve what you don't measure." -Samantha Riley
RESOURCES MENTIONED:
Coaches, Course Creators & Speakers: Community & Collaboration
SHOW SPONSOR
This episode is sponsored by Your Podcast Concierge.  Affordable podcast production for coaches and speakers who want to increase their authority and generate leads from their show.  You press record, and let them do the rest.
​​
SUBSCRIBE & REVIEW THE INFLUENCE BY DESIGN PODCAST 
Thanks for tuning into this episode of the Influence By Design podcast. If the information in any of our conversations and interviews have helped you in your business journey, please head over to Apple Podcasts, click the 3 dots in the top right corner of your smartphone screen, follow the show, and leave us an honest review. Your reviews and feedback will not only help us continue to deliver valuable content, but it will also help us reach even more amazing entrepreneurs just like you!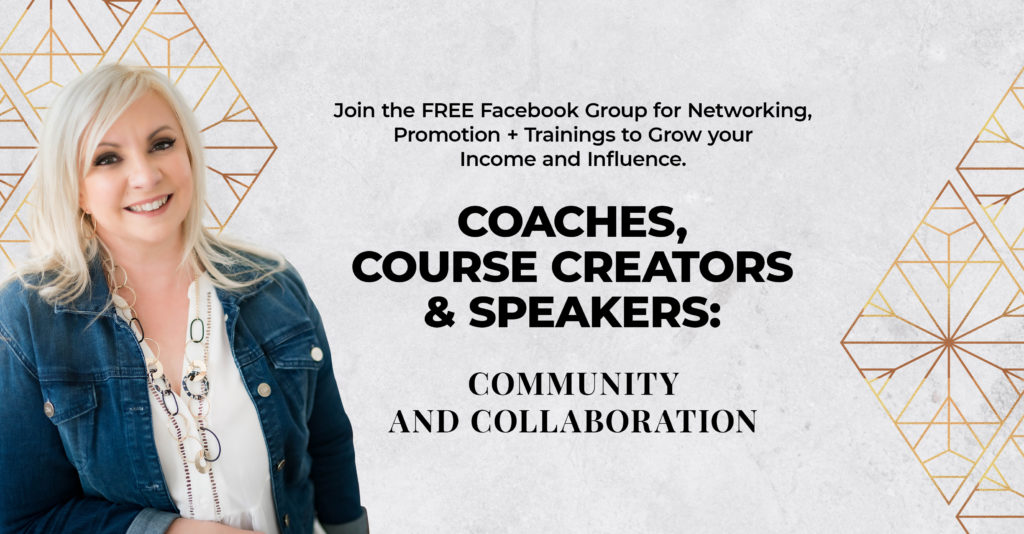 BOOK A BUSINESS ACCELERATOR CALL
If you're a coach who wants to create consistent monthly recurring revenue and scale your business, book a quick 15-minute Accelerator Call.  
We'll work together to identify:
Your current situation and immediate opportunities for growth

Uncover the #1 thing holding you and your business back from scaling

Develop a 3-step implementation plan
Click Here to book your no-charge Accelerator Call.
WHERE TO FIND TIM HYDE
CONNECT WITH SAMANTHA RILEY