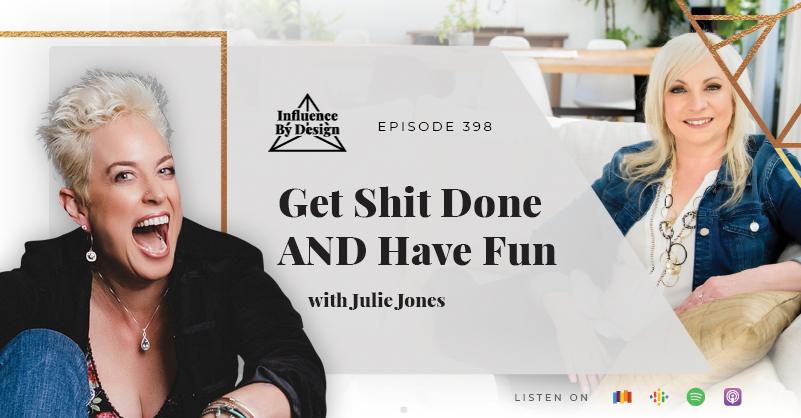 Have you ever get caught in the cycle of being too serious with life and forgetting to have fun? We're not guaranteed a tomorrow and what it brings, but we do also need to grow our business.  So how do we do both? In this episode, we'll explore how to get shit done and have fun with Julie Jones.
Julie encourages and supports entrepreneurs to live their best life now without regrets. 
Her mother's loss served as a pivotal moment for Julie to realise that people often wait for retirement to do everything they want to do. We keep putting everything off because we're too occupied with making a living and thinking about a future that's not even guaranteed. 
Life is not meant to be all gloom and serious, and we need to understand the importance of sprinkling fun in all areas of life. She made the conscious decision to become successful in her career and still have a lot of fun in life.
If you want to learn more about how you can get things done and have a good time doing them, let Julie's valuable experiences show you the way. Let's tune in to the episode.
IN THIS EPISODE YOU'LL DISCOVER:
How you can bring more fun into your business (01:50)

Why post-Covid is actually "

The Great Exploration

" (04:30)

A pivotal moment that caused Julie to having more fun and adventure (06:35)

The balance between work and having fun (08:55)

The value of saying yes to life opportunities (13:15)

Working in your zone of genius vs your zone of excellence (16:53)

Julie's struggles in writing her book and how she worked through them (21:25)

How to have fun in business despite uncertainties and fears (24:55)

Three actionable steps to get shit done and have fun (29:53)
QUOTES:
"When you incorporate a little bit of laughter, or you do something unexpected, it shifts the way people are thinking." -Julie Jones

"Stop worrying so much about your huge to-do list and focus more on things that light you up." -Julie Jones

"As entrepreneurs, we know that business is only part of our lives. We're holistic beings that have relationships, finances and health in a melting pot of who we are." -Samantha Riley

 
RESOURCES MENTIONED
WHERE TO FIND JULIE JONES
SHOW SPONSOR
This episode is sponsored by Your Podcast Concierge.  Affordable podcast production for coaches and speakers who want to increase their authority and generate leads from their show.  You press record, and let them do the rest.

​​SUBSCRIBE & REVIEW THE INFLUENCE BY DESIGN PODCAST 
Thanks for tuning into this episode of the Influence By Design podcast. If the information in any of our conversations and interviews have helped you in your business journey, please head over to Apple Podcasts, click the 3 dots in the top right corner of your smartphone screen, follow the show, and leave us an honest review. Your reviews and feedback will not only help us continue to deliver valuable content, but it will also help us reach even more amazing entrepreneurs just like you!


BOOK A BUSINESS ACCELERATOR CALL
If you're a coach who wants to create consistent monthly recurring revenue and scale your business, book a quick 15-minute Accelerator Call.  
We'll work together to identify:
Your current situation and immediate opportunities for growth
Uncover the #1 thing holding you and your business back from scaling
Develop a 3-step implementation plan
Click Here to book your no-charge Accelerator Call.
ABOUT JULIE JONES
Julie Jones is an Award-Winning International Speaker, International Bestselling Author of the book Stop Waiting Start Living and an Intuitive Coach, with the Get Shit Done Platform.  She is a master connector of people who is passionate about supporting purpose driven entrepreneurs to live their best life NOW without regrets.
As a former police officer and SWAT member, Julie knows that there is no promise of tomorrow, and coaches individuals to face the fear and live in the moment.  Julie is a podcast host where she features inspiring, driven individuals who are leveling up in their life and have nuggets of wisdom to share. 
In the last 15 years, Julie has influenced thousands of clients in achieving their passions and getting comfortable taking risks in their pursuit of a better and bolder quality of life.
TRANSCRIPTION
Julie Jones Snippet (00:00):
If we say all day long, I have to do this. And I have to do that there's a difference in how you feel. When you say I get to do this, I get to meet some new people. Maybe sometimes people think about, okay, you're meeting a potential client, or you're meeting somebody new. And I look at it as like, oh my gosh, it's an opportunity to meet a new person to meet a new friend to make a new connection. So it's all in perspective, a lot of times on how we do things.
Samantha Riley Intro (00:30)
My name is Samantha Riley, and this is the podcast for experts who want to be the unapologetic leader in the industry. We're going to share the latest business growth, marketing, and leadership strategies, as well as discussing how you can use your human design to create success in business and life. Inside and out. It's time to take your influence, income, and impact to the level you know you're capable of. Are you ready to make a bigger difference and scale up? This is the Influence By Design podcast. 
Welcome to the Influence By Design podcast. I'm your host Samantha Riley. And I'm super excited today to be speaking with my guest, Julie Jones, who's an award-winning international speaker, and a best-selling author of the book, stop waiting, start living. She's an adventurer and breakthrough coach with the get shit done platform. I mean, that's talking my language right there. She is a master connector of people who are passionate about supporting purpose driven entrepreneurs to live their best life now without regrets. Julie, welcome to the show. That's so excited to have you joining me today.
Julie (01:33):
Well, I'm so excited to be here. And I'm just grateful for the opportunity because I love to talk.
Samantha (01:41)
Yes, you and I have been on quite a few calls and they go, they're quite energetic. Let's say that I've absolutely loved connecting with you so good. Before we jump into what we're going to talk about today, why don't you give us a little bit of a run through what is your business now and who are the kinds of clients that you work with?
Julie (02:02):
Well, I apologize in advance for my noisy co-workers, if anybody hears them in the background because I've been gone today. And now they're chock-full of energy. And this is the time that they've decided to play right. So
Samantha (02:13):
We are talking about dogs and cats by the way.
Julie (02:16):
Right now, I am all about playing fun. So I guess I'll just like lead right into that. So what I love, love to do is I love to take people who are overworked, overwhelmed, and tired, high achievers, in most cases. And often times entrepreneurs who find themselves back on the hamster wheel, after having left corporate, they leave a nine to five, they decide to work for themselves. And they still find themselves running on the corporate, you know, corporate hamster wheel because they're busy entrepreneurs. 
And I show them how that they can have much more fun in their life, much more fun, they can, you know, do things easier, they can do things effortlessly. And so I do that through all different kinds of realms of you know, things that I have to offer. And that's what I'm passionate about doing is really helping people to live in the moment, stop waiting for tomorrow and start living today.
Samantha  (03:12):
I mean, if COVID sort of taught us anything it was that things can change in an instant thing that we never ever expected to happen. And I know for many people in my circle of influence, and me included, a lot of us were like, Yeah, we're living our, you know, this great life. But even still, we were like, Hmm, there's still you know, we're still doing things that we don't like, or maybe we're not living, you know, where we want to live? 
Or maybe why have we put off that thing that we want to do for a long time. However, I've already noticed people sort of starting to just pick up old habits and pick up where they left off. I'm starting to see it creeping in. And, you know, life's too short, right? It's amazing how these things have these, you know, habits, I guess have crept back into our lives. And just recently, I've been speaking with a lot of people in my world who really are, what's the word? 
They're really kind of reevaluating. That's the word for reevaluating their business and what you know, where is it that they want to head? What is it that they want to do? You know, slow down a little bit? Have you seen that sort of post COVID?
Julie (04:31):
I have. And so a lot of people have termed kind of this time right now is the great resignation. Right? And I heard this amazing phrase that it's really the great exploration because I really believe that what happened during COVID Was that people really learn to slow down and they evaluated what was most important to them. 
And so when evaluating that they've decided, okay, well this is how I want to live my life in a different aspect, but see, then on the opposite end of that is the idea that 95% of how we operate is habits. And they can be good habits, they can be bad habits. And the only way that they're good or bad is how we define them, right? 
Because everything is neutral. And it's our brain and our ideas that name things good, or bad, right? Wrong, whatever it is, right. So habits are something that we just easily fall back into. And so we can have a little bit of shift. But if we don't keep the shift into that new direction, it's very, very easy to fall back into what we know best, like a prime example for me is that I'm a former police officer and a SWAT team member. 
And I did that for 10 years in Wisconsin, moved to Arizona 21 years ago, and I knew there was something else out there for me something else that I wanted to be doing of a much more positive nature. But so many times because I was so unsure, and I didn't know what direction I was headed, I would pull up an application for a local police department. And think about filling it out again, because it was what I knew I had done in 10 years. And it would have been very easy for me to fall back into the idea of being a police officer, if it wasn't for my drive, and for my passion to know that I was put on this earth to help people, however, to help people in a positive nature in a different way than I was doing when I was in law enforcement.
Samantha (06:35):
So what I'd love to know is was there a life moment, something that really, that happened to you, or, or happened around you, that got you to shift into what you're doing now, where you really decided that you're going to lean into, you know, this more fun and adventure.
Julie (06:53):
There is so 18 by 18 and a half years ago, my mom passed away at the age of 59, from early onset Alzheimer's. And she was misdiagnosed because of her age, they said it was menopause, they put her on all this medication, your memory loss is because you know of this, and it really was because she had early onset Alzheimer's. 
And I watched my parents because they had all; these plans. Luckily, my dad retired at 55. And then my mom retired at 52. And they had some time together. But they didn't have all the time that they plan to accomplish these dreams, these goals, travel, everything that everybody wants to do when they retire. And I really took a hard look at that. And I said, Why as a society do we wait until we retire? To do everything that we want to be doing? Right? 
Because you're not guaranteed your health, you're not guaranteed that you'll have the money, you're not guaranteed anything. You're not even guaranteed it tomorrow. But we keep putting everything off. And so I decided at that point, like, No, I don't want to put everything off. If I want to go and travel, I want to go and travel right now. Like I'm gonna make it happen. If I want to have more fun, I can still be who I am, I can still be a business owner, I can still be Julie Jones, and still have a lot of fun. 
Like, we forget about the fun aspect in life. And it's like through the fun, that inspires other people. And people look at that. And they say, Well if she can do it, I can do it too. And that's really what I want to empower people to do is that those around us want to experience life with us. They want to have memories. They don't want things. They don't want gifts. They want the time and they want the experiences. And they want those memories that last the lifetime.
Samantha (08:55):
Totally. Now you're about get shit done. What is the balance between getting shit done and having fun because I, I have met some people in my time that Think Fun is about not working, which, you know, we're all different and unique. And I get that but for me, like work is fun. 
So I'm, you know, someone said to me the other day, actually, it was my son who said to me, You're so lucky because I don't get that. He doesn't understand that work can be fun. He's like, no, no, no, he's like, you go to work, and you get paid, so you can do the fun stuff. And, you know, we were sort of having this conversation. But for you, what's this balance of getting shit done and having fun?
Julie (09:40):
Well, that's like, you know, one of those things that I always tell people is that there is no such thing as balance, right? Like you're gonna go out of balance at any point in time when you're focused in on a priority. But there are things that you can be doing while you are focusing on that priority that still incorporate fun All right, like so many times, and maybe you've seen them. And I don't know if this is also on video as well, or just audio, but I'll just show you like I have.
Samantha (10:11):
Right? You shocked me. So for people that are listening, you're the little white eyes that you buy at the crafts shop with the little black bubbly bits that go on teddy bears, Julie has just put a pair of these massive baggy eyes on, and they are hilarious. I'm not expecting that.
Julie (10:32):
See look, we are working right we're doing this podcast. And this is a part of like work. But you can still incorporate the fun. I've gone to networking events online, which is part of my marketing. And I show up sometimes in costume. Like, we're taping this, and it was the Fourth of July weekend just recently. And I had a whole getup, in fact, I even have them still here, where another fun thing is I have light-up blue glasses, right? So I went ahead and like I was at different events. I was dressed in red, white, and blue, I would throw on my glasses and some pointy things that have like flags on them, right? Because that's unexpected. People don't expect that. 
Now I know maybe that doesn't fit your personality. But find something that does, like what is it that you can be incorporating? Or maybe you're dancing while you're working? Right, like people like to move and shake and dance, or I don't know, like maybe you put on Wonder woman underwear under what you're wearing, right? 
Because that just gives you something fun to do see, we just take everything sometimes so seriously. And there are all kinds of moments whenever we're doing something, to be able to have fun. I'm telling you a simple smile. And making eye contact really can make the difference because people feel recognized when you do that. 
And that is a different element than to just go through our day, doing doing doing. One of my favourite things I love to say is we're human beings, not human doings. So how can you be more in the moment. And if you know, maybe it's an appropriate time to give a little joke or to tell something funny, that is just going to shift everybody's perspective on the rest of their day.
Samantha (12:23):
What I love about this is that instead of having this conversation, which like I just mentioned, with my son, where it's like there's work, and there's fun, it's about bringing and blending both together. Because as entrepreneurs, we know that our business doesn't happen in nine to five, and then you shut the office door, and you know, and then you walk away from it. 
It's part of our life. So we're holistic beings that have our relationships, and our business and our finances and our health and wellness. It's not all in separate buckets, it all comes together and, and all sort of, it's in this melting pot of who we are. And when you were talking about having the fun when you're working. I really love that because then you're actually spreading, you know, we're energetic beings, we're spreading that energy, and we're uplifting other people, while we're doing what we're doing.
Julie (13:14):
Well, and sometimes, you know, Samantha, it's just a shift in what we say, right? Like, if we say, all day long, I have to do this, and I have to do that. And I, you know, like, there's a difference in how you feel. When you say I get to do this, I get to like you know, meet some new people. And see for me, maybe sometimes people think about, okay, you're meeting a potential client, or you're meeting somebody new. And they look at it. And I look at it as like, oh my gosh, it's an opportunity to meet a new person to meet a new friend to make a new connection, right? 
So it's all in perspective, a lot of times on how we do things, because nobody wants any more half-truths in life. And there are ways that you can just incorporate small things, sometimes as entrepreneurs, how many times are you given an opportunity to say yes to life, okay, like maybe somebody calls me up right now and says, Hey, you want to go see a movie? Like I know I get a million things to do, right? We always have a million things to do our list never going to be done. But like, Where can I go, I could go make their day, go spend a little time see a movie, I can always come back, and you know, do my the rest of my list, or maybe it just gets pushed off to tomorrow. But like that was yes to a life opportunity. And I've said yes to life opportunity so many times that have netted me a potential client or have netted me a potential speaking engagement because I met somebody that I never would have. However, I said yes to that opportunity.
Samantha (14:52):
I love this so much because business is all about relationships. And I think that we can get caught into this idea that we have to work, you know, through the day. And I know for me years ago, I really acknowledged that I don't work well in the afternoon. So I work in the morning, and I don't work in the afternoon, that's when I go out with friends. Or it's when we go to a movie, or, you know, there's a bit of a joke with people that know me as like, Oh, is it? You know, are we doing long lunch Friday this week? 
Everyone knows that I do long lunch Friday. So it's like people will ring up and go, Can I join you for long lunch Friday this week. And if I haven't done finished my to-do list, it doesn't matter. It can get done tomorrow. Or maybe sometimes I'll come back in, you know, early evening before dinner, and I'll do some more work. There's no rules, right? We can make our own rules. And we can easily get caught in someone else's rules. So I love what you're talking about here, right? 
Julie (15:52):
And we set our own rules. And like I think about like your long lunch Fridays, right? So somebody calls you up and asks you, Hey, can I join you? Right? And then it's like, so it's that opportunity. I sometimes think of them as prompting, like, when somebody comes to mind, a lot of times I'll reach out to them, I'll call them I'll do something. 
Because unfortunately, I've had too many times, or I thought if somebody hadn't picked up the phone right away, you know, haven't like reached out, and then I don't have the opportunity anymore. Because unfortunately, they passed away or something happened or whatever the situation is. And it's not that I like I live and like I anticipate that morbidly, but like, there's a reason why people all of a sudden, like come to you know, your consciousness, you're thinking about them, you know, and maybe it's just something as simple as that they just needed a friend at that moment. And you reached out, and you made the difference for them at that given moment.
Samantha (16:48):
Hmm, love love, love this. You talk about just before we started recording, you were talking about working in your zone of genius, rather than your zone of excellence? Can you shed a little bit of light on to what this means for you?
Julie (17:08):
Sure. So for a lot of people, if you've ever read the book, because I learned some of this, and I also did some research on the big leap by Gay Hendricks and I love that book. I've listened to that book twice. And so one of the distinctions between the two, because a lot of us think that we're in our zone of genius, and it's really our zone of excellence. Because we're very, very competent, we're very, very good at what we do. But the difference is, is its something that you can do 24/7 Like if you had to like right, I'm not about working 24/7 But your zone of excellence like you look at those items, and you think can I do this 24/7? And are they generating you income, because the zone of genius is something that you're so passionate about, you love to do so much that it doesn't seem like work. 
And it's generating you your income, that's where your income-producing activities are. So for me, as I said, you know, at the beginning of this, I love to talk, I love to speak, like when I'm in front of a room, a lot of times things just download to me, I never know what's going to come out of my mouth, I jokingly say like people will come up to me, and they'll be like, Oh my gosh, I'm so excited to hear what you have to say I'm like I am to be you know, all the time, like, I may have an idea. 
And then I'm feeling my crowd, or I'm reading my crowd, and then something else starts to come out. And I recognize and realize that that's because somebody in that room, or many people in that room needed to hear that at that given moment, right. I mean, there's a lot of originality out there. But a lot of times what a lot of us are speaking on are ideas that have been out there for a long time. But it's seven different ways from seven different people before sometimes you're in the right place to finally hear it. Right.
So for me, anything to do with speaking, you know, hence the reason why I'm launching and producing a television show this year, is that because it's an opportunity for me not only to showcase amazing guests that are going to be on my show, but it's an opportunity for me to do what I love best. And that's to speak and to engage people in showing off their best self as well.
Samantha (19:34):
Hmm. Love this. What was it in the big leap that really stood out to you that had you understanding that zone of genius versus the zone of excellence?
Julie (19:46):
The biggest thing was that when I took a look at my life and this I was already a lot of times to step into my zone of genius. I would get sick, right there was like this whole thing that like the subconscious Just in the unconscious mind to protect us, to keep us safe will self sabotage us. 
So like, I would have headaches, or I just wouldn't feel it, or I wouldn't have the energy or whatever it was. And like when you start to track that, and I read that, and I understood that, I realized that that's exactly what was happening. Like, every time I was ready to step into that role, something would happen to kind of hold me back. 
And so it's like, recognizing that that's occurring. And you know, just telling your unconscious mind, like, I talked to my unconscious mind all the time, I've got this, like, you know, you can go away right now I've got this, we're safe. We're moving forward, you know, into this realm.
Samantha (20:41):
I really liked that last bit that you said, you know, we've got, I've got this, I'm safe, because our unconscious mind actually does tap into that, that is just, it's so plain and so easy, that something that we can all tap into every day is to, you know, just be talking to myself yet. We're not going to die from this, it's okay, we got this.
Julie (21:01):
Right, right. And sometimes I get a little stronger, like, I might use a few curse words, like kick you off the alcohol or something like that, you know, like, you know, you know, I'm doing this, like, I've done this before, right? Because there's, there are so many opportunities that a lot of times we're given, or we're stepping into that, you know, to that role. 
And again, like, it's the little things, like, like for me, okay, so when I was writing my book, right, and I, I was fearful, like, I'm thinking to myself, Oh, my gosh, like, does anybody really want to read what I have to say, right? Because you're really putting yourself out there. I really put myself out there in a big way. Like, I'm very transparent. And in my book, I'm very transparent. So, you know, like, it's like anything, right? 
Like, Well, I would sit down to write, like, I had the cleanest refrigerator in mind. Like the, the pantry needs to be straightened out of the refrigerator needs to be cleaned, rather than like sitting down to write. So once I just took the action, and I said, Okay, you've got this, like, just start writing, oh, my gosh, it flowed. And it was so much easier than I allowed myself to be. It's like, those fears, and all those things that just get in our way that stop us. And as long as you're taking action, and moving forward.
Samantha( 22:30):
I found that writing a book was the most vulnerable thing I've ever done. For me, it was harder than even from a vulnerability perspective than starting my podcast. And I know that that was a huge thing for me as well. You know, it's much easier now. But hitting the publish on these first few episodes was like, but writing a book for me was even like that times 10. Did you have that same, that same experience?
Julie (22:59):
Again, because like, I'm a speaker, right? And I love to speak. And so the talking component, like I never, I never really had the fear that most people have being in front of a roomful of people, like I step on a stage, and I'm totally in my element. I just feed off that energy when it came to writing because I really just believed that I was so good at the spoken word, that I wasn't good in the written word. 
I mean, I didn't like somebody told me, Well, why don't you go ahead and speak your chapter. And then like, Google will translate it or do whatever. And yet, that didn't even work for me as well. So I just went ahead, and I just started, I actually just pulled up a blank document, and I started typing, and I started doing it. And before I knew it, it was done. And it was the confidence and having that book out, because it was still scary to publish it. 
Like, you know, I was sure that it was going to be a great seller. But like, I was like, what if nobody buys this? What am I have like five sales, right? And it's like, but I'm putting myself out there. I'm just going to be you know, published and, and then from that point, like, it wasn't very long after I released my book, that you know, I went into a second book like 365 days of gratitude. 
And I wrote you know, a date you know about gratitude for my dogs, and you know, the unconditional love and all that kind of stuff. And you know, I've already committed to another compilation book this year, because I know I have a second book in me. Yet with everything that I've got going on this year. I know that I'm not going to write my own book, but I will definitely be part of other people's books. Because I still have a lot to say I have so much to write. Like I have a lot to write.
Samantha (24:53):
Love it. I want to circle back to that what if and sort of tight together with a lot of the things that we've been talking about, because in our business, there are lots of things that bring fear. And a lot of them are to, to really stand up for what we believe in. And it might be putting yourself out to be visible.
 You know, it might be, you know, writing a book or starting a podcast, it might even be, you know, being a guest on a podcast is as simple as, you know, putting a post on social media or putting out a a Facebook ad, for example. How do you tie the fun into doing these things that we really do have to do in our business to grow? You know, over and above sort of just talking to that unconscious voice? What are you know, what are the practices that you have in your business to be able to push through to that next level?
Julie (25:46):
It's, it's really about remembering that you are enough, right? And so like, for me, it's, it is it's the fun glasses, it's the fun costumes, it's the doing something that's quirky, right? Okay, so I'll just I'll share with you my favorite joke that, you know, I always remember, and it always makes people laugh. So a mushroom walks into a bar. And the bartender says, well, we don't serve mushrooms. Here he goes, why not? I'm a fun guy.
Samantha (26:22):
I was like, I got it.
Julie (26:27):
But every time people get it, I see this look on their face. And they laugh, right? Because it's so stupid, that it's funny. And those are the kinds of things because when you incorporate a little bit of laughter, or you do something that's unexpected, it shifts the way that people are thinking. 
So that's where it goes like with my clients. And sometimes, what I'm very, very good at is number one, listening, listening to what people need. And the second thing is, is that I call it blowing up the box, I do not believe in the box at all, like think outside the box. And like, for me, it's like screw the box, right? 
Because there's an infinite amount of solutions to any issue. So a lot of times when people come to me because of their filters and their perceptions, they only see things one way and I see things a million ways. And so I'll start throwing things out to people, okay, I'm just gonna, like this just came to me. 
So one of my clients. Now I knew this client very well, because I knew she had done some personal growth. And she was attempting to build her business, right? And I said, Well, what's the worst case scenario? Like, what are you most afraid of? And she basically told me that she was afraid of like being homeless living in a cardboard box, I made her get a cardboard box. And she put it in her living room. And like, I didn't make her I asked her to she agreed to it, I shouldn't say make. But like, that was such a physical reminder. And I said, when you don't want to do what it is that's required of your business, then go sit in that box. 
And that's going to remind you of why you're doing what you're doing. She went ahead, and she got that box. And it was very powerful. Because for her, it had her taking more action right now most coaches aren't going to tell you to go and get a box like a, you know, a Home Depot box and live in it, right? Like I knew her well enough and with my intuition and everything else that was what was telling me that that was the direction we needed to go. 
I am very customized when it comes to everything like you know, I don't have a cookie-cutter approach. Because I'm really specifying for you and what it is that you need and being able to hear differently, like really what is stopping you. So the purpose behind like, the get shit done is more than it's more than I'm very direct.
I have a very direct approach and calling you out of where you're lying to yourself. But still, like from a very loving heart, because I never, as I say come off the top rope. Like a wrestler, right? Like I'm not doing like the body slam. I'm sharing with you what I'm seeing. And then like getting your agreement like yeah, that's it. And like, how do we shift it from there. 
So the fun can help shift it and lighten up the mood. Because it doesn't. It's like not doom and gloom and serious. meant to be fun. So where can we incorporate a little bit more fun? Because you're absolutely right, Samantha, if you're not having fun with what you're doing, then you're not in your purpose and passion. It's not like lighting you up. Because if it lights you up, and you're on fire, and you're like yes, this is it. Then you know we've we've got to re-evaluate and re-look at some things.
Samantha (29:51):
Totally, totally totally. So we're like what are the three things that are very actionable that people who When listening to this can really lean into this and you know, get shit done have more fun, you know, do what they make their day more enjoyable, I guess what are three actionable things?
Julie (30:12):
Well, I am a big one. So when I hear people like maybe need a little bit more fun in their life, I go to Amazon. And like I send people fun, fun glasses, right? Because like, you can get fun glasses, you can even go to the dollar store and get fun glasses. And I don't care if you don't use them, like when you're on a Zoom meeting or whatever. But just put those fun glasses on, go to the mirror, have a good laugh, like, you know, maybe say something to yourself, and then just like go on with your day, or work in those fun glasses. 
Like if you can see out of them, what's to say that you're not able to do what you're doing, and have a little bit of fun with it. One of the other things that I encourage people to do is I do like shorter times, to, to focus in on something. So most people will block off two hours, three hours, five hours, and then they get interrupted all day in a day because they set off too much time. A much easier increment is like 15 minutes, right? So like, you just eliminate all distractions, you set your timer for 15 minutes, and you just focus in. And then when you're done with your 15 minutes, you dance, and you celebrate, you celebrate that you took action, right, you don't quantify or qualify what got done, it took action.
 And the final thing that I just want to encourage people to do is every evening that like you know, you sit down, most of us go to that negative place what didn't get done, start shifting it to what did get done, and really celebrate yourself for what did get down in everything that you accomplished. You know, stop worrying so much about this huge to-do list. And just really focus in on the things that light you up. Like we all have those, you know, like those massive to-do lists. And if you can then find yourself a virtual assistant or somebody that you can delegate the half twos, and start focusing in more on the get tattoos and celebrate, but you got to do at the end of the day.
Samantha (32:23):
Yeah, live in your zone of genius, not in your zone of excellence. Or even if you're listening, and you're playing in your zone of I hate this, then start to make some changes. Julie, how can people stay connected with you?
Julie (32:41):
Well, one of the easiest ways is, of course, I'm all over social media and I believe I'm the one and only Julie Jones right? However Okay, so there could be a few other Julie Jones, I am on social media. But really the best way is just to go to my website, which is JulieJones.biz And you'll find all my social media links, you can follow me you can set up a call with me that's completely complimentary. And you know, we'll we'll just have some fun, like God only knows what I might show up. Now that you've been pre warned I could show up in some fun googly-eyed glasses or something, just to really shift your energy and to make your day so it's probably the best
Samantha ( 33:21):
And you've got a podcast as well tell us a little bit about your podcast.
Julie (33:25):
Yes, my podcast is to get shit done podcasts. So you can find it on Apple, Spotify, all the major podcasting, you know venues. And I have a lot of fun with it. I have a lot of amazing guests, including Samantha that was just recently on. And I love to interview people from around the world to just really have like a powerful story or something to share. It's a platform to be able to inspire people sometimes just to get out of their own way and just go do it.
Samantha (33:55):
I love it. What a beautiful way to finish. Thank you, Julie, for being on the show. It's been such a pleasure to chat with you today.
Julie (34:02):
Oh, thank you so much for the opportunity.
Samantha's outro ( 34:05):
Thanks for joining me for this episode of the influence by design podcast. If you want more head over to influencebydesignpodcast.com for the show notes and links to today's gifts and sponsors. And if you're looking to connect with other experts who are growing and scaling their business to join us in the coaches, thought leaders, and changemakers community on Facebook, the links are waiting for you over at influencebydesignpodcast.com