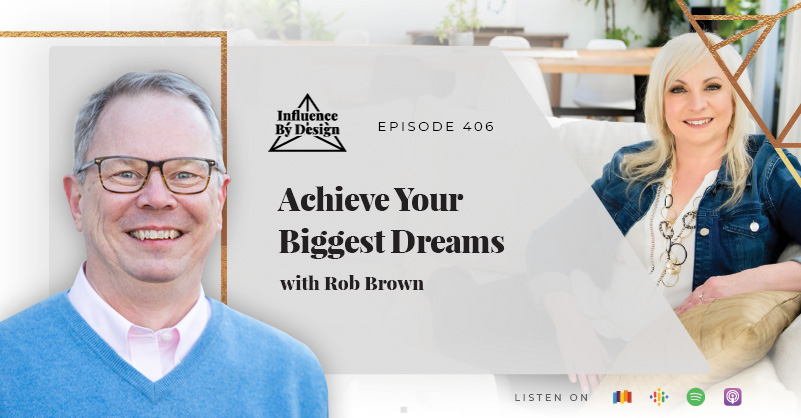 One of the challenges of allowing ourselves to dream big is the overwhelm of thinking we need to achieve our goals all at once. But this shouldn't be the reason to hold ourselves back. In this episode, we'll talk about how you can achieve your biggest dreams with Rob Brown.
Rob is a business and performance coach helping his clients achieve excellence while living a purpose-filled life.
Dreaming big can sometimes be overwhelming. However, looking into the future is a pivotal step in having you move to your next level of success. 
Your dreams are not rigid; it's important to remember your dreams can evolve over time. By allowing yourself the space to explore, over time it can lead you to dream bigger.
If you're looking for a detailed process of how to achieve your biggest ambitions, be sure to listen to this episode!
IN THIS EPISODE YOU'LL DISCOVER:
Understanding that balance is different for each of us (01:55)

When did Rob realise he needed to dream big enough? (06:38)

How to get to the next level success (08:15)

Why don't we dream big enough? (10:10)

How to amplify your dreams (12:12)

Turning dreams into actions (17:47)

The meaning of 'the truest fan'(27:20)

Rob's final thoughts (31:32)
QUOTES:
"To live in a way that really makes a difference, you have to believe in others and you have to believe in yourself." -Rob Brown

"Smiles and kind words go a long way." -Rob Brown

"Our business is only a part of our lives, and it is intrinsically connected with everything." -Samantha Riley

"It's the simple things that can make the biggest difference." -Samantha Riley
RESOURCES MENTIONED
WHERE TO FIND ROB BROWN
SHOW SPONSOR
This episode is sponsored by Your Podcast Concierge.  Affordable podcast production for coaches and speakers who want to increase their authority and generate leads from their show.  You press record, and let them do the rest.

​​SUBSCRIBE & REVIEW THE INFLUENCE BY DESIGN PODCAST 
Thanks for tuning into this episode of the Influence By Design podcast. If the information in any of our conversations and interviews have helped you in your business journey, please head over to Apple Podcasts, click the 3 dots in the top right corner of your smartphone screen, follow the show, and leave us an honest review. Your reviews and feedback will not only help us continue to deliver valuable content, but it will also help us reach even more amazing entrepreneurs just like you!


BOOK A BUSINESS ACCELERATOR CALL
If you're a coach who wants to create consistent monthly recurring revenue and scale your business, book a quick 15-minute Accelerator Call.  
We'll work together to identify:
Your current situation and immediate opportunities for growth
Uncover the #1 thing holding you and your business back from scaling
Develop a 3-step implementation plan
Click Here to book your no-charge Accelerator Call.
ABOUT ROB BROWN
Rob Brown has spent much of his career in the financial services industry as a top-producing advisor as well as in several senior leadership roles. Now, a business and performance coach, Rob helps his clients achieve excellence while living more purpose-filled lives. Rob is an author, devoted husband and father and a lifelong Cleveland baseball fan. Rob's most recent book, "Truest Fan: Live, Love and Lead with Purpose and Impact," shares his belief that rooting for others, being their truest fans, leads to personal and professional transformation while making the world a better place.
TRANSCRIPTION
Rob Brown Snippet (00:00):
Once my clients go through the dreaming process and what I want them to think about next, and I kind of leave it up to them, how far out they want to do their planning as opposed to their dreaming. I like to work in sprints. How do we then take that back to what are we going to do over the next 90 days to accomplish a set of activities or actions or goals that are really important, just kind of dialling it back from that big future to Okay, now, what do you have to think about today?
Samantha Riley Intro  (00:31):
My name is Samantha Riley, and this is the podcast for experts who want to be the unapologetic leader in their industry, we're going to share the latest business growth, marketing and leadership strategies, as well as discussing how you can use your human design to create success in business and life. Inside and out. It's time to take your influence income and impact to the level you know you're capable of. Are you ready to make a bigger difference and scale up? This is the Influence By Design podcast.
Welcome to the Influence By Design podcast, Samantha Riley here, and I'm very much looking forward to today's conversation, we're going to talk about how to create bigger dreams and exactly what that means for your life and your business. And I didn't say business first. And there's a reason that we're not going to talk about business first. 
So I've invited my guest, Rob Brown to the conversation today, who spent much of his career in the financial services industry as a top producing advisor, as well as in several leadership roles. Now he's a business and performance coach, and he helps his clients achieve excellence while living purpose filled lives. He's an author, he's a devoted husband and father and a lifelong Cleveland baseball fan. Welcome to the show. Rob.
Rob (01:48):
Oh, it's great to be here. Samantha, thank you for having me.
Samantha (01:51):
I'm very much looking forward to this conversation. Because, you know, I think as business owners, we think about our business being in this separate bucket to our life, and I'm sure you talk about this with your clients as well as I do, that our business is only part of our life, and it is intrinsically connected with everything, you know, if things aren't going well in our life, they're not going well, in our business and back the other ways, you know, I'm not a big believer in balance, because balance is different for each of us. But, you know, it is about making sure that things, I guess, are in balance for each of us personally.
Rob (02:30):
Yeah, absolutely. And, you know, I think that balance term gets is overdone sometimes, because we feel like there's like this perfect balance, and I'm going to do this much, you know, to impact my personal life and this much impact my business life, and somehow you're going to get that even balancing the scales way out. But the truth is, especially for business owners, and entrepreneurs and coaches, you know, life and businesses often very much intertwined. And if you try to totally separate it, I think you end up probably doing a disservice to both of them.
Samantha (03:03):
Totally. And we were having this conversation before I hit record, we were talking a little bit about human design, and just you know, talking about that balance, you are a projector, I am a generator, so I'm a worker bee, you know, I'm I'm here to do lots of work as a projector, you're here more to be the guide and, and not to work as hard. So balance for each of us would look completely different based even just on our human design, let alone whatever else, you know, values, you know what it is we want out of life, you know, family, each of us has different, I guess focuses on our life.
Rob (03:40):
Right. And I think that's true at different stages of life, too. I'm working with a great client right now. We've been working together for a number of years. And our focus, when we first started working together was on building his business. And he was great at creating dreams about what he wanted his business to look like. And for long periods of time, while he was going through that hustle and grind and still being a great dad and a great husband. He knew that it wasn't imbalanced and didn't necessarily see the importance of it, then all of a sudden, the switch flipped, and he's like, wait a second, that really is important. 
And I think part of it was he achieved a level of success in his business where he felt like he didn't need to be a caretaker any more. And then his young children were getting to the age where they really needed him, and he loved being with them and watching them grow. So it was a it was a tug. And so we've had a kind of reformulate the way that he thinks about what he wants to accomplish and what is balanced in his life. 
And I think it I think some days he's a little pouting because like, shouldn't I be in the office and grinding more so no, no, you've you've done that. Maybe you maybe the scales have turned the other way. 
Samantha (04:58):
It's so true because When my three children were young, my life and my, you know what I was motivated to do, you know, let's call it my purpose was very different to what it is now that my three kids are all grown up and have left home. I'm quite happy to work and love what I do and spend more time in my business now than I did back then. But neither of it's right or wrong. It's just different parts of our different phases of our life.
Rob (05:22):
Oh, I think that's so true. I can remember when I started out my career as a financial advisor. And in doing that, one of the things you do is talk about, like, when do you want to retire? And I was like, No, this is in my 20s. I wanted to retire in my 30s. You know, and I'm not sure I was serious about it, but I was thinking about it. And then now that I'm 61, I'm like, I really don't have any desire to retire because I enjoy what I do and who I do it with. 
And as long as that's not keeping my wife and I from doing the fun stuff. And that's okay. And we have friends who are older, and we hang out with them. And they'll go, oh, Rob can't do that. Because he's still working. And it just is like, no, no, no, you just don't You don't understand. If I played golf every day, I would be beating my brains out. 
Because golf isn't easy. But second of all, because it's you know, it's to me, it's its kind of gets kind of boring. So it's funny, but that that balance is just so, so different. And I can think as you were talking about your kid, your three kids, I was thinking about that difference in the times in my life.
Samantha (06:38):
Totally. So well, let's go back the story of Rob, you were a financial advisor, was there a time that the switch flipped, when you did decide that you needed to work, go from like, this is my career, this is my business, this is what I'm all about to? You know, I want to dream bigger, I want things to be different. Was there a point or were you always really focusing on creating that life that you loved? 
Rob (07:06):
First, I think I was always thinking about that. And that's actually part of why I left my career as a financial advisor, because I was finding that the work that I was doing with my clients, and as you're, as a financial advisor, financial planner, you're helping your clients, you know, dream big, and think about the future and what they want to do. But I felt like my advice was getting tired. And maybe I couldn't be for them what I needed to be to really be, you know, the advisor that they wanted. 
So I also during that time, had an executive leadership where I was saying grace over about 250 other advisors at the same time. And in that role, I got to do a lot of mentoring and coaching. And the light bulb came on saying, This is what you really need to do next. So that's how I started my coaching business and a new dream started to materialize. And it wasn't clear at first and I kind of talked about balance, I had a hard time kind of figuring out how to balance the businesses. But when I started focusing on the coaching and mentoring, it became obvious if that was the place that I needed to spend, spend my time 
Samantha (08:12):
I love it so much. So you talk about people achieving that next level success, like having a more successful business higher performing teams having more time with their family, for people that want that, where do they start to? Where do they start to, I guess, get that clarity on what that next level success looks like?
Rob (0:35):
Well, I think it starts by looking way out into the future. When I sit down with a client for the first time, one of the things that I want to ask them to do is think about what's life going to look like 10 years out and further, which seems like forever when you're thinking about your business, right? Because you're thinking about how am I going to make more money or grow my business this week, or this month or this quarter. 
So I start out there because I think by dreaming big and being really willing to state the audacious things that sound like they would be a lot of fun to do that would make your life more fulfilling that will make your business more fulfilling if you can start to articulate those things and, and put that in writing. And not that you necessarily have to then map that out to what you want to do tomorrow, but allow that to be the framework against which you bounce big decisions that you make. 
And then you say, Well, you know, I'm thinking about making this change in my business or starting a new business or whatever it might be and then say, well, how does that serve those really big dreams that I have? And I think that creates a real opportunity to make sure that you are working on those things that are truly most important to you and not just because it's about the business getting bigger or you know, manufacturing more time with your family and not making sure that more time with your family is something that is meaningful.
Samantha (10:03):
I love this. I love focusing on, you know, like 10 years out. Do you ever find that people don't dream big enough on that 10 year plan?
Rob (10:17):
Oh, yeah, I think it's one of the hardest things to get people to do that example that I was talking with you about earlier, this client who's just doing a great job as he's transitioning is thinking it is really, really hard for him, especially since many of my clients since they are in the financial advice, business thinking numbers. 
You know, the big dream ends up starting out as some, you know, number for where they want their business to be. And then, you know, picturing other things that they could be doing, you know, when your kids are out of the house, you know, What dreams do you have for the relationship that you want to have with your kids? I just had my first grandchild. So now I've got 
Samantha (10:58):
Congratulations. 
Rob (11:00):
Thanks. I dream about like, what I want that relationship to look like not only now was learning how to be a grandfather, but out into the future when I can turn him into a Cleveland Indians baseball. Yes, yes, yes. Well, I have the inside track I've been. But also, you know, what, what causes Do you want to have impact on I think it's, we get so caught up in, in thinking about, you know, these causes that we're trying to impact on a year-to-year basis, because we, you know, we volunteer some time, or we give some money, which is great. I'm not being critical of that. 
But you know, what, if over time you tell yourself, you know, I have this idea of building a new building for the boys club, or the girls club. And I want that to be part of that big dream. Just it's just a fun way to go about life. I think,
Samantha (11:51):
Have you ever had anyone that said to you that that's really great, Rob, but I don't know what I want in 10 years, because this is certainly a place that I have been in the past, not so much now. Because I've got my own way of going through this. It certainly people you know, other people have said it to me, like, I don't know, I don't know what I want, have you had come across this yourself or with clients?
Rob (12:12):
Yes, all the time. Because again, I think it's a really hard thing to do, especially the first time you do it. So that's why I think it's important to make it a recurring exercise. And just to as you're doing it to really do it freestyle. Don't, don't try to hold yourself back, don't say you have to write, you know, sentences or paragraphs, you know, just write down things that come to your mind, and then keep that in front of you, and then have a regular process for reviewing that. 
So what I encourage my clients to do is we're sitting down each quarter kind of looking at their sprint for what they want to do over the next 12 weeks. Well, we'll use their big dream as a way to start that conversation so that we do it that short term planning in light of those big term things that can sometimes cause some think, you know, my plans and my dreams aren't matching up, there's some new things that I want to do, or I didn't think of before. So I think that's, that's really important.
Samantha (13:11):
I love that you mentioned the new things. Because I think that, you know, as we were saying before, our purpose changes at different times of our life. And I think it's really important to give ourselves the permission slip to have our, our dreams to be a living, breathing thing that can change and evolve with time as we grow and evolve and change with time rather than, Oh, well, this is it, I need to 100% stick to this. And I think that that gives you the permission to I think dream bigger. And just knowing that you can't actually get it wrong, 
Rob (13:47):
You can't get it wrong. And in one of the exercises I do when I'm encouraging people to dream big, you know, I remind them that this is their dream, nobody can grade it, including themselves if they just have to let this be this living, breathing document that they keep just records what they're thinking about. And the other thing you may think about is just think about technology.
 You know, if you were dreaming about what things are going to be like, today, 10 years ago, and you didn't know some of the opportunities that have created some good, some bad, because of the way that technology has changed. And there are other things that have changed in rapid ways to you'd be you'd be short, changing yourself. I mean, there are things that you couldn't do based on what you knew about things 10 years ago that are possible today, and that's gonna be gonna continue to happen. I think I said that in a way.
Samantha (14:42):
We're recording this in 2022 And when I think back to 2012 like it was very different, you know, 2012 we still had, you know, social media, but it was still fairly new. I don't remember there was probably cryptocurrency around then, but I don't know remember hearing about it? You know, there was I can't remember any talk about web three, back then I certainly didn't have the amount of technology in my business that I do. 
Now I did a bit back then. But it doesn't look the same as now, you know, we certainly weren't all their whole world wasn't sitting on zoom back in 2012, there was a vast majority of corporate, you know, corporate global corporate, not just corporate America, America or corporate Australia that didn't even know zoom existed, or that we could, you know, run, you know, virtual team meetings. 
So, just think of what it's going to look like in the next 10 years again, and I think that it will be sped up even more with artificial intelligence. And, you know, I don't know what's going to happen with, you know, computers, I've heard that it's not too far in the future, and we won't even have them. So I don't know what that looks like. But, you know, we've just got to be open to knowing that things are going to change.
Rob (15:53):
Right. And that's, I think that's going to impact the way that you dream or the things that you dream that you want in the future, because that may, in some cases, just allow you to dream even more audaciously and want more stuff, and I don't mean stuff like in, you know, accumulating more possessions. 
Yeah, it doesn't have to be that at all. But I just have to say about zoom, I think 10 years ago with Zoom, I think it was around. I had like one of the first Zoom accounts. I mean, I remember talking to a guy who was like the number 27, employee of zoom, and I signed up, and like three months later, I turned it off. I said, That thing will never work. 
Samantha (16:37):
Ah, that is so funny. 
Rob (16:39):
Now, am I in my business? You know, I like to say, you know, I was zooming before, Zoom became popular during COVID. So you know, it's the world's a very different place. But that's it.
Samantha (16:58):
It is kind of a side note, but it is a little bit funny, too, because I was using Skype. And we've been using Skype in our business since, ah, like early 2000s, I think. And so when I'm thinking back to 2012, or even sort of when I started podcasting, 2015 2015 was the first time I'd heard of zoom. And I'm like, why would I use Zoom? When I can use Skype? And now look at us. I don't know anyone that uses Skype any more?
Rob (17:22):
Yeah, I'm sure there are people do we don't want to offend Microsoft? 
Samantha (17:27):
Oh, totally not. But let's face it, Zoom is probably one of the most use words, you know, from, from the time that the world changed back in 2020.
Rob (17:35):
And it's been used so much that now it's even a bad word for some people.
Samantha (17:41):
Totally. But we are on Zoom. And I'm very grateful that I get to connect with people all over the world on Zoom. Let's talk about like, once we've focused on our bigger dreams, you know, those big, audacious 10 year dreams? How can we start to filter this down and bring it to what we need to do now? Because he very much talked about, or have mentioned that, you know, we don't need to just focus on numbers. But how do we go from this big, chunky dream to what do we need to implement now? To put us on the trajectory?
Rob (18:15):
Yeah, so then once my clients go through the dreaming process, and what I want them to think about next, and I kind of leave it up to them, you know, how far out they want to do their planning as opposed to their dreaming, you know, whether it's three years or five years, but usually it's somewhere in those that range, we'll pick a target for where we want the business to be where we, you know, what things they want to have happened personally, in the next, you know, five years. So we have, we kind of have a plan that is informed by the way that they've created the big dream. 
And then we just start dialling that back because I like to work in Sprint's I'd like to work like 12 weeks at a time, how do we then take that back to what are we going to do over the next, you know, 90 days to accomplish a set of activities or actions or goals that are really important. And so it's just just kind of dialing it back from that big future that big dream to Okay, now we do have to think about today because we can't just dream all day long.
Samantha (19:17):
I mean, dreaming is great, but there has to be some sort of implementation, right?
Rob (19:22):
Yeah, for sure. Yeah, implementation is really, really important. And I think that's where a lot of people miss it. And the best coaches that I meet and work with that is to me, one of the things that stands out the most is that they are action takers, and they really try to ensure that their clients have a set of actions that they can really, you know, put into action and kind of hold them you know, hold them to that and when it connects out to the long run, and I think it makes it more successful.
Samantha (19:50):
Totally. Do you have a process that you use to specifically decide on your actions for your 90-Day action plans? For instance, do you have like a monetary goal and a team goal? You know, I'm just pulling any words out there? How do you personally for yourself, ensure that you're on the trajectory to hit that 10 year goal without creating projects or tasks for your, on your 90-Day plans that aren't really going to get you there? You know, I find that some people can get almost a little bit scared with new tasks or new projects. And they do, or they set projects that are kind of fluffing around a bit.
Rob (20:37):
Right. No, I think that is a danger. And doing you know, Sprint's and doing 12-week plans is like, you feel like you have to come up with something new and novel, but sometimes it is making sure that you're executing on those things that you said that you're going to do in terms of client acquisition that relates to, you know, bringing in new, new business, new revenues. Other times, it might be something's happening with your team, and you feel like, you know, for that quarter, you know, focusing on team development, team building, adding a team member becomes part of that process. 
So I don't want a sprint for a client to necessarily be a new project, although sometimes you do come up with something. So you know, we're going to implement this new routine for improving our client service. And we're gonna hit it hard for the next three months, because we want to make sure that it sticks.
Samantha (21:33):
Totally. So when you're putting your 12, week, sprint together, do you have a mixture of these are the things that we're going to implement? And this is, you know, something I also want to achieve in my life. So I'll give you an example. Is it I'm going to increase my revenue by 20% by optimizing my funnel this quarter, but I'm also going to make sure that I spend eight hours with family as well, or do you set your 12-week sprints in purely business? Like, do you bring that emotional piece in as well?
Rob (22:10):
Yeah, we definitely bring personal goals and family goals in because you know, most of the people that I work with a very, very successful and what they're doing, and they're kind of looking to get to that next level of success, which includes that mythic, like we talked about before, balance, which often times includes, you know, I'm really not getting to my kids baseball games.
And so for this spring, it's baseball season, and I am not going to miss a home game or whatever, whatever it might be. And so because to me, that is, you know, inside that sprint, there's a goal, but it's a goal that's broken into, the more you can break it into an activity, and you know, an activity that's based on some sort of frequency, which is like, you know, I want to make sure that I am more focused on getting referrals and introductions from my clients and centres of influence. 
So okay, if you want to do that, how many of those conversations are you going to have each week, this quarter, or I want to spend more time with my kids and my family. So I'm going to make sure that I have, you know, dinner at home with everybody at the table, you know, three times a week, you know, I guess that seems a little too formulaic. 
Maybe the way I said, it just doesn't sound very fun when you force it, but the point is, how do you create? I'm a big believer in success habits, what are those things that you, and you can build those into sprints? What are those things that you do over and over again? Not necessarily, because you're expecting an immediate result. But you know if you do them that success will follow. And it might follow, you know, next week, next month, next year, but you know if you just keep doing it, it's gonna happen.
Samantha (23:53):
I know that when I first, or I worked with my very first business coach, and I'm a very, for people that know me, I'm, you know, a head down, bum up kind of person, I get very focused. And if I say I'm going to achieve this, I do. And when I hired my first business coach, we sat down, and we talked about business. And in our very first session, I was really surprised because, you know, what he did was actually made me fill out my calendar and show him where I was spending all my time.
 I assumed he was going to kind of pick that apart. And he said to me, tell me about your values. And for me, two of my highest values is health. I've been in the fitness industry, I was a dancer for most of my career, and the other one was family. You know, I had three children and because at the time I owned a dance studio, I was working a lot out of hours. 
So the first thing we did was put in two mornings where I wasn't at work or in the business. I was at the gym. And on Friday afternoons, I always picked my youngest up from school, and we went, and we had, you know, he had a milkshake. I had a coffee. That's what we did every week. And at first I was like, this is busy. Ah, that my coach has made me do this. But I tell you what, within a couple of weeks, that was a exactly what he said, it turned into a habit where I went to the gym on those days for 10 years, you know, every Friday, I automatically went and had, you know, milkshakes with my son after school. And what that did was made such a big difference in my business, because I personally felt more fulfilled.
Rob (25:25):
Yeah, no, I think that is an awesome strategy. Because by saying, looking at your calendar and asking you what your values are, it probably became obvious that your values and where you were spending your time weren't lining up. Let's make it let's line it up. Let's and sounds like you picked a couple of really good things to focus on.
Samantha (25:42):
Yeah, totally. And I just wanted to share that story to make sure to show that how important it is to align our personal values and what we really need to feel fulfilled, to then be able to reach the business goals. And I just wanted to shine a light on what you were just saying, in that business goals in a bucket on their own. And not You're not going to be able to reach the level, you still probably achieve your goals, but you won't reach the level of success without bringing in those personal goals and motivators.
Rob (26:17):
Yeah, no, I think that's absolutely right. And in my process, I call the truce fan blueprint, one of the one of the core lessons is belief in yourself, you know, the overall process of being a true as fan is the idea that to live in a way that really makes a difference. You have to believe in others. And you have to believe in yourself and really act that way. 
But some people want to put kind of that believing themselves aside, which then means they put aside those value and time alignments. But when you make that happen, it makes everything else easier, because then you don't feel like you've got to squeeze it in. And every day you beat yourself up because you didn't get to spend milkshake time with your son. But if you know that you're going to do it on Friday, like you know I can let that go. You know, it's a little long. Today, he'll be okay, because I've got my routine that does line that up. So I love that idea. I think that's a great story.
Samantha (27:15):
Totally. Now, you just mentioned the truest fan. That's the name of your book, you've also got a broadcast called the truest fan. Can you explain what the truest fan? Like what does that phrase mean to you?
Rob (27:27):
Yeah, so to me, being the truest fan is living a life where we go out of our way to remember that everybody needs to be, and to have the truest fans, people who really root for them. It's the whole idea of, of loving others the way that God intended us to do that, and just doing it intentionally. 
So that's, that's, that's the kind of the root of it because I believe if we live, that way, the world becomes a better place. But also we become more fulfilled, I think, I think that's how we are able to get to the dreams that we want to have. It's not by it's not by overly focusing on ourselves, it's by focusing on how we live around other people. So the full title of the book is true is fan, live, love and lead with purpose and impact. And I just, I just think that's where the purpose of impact come from.
Samantha (28:23):
Love that. Now you've got a truest fan implementation guide that people can access. Can you please explain a little bit about that, and maybe why people might want to get a copy of that?
Rob (28:33):
Sure. So as we've been talking about, I'm a big believer in taking action. And any process that you can teach somebody like the truest fan process is not something that you can implement all of it all at once, you have to have a way to systematically put it into action. 
So the truth fan Implementation Guide, is a series of seven really simple exercises that you could do one a day, over a week or once a week for seven weeks, however you want to do it, but just allow you to implement the different lessons. And there those small changes, like the change that your first coach got you to do that when you do, and you're like, Gosh, why didn't I do that? A long time ago, because I'm getting some time back, I feel better about myself, the people around me are noticing that I'm a happier person. 
So it's just seven lessons that come from are seven exercises that come from the seven lessons that are in the truce fan book.
Samantha (29:38):
And where can people go to get a copy of that implementation guide and go through that process? 
Rob (29:42):
Just go to truestfan.com forward slash free because it's free. 
Samantha (29:47):
Love it. And I wanted to say that, you know some of these concepts may sound simple, but it's the simple things that make the biggest difference because if they're simple to implement, then you know they will make a bigger difference over time. It's like the What's that saying? That? Is it a rolling stone gathers moss anyway, you know, these little nobles? 
Rob (30:09):
There is no moss.
Samantha (30:10):
Thank you. I knew it wasn't quite right, I'm glad you got that. But essentially, you know, over time these little things go into process, and they turn into bigger things, they get faster. And you know, this is how we're going to achieve these really big, audacious goals. And if we can, you know, be sitting, you know, in our rocking chair on our front porch in our 80s, and say, well, we achieved that, you know, that's a really amazing, amazing thought and amazing feeling to have.
Rob (30:38):
Yeah, absolutely. And I'm really glad that you pointed that out about simple things. Because, you know, that is one of the dangers talking about having these big, audacious dreams is then you feel like you've got to, you know, kind of accomplish them or reach them in like these big giant, unmanageable steps. 
And the truth is, no, it's not just the 12-week sprint is but these, these little things that you can do in terms of the way you manage your, your calendar, and, or empty your inbox so that you're not trapped by emails, there's just so so many those little things that you can do that have a cumulative effect.
Samantha (31:15):
So for people that have listened to this episode, and they're inspired, and, you know, there may be thinking about their, their business goals now, or they're thinking about their goals in the future, or, or, you know, wherever their mind is taking them after going on this adventure with us today. What is that leaving thoughts that you want to leave them with today?
Rob (31:37):
So my favourite lesson in the truest fan, is that smiles and kind words, go a long way. And you don't, you know, smile at people and treat them kindly, you know, just to get feedback, but you do. 
So I would encourage people to take some time today or in the next 24 hours. And figure out who are three people that you know, that maybe you haven't been in touch with in a while that you just want to send them a text, or an email or a quick call and say, I'm thinking about you, just wanting to make you smile, just take some time to figure out what that feels like. 
And I think when you do that, you begin to understand how important it is to route other people on to be their truest fan, and then some other stuff starts to make more sense. So that may seem a little off the wall. But that is absolutely my favourite thing to encourage people to do. First, because it's it's not hard. 
We all have people in our brains. I was at a church meeting this morning teaching a Bible study. And as I was leaving, somebody mentioned a name to me of a friend that I hadn't talked to, since before COVID. And I said, you know, when as soon as I get in the car, I'm going to, you know, push the button and say call Bruce. And you know, I just like, I've just got to do it. Because it's important.
Samantha (33:01):
You know, I love the small little synchronicities that happen in life, because I just we're recording this in the morning, I just come off a breakfast meeting with someone. And she said to me, I want to thank you so much. You are one of only two friends that actually when we talk, the first thing you say is how are you and what have you been up to? And she said, and that actually makes my day like I've just really realized how you know how good a friend you are? Because no one else asks me that. And that just gives credibility to the fact that you've said that, that really does change people's lives. Because someone just told me that only.
Rob (33:37):
Yeah, and I bet that obviously, I wasn't part of that conversation. I bet part of No, but I bet though part of why she said that was because when you ask how she's doing, you really want to know, you know. So I just think that's that's why it has to be genuine has to be sincere, this idea just going out of our way to make people smile and offer a kind word. Absolutely ask them how they're doing.
Samantha (34:03):
And actually mean exactly like you say, actually care which people that are listening to this, people in my world really do care. That's why they're, they're part of my world. So I know that from listening to you today that we will all be inspired to dream bigger. Think about where we want to be think more about our purpose, our legacy, what matters most. So Rob, thanks so much for coming and having this conversation today. I really appreciate you.
Rob (34:27):
Oh, absolutely. It was my pleasure I had after listening to some of your other episodes, I was confident we'd have a good interview, and it was top of the charts. 
Samantha (34:39):
Well, thank you. I have a great time. 
Samantha Outro (34:40):
Thanks for joining me for this episode of the Influence By Design podcast. If you want more head over to influencebydesignpodcast.com for the show notes and links to today's gifts and sponsors. And if you're looking to connect with other experts who are growing and scaling their business to join us in the coaches, thought leaders and changemakers community on fire Facebook the links are waiting for you over at influencebydesignpodcast.com