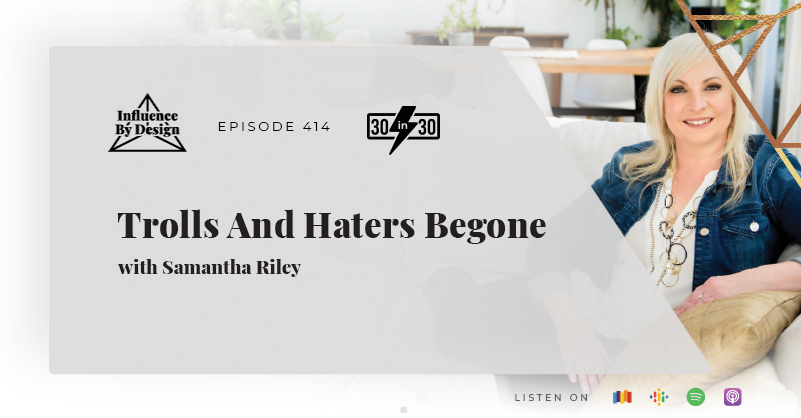 The question of having trolls and haters is not IF you're going to have them, but WHEN. Keyboard warriors are called precisely that because they share nasty comments while hiding behind their computers, without revealing their identity.
In this episode, I'm going to share ways to manage your energy around trolls and haters. Remember that the more you show up, the more angst you'll receive. However, the shade you get is everything about the troll's life and triggers and not about you.
IN THIS EPISODE YOU'LL DISCOVER:
How to manage energy when trolls and haters show up (02:20)

Hurt people, hurt people (03:00)

Decompress before you respond (03:25)

Answer briefly and kill them with kindness (03:53)

The importance of staying professional (05:03)

Learn the art of debate (06:00)

Your space, your rules (06:59)
QUOTES:
"Don't let your energy get caught up in their petty little games because trolls do not need feeding." -Samantha Riley

"Trolls only do what they do to rev you up and if you don't play the game, it's no fun for them." -Samantha Riley 

"The more you show up, the more angst will be sent your way." -Samantha Riley
BOOK YOUR FREE BUSINESS ACCELERATOR CALL
If you're an expert doing over $10k per month, and want to be known as the Unapologetic Leader in your industry, you may be just a few small tweaks away from doubling your income and visibility.
On this quick 15 minute call, we'll:
Conduct a quick audit of your marketing to see what is and isn't working.

Review your niche, positioning and pricing of your current offers.

Uncover the top 3 bottlenecks from  holding you and your business back from scaling

Develop a 3-step implementation plan to get the growth results you are looking for.

​​SUBSCRIBE & REVIEW THE INFLUENCE BY DESIGN PODCAST 
Thanks for tuning in to this episode of the Influence By Design podcast. If the information in any of our conversations and interviews has helped you in your business journey, please head over to Apple Podcasts, click the 3 dots in the top right corner of your smartphone screen, follow the show, and leave us an honest review. Your reviews and feedback will not only help us continue to deliver valuable content but will also help us reach even more amazing entrepreneurs just like you!

CONNECT WITH SAMANTHA RILEY
TRANSCRIPTION
Samantha Riley Intro (00:00):
How often do you hold yourself back because you're afraid of being shamed, or called out for something? When you understand it's going to happen regardless of what you do, you won't need to hold yourself back anymore. Instead, you have some ideas at your disposal to be able to manage your energy. 
Samantha Intro (00:30):
My name is Samantha Riley, and this is the podcast for experts who want to be the unapologetic leader in their industry. We're going to share the latest business growth, marketing and leadership strategies, as well as discussing how you can use your human design to create success in business and life. Inside and out. It's time to take your influence income and impact to the level you know you're capable of. Are you ready to make a bigger difference and scale up? This is the Influence By Design podcast.
Samantha (00:54):
Welcome to Episode 414, of influence by design day seven, who can believe it day seven in our 30 in 30, we're releasing an episode every day for the month of September. And we're focusing on the theme of stepping into your power, being the unapologetic leader in your industry, so you can build your elegant empire. 
And today I've chosen to talk about this topic of trolls and haters. Because just today, a little bit of someone's agitation was thrown my way. I received an email that said this. I've been receiving a huge amount of mail, so please limit your emails to once a month. That was it. No, Hi, Sam. No, hope you're well, no thanks. Nothing, just that one sentence. 
Samantha (01:37):
Now just think about this. If you received this in your inbox, what would you do? Would you get upset and be consumed by your emotions for the afternoon, or even worse, possibly decide to send less emails. Now stick around to the end of the episode and I'll share how I responded to this email. But let's get into this topic. 
Because here's the thing about people that throw shade your way. It's everything to do with them and what's going on in their life and their triggers. And it's not about you know, we need to show up and serve. 
Samantha (02:12):
And we need to show up more prolifically to serve more people. The more we show up, the more angst is going to be sent our way. It's just that's the way it is. 
So today, I want to talk about some of the ideas that you can use to manage your energy when it happens. Not if it happens because it will happen. We all know that keyboard warriors have so much more confidence when they're hiding behind a keyboard and a screen. 
And, boy, I've seen some awful, awful stuff on social media. Now some of the comments that I've received personally, and especially on Facebook ads are quite spiteful and can be quite rude. 
I'm not going to say that I haven't been shook a few times. But I've learned to deal with it much better over time. 
Samantha (02:59):
So number one, what I want you to realize is when you read these hurtful comments, the first thing you need to say to yourself, well, the first thing you read need to realize is that hurt people hurt people. And what I do is energetically throw some love their way. This helps to manage your energy right from the beginning, before you even sort of move forward on this. 
Samantha (03:23):
Number two, take some time to decompress before you reply, go away have a cup of tea, go for a walk, whatever it needs you need to do to let the emotion dissipate. Don't reply with a hot head because you'll most likely end up with a heap of word vomit that's all over the place. It doesn't make any sense. And it really does. It's its more around what you're feeling than the situation at hand. 
Samantha (03:49):
Now sometimes you want to ignore the post, but other times you want to acknowledge it. 
So number three, if you do decide to go back and acknowledge something that's been left on your social media or on an email, put together a short, sharp, and to the point answer and kill them with kindness. 
Now let me give you an example. I often have very unsavoury comments on paid ads. Some of the things that people have left me and some of the memes are absolutely disgraceful. 
One of the things I do is actually go in and acknowledge their point. And I'll say something like, look, I totally understand where you're coming from. It's very hard to know who to trust on the internet. And then I'll go into share something about the specifics of what they've said. I only ever comment on specifics, never on something that's just general hate. But once I've put that comment up, that's where it stops. Never ever get into a slinging match, answer once and then walk away. 
Don't let your energy get caught up in their petty little games. Because trolls do not need feeding. Remember that they do not need feeding. 
Samantha (05:01):
Number four, stay professional. Now I had an instance many, many years ago, when someone left a really terrible review, and wrote that they'd been ripped off by our company, the post was very public. 
And of course, I was extremely upset. So the first thing I did was walk away to get my head together. And what I did was collect the facts, the facts of what had happened, I can post a really short point, acknowledging each of their complaints with facts of how this situation had really gone down. 
I ended the post with and if you have any further questions, please contact me directly. And when I checked back 10 minutes later, that person had taken the post down. You see, trolls only do what they do to review up. And if you don't play the game, it's no fun for them. So really think about how you're reacting to these kinds of posts.
Samantha (06:05):
 And I always think that if a post isn't too bad, there's always room for debate. I think the art of debate has been lost in this fast-paced world of social media. And debate is a really fabulous way to learn for both you and your audience or the other party. As long as it doesn't get nasty. 
Just remember, a conversation doesn't always need to end with a and I'm going to put this in air quotes a winning comment, it's totally fine to end a conversation with will have to agree to disagree. 
I remember one time using years ago, someone him and I had debated on social media. And both of us still bring it up to this day, because we both learned so much from seeing the other person's perspective. And we're still really good friends, even though other people had actually come in and gotten quite nasty while we were having this debate. So it's a really great way to learn and a really great way to show up professionally.
Samantha (06:57):
But finally, I want you to remember this. It's your space. It's your rules. You have every right to block, ban or report trolls. Keep the boundaries tight on your energy. 
Samantha (07:11):
Now, as I promised right at the beginning of this episode, I would give you the answer to the email that I shared at the beginning. So here it is. And this is what I wrote back. 
Hi, Kylie, not her real name. Scroll down to the bottom of the email and you'll see the Manage your subscription link. You're in control. Have a great week ahead, Sam. 
Samantha (07:35):
Thanks so much for listening. And if you found this content valuable, which I really hope that you did, here's how we can help you to grow your expert business even faster. Join my free Facebook group coaches, thought leaders and changemakers on Facebook, where you'll get access to weekly free training as we dive into every aspect of your business. 
So you can be the unapologetic leader in your industry and build your elegant empire. You'll get the strategies, tools and worksheets that help you get the quantum growth that you know you're capable of. So head on over to Facebook right now and search the coaches thought leaders and changemakers group right now. 
Samantha Outro (08:07):
Thanks for joining me for this episode of the Influence By Design podcast. If you want more head over to influencebydesignpodcast.com for the show notes and links to today's gifts and sponsors. And if you're looking to connect with other experts who are growing and scaling their business to join us in the coaches, thought leaders and changemakers community on Facebook, the links are waiting for you over at influencebydesignpodcast.com