Do you feel the urge to step into the next level of your leadership? Whilst it can feel exciting, there can also be an overwhelming fear of not knowing where you're heading. In this episode, we have a casual and candid conversation on how to handle the fear of stepping into the unknown in leadership with Kiri-Maree Moore.
Kiri-Maree is a Global Advisor, Strategist, Speaker, and Investor. Her goal is to impact change in the global leadership landscape and create an innovative leadership culture.
We all go through "phoenix rising" moments where we know we're ready to evolve and grow but we get trapped in the confusion and uncertainty. During these times, it's best to have the end in mind.
Our leadership journey will always demand us to create space for transformations no matter how uncomfortable it can be. This episode provides valuable information that prepares you to engage in the unknown and revitalise your leadership. 
IN THIS EPISODE YOU'LL DISCOVER:
Stepping into the new position of leadership (02:42)

The significance of understanding our why (06:50)

Activities to help you to show up as a great leader (09:50)

Dealing with a busy mind (15:09)

The difference between procrastination and the need to take time out (18:32)

The journey of making mistakes and getting back on track (24:50) 

Finding the right league for the next level (37:15)

The value of sharing vision and purpose with others (44:30)
QUOTES:
"A mistake is only a mistake if you don't ever learn and grow from it." -Kiri-Maree Moore

"Anytime you don't make a decision, it's because you're not willing to make one." -Kiri-Maree Moore

"It's so much easier to do these crazy, hard, challenging journeys when you're with other people." -Samantha Riley 

"When we're stepping into something new, there's always going to be things that go wrong. But we absolutely need that fast, messy feedback to move forward." -Samantha Riley 
RESOURCES MENTIONED
WHERE TO FIND KIRI-MAREE MOORE
BOOK YOUR FREE BUSINESS ACCELERATOR CALL
If you're an expert doing over $10k per month, and want to be known as the Unapologetic Leader in your industry, you may be just a few small tweaks away from doubling your income and visibility.
On this quick 15 minute call, we'll:
Conduct a quick audit of your marketing to see what is and isn't working.

Review your niche, positioning and pricing of your current offers.

Uncover the top 3 bottlenecks from  holding you and your business back from scaling

Develop a 3-step implementation plan to get the growth results you are looking for.

​​SUBSCRIBE & REVIEW THE INFLUENCE BY DESIGN PODCAST 
Thanks for tuning in to this episode of the Influence By Design podcast. If the information in any of our conversations and interviews has helped you in your business journey, please head over to Apple Podcasts, click the 3 dots in the top right corner of your smartphone screen, follow the show, and leave us an honest review. Your reviews and feedback will not only help us continue to deliver valuable content but will also help us reach even more amazing entrepreneurs just like you!

ABOUT KIRI-MAREE MOORE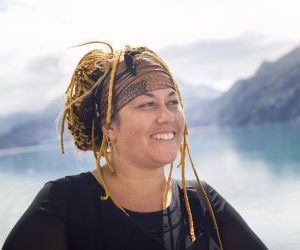 Kiri-Maree brings unlimited possibilities to global leadership culture. An unbelievable force as a global disruptor, innovator + influencer!
She loves to create a sustainable innovative leadership culture. To play big to create kick-ass world changers. And to impact change across the Global Leadership Landscape now + for the generations to come.
She is a leader who leads the way. And raises the bar for the impossible to possible.
TRANSCRIPTION
Kiri-Maree Moore Snippet (00:00):
We've all got something in our hand, what are we doing with it? What can we do with it? And who can we take on that journey with us to make it even happen faster, because then you can join what's in your hand, what's in their hands and actually make a real big difference.
Samantha Riley Intro (00:17):
My name is Samantha Riley, and this is the podcast for experts who want to be the unapologetic leader in their industry. We're going to share the latest business growth, marketing, and leadership strategies, as well as discussing how you can use your human design to create success in business and life. Inside and out. It's time to take your influence, income, and impact to the level you know you're capable of. Are you ready to make a bigger difference and scale up? This is the Influence By Design podcast. 
Welcome to today's episode of Influence By Design, I'm your host, Samantha Riley. And today we're going to be talking about leadership and specifically the fear of stepping into the unknown, which I'm finding, there is a lot of people really feeling at the moment, really wanting to step into the next version of themselves. And some people are stepping away, some people are stepping in being really fearful, being afraid and stuck. So I have invited my very good friend, Carrie Marie Moore, to join us to have this conversation about leadership today. Welcome to the show again.
Kiri-Maree (01:24):
Well, thank you for having me. And I'm all the way from the Amalfi Coast in Italy. So if you hear some random sirens, who knows what I'm actually quite close to arrive. But this is the best internet and I can't wait to have this conversation. So thanks for always having me on here.
Samantha Riley (01:42):
Absolutely. And for everyone, you're going to be listening. But I actually get to see the Amalfi coast in the background, and it is stunning. So I'm super glad that we could make this happen today. 
Let's start off because we were having a little bit of a conversation before we started recording. And there is or I'm seeing a lot of people right now that are ready, it's like there's a lot of energy around that a lot of people have been almost breaking things down or had this last sort of couple of years, or even up to six months where they're breaking things down. And they're ready to go into the next evolution of who they are. 
And it's almost like that, you know, that Phoenix Rising moment. But that absolute fear that they know they want to do it, but they're really stuck. And I know that this is something that you can speak on a lot, because you've been, you know, in that moment where you've been in that, that evolution of going to something big and you know, you've absolutely exploded. Let's go back to that, that moment where you were creating that new version of you. And I'd love to know what it looked like back then sort of at that beginning of the stepping into the new position of leadership.
Kiri-Maree (02:58):
It's so funny you say, being at that spot, I think that you're always at that spot where you hopefully evolve into the next I think there are times in life, right? Where we have to face that so much more than other times. And at those moments, I always have to go with the end in mind, where do I really want to head? What does that even look like? And even just start dreaming about that doesn't mean I'm going to do it just means I'm even creating space to think about it, maybe even dream about it. And I think it's that those moments that I have to get so strong on what are the drivers around me getting to that spot? Like as in if I was to go there? If I was to think about that? What would make it strong enough for me that I want to even make the efforts to even consider it, let alone do it. 
And I think that is always been something I've had to as I played a different level and gone to different spaces of expansion and who I am to be able to do what I do. I've had to go to those spots where and you know, you've you and I have had these conversations many times. And sometimes it's so uncomfortable that like sometimes I'm breaking down in tears or in frustration or going this is just too big. I just don't want to do this. And I know everyone who knows of me knows I play a bigger game and I often think that I just I'm I just go for it and it's like a bed of roses and you're just popping into it. And you know behind the scenes. That's not the truth. 
The truth is that with every level, there's a new stretching I have to do and there's a new facing our fears where I might have been able to sort of make it happen because the fear Yeah was, was a small fear, you know, something that maybe, you know, and we've talked about this before the extrovert versus the introvert, it's so easy for me to go back into my introvert default back to that. Here's the thing when you have to face and that, for me is a daily fear that like, honestly, I have to keep facing, keep going, what is it that is this bigger than what I worry about? Is this bigger than me? 
And as long as I keep it bigger than me, and not all about me, then I can move out of that introvert, then there's other things that I've had to work even harder for things like you know, that moment when you've been hit down really hard. And things are all going wrong in your company, or, you know, there's real tension in relationships, partnerships, you name it, it's happening, those moments can often take things that at times you do really well, maybe confidence, maybe it's even, you know, the brain fog that comes when there's so much overwhelm happening in your life. It's those moments that are not always the easy ones, and the ones that can create an almost escalate or that fear that you might feel, but you might be able to walk through at other times. 
And I have to say, those are the moments that I've had to learn to really fill up the cup, and make sure I've got some overflow of extra energy, extra determination to climb that hill that you have to do, or, you know, like really surround myself with really good people who are helping to pretty much carry me through that season.
Samantha (06:51):
You mentioned that your y right at the beginning, you need to know what that y is? How do you tap into that at a level that helps you to push through this because I'm sure that everyone that's listening has that moment where they're just like, I don't know if I can do this anymore. Like we're humans, and we have these human moments. 
And every now and again, we're like, Ah, now I'm done. I can't do this anymore. What is it that you do specifically to tap into that and expand that? Why? So that it's so much bigger than you?
Kiri-Maree (07:22):
So I always go to the like, I create, I literally create these moments where I go, What if, if nothing was stopping me? What would I do in that moment, right? And we've talked about that a lot in the past, but I go to those moments and I start going there. And then I go, Oh, that sounds too scary. And then I look for the people that are doing the closest to that thing. And I start listening to their story or listen to what they're thinking or doing. And I go see it as possible. Okay, maybe I'm not even thinking big enough on that one. And then I go, what, what else? What do I need? You know, like, I've I know my weaknesses? 
And I know my strengths. And I go, What are my weaknesses that I need to work on? If I was to be able to do that, and not just do it? You know, me, I want to do that like really well. And so I'm like, What do I need to sort of skill myself out? To be able to do that? Well, to feel confident to move in that space, even though that's not something I know. And the biggest wild piece that I go to is, if this was my last day, then how would I want to live that? And what would that need to look like? And who does that need? 
You know, like, if I if that was the case, then who would I be hanging out with spending my time with? What would I be doing? Who would I want to help and serve in that last moment of my life? What is the legacy piece that I want to leave behind? I think I like this all the time. I'm such a future thinker, Sam. And I really am because, you know, a lot of us are facing things. And then now, it is only our now right now our reality in this moment. 
What I want to know and what I want to believe, and what I want to move towards is the future of the hope of the future. And I'm really digging deep into looking what could the future be if we literally had hope? And how different would that look? And how would we live our lives? And who would we spend that time with in doing what? And so I think for my case, it's a lot of future thinking a lot of future working towards and that brings a lot of hope to me.
Samantha (09:41):
So really, really tapping into what that looks like for other people so that you know where you're going. You talked about having the energy and the determination. You mentioned just then you know your circle of influence of the people you surround yourself with. But what are some of the other I don't know practices or things that you use in your, in your daily life or even once every now and again, to be able to show up as the leader that you need to, I guess be right now not even in the future.
Kiri-Maree (10:16):
Yeah, I think there's, there's, there's quite a few things that I do but like I do quite a lot of in my life. One is the physical, I think that it's really important to be physically as healthy as possible, so that I have the energy so I can turn up. I feel good. I'm, I love that you and we've talked about this before and our own conversations around the physical and the fitness industry. And when you know when, after a really hard workout, how good that feels. Oh, it's the best feeling or the limit? Yeah, right. It feels us up. And it's almost like sometimes when you're in those moments, I had one not that long ago. 
So I you know, I ended up in that wheelchair many, many years ago had such a journey to get out of that. And to walk without a stick. This is my first time traveling in and we've just done Croatia two weeks on a on a boat there. And we actually spent three weeks there three and a half weeks. And I did a lot of walking and a lot of just exploring amazing places. And I did it all without a stick. So for me and the same here on the Amalfi Coast in Italy, I have been doing a lot of walking. 
In fact, the other day, I did this crazy walk that the Italians that I know here I go, you shouldn't do too hard. No way. And I did it. He was one they said that. And I love the challenge of it. And three because it's something I've always wanted to do, but haven't been able to do in the past. And I'm at such a good level in my physical now that I can do that. And I did it I looked hot as afterwards, red face. couldn't drink enough things afterwards. It is literally from the Amalfi coast up to Ravello. And it's it's quite a small walk and a lot of ways. 
But every single step of it is one step at a time up a hill. And there is no breathing space, you just got to commit to it and go for it. And I just think that's that's kind of how I do life is like, you know, what is? What is that next challenge to get me to that next level that I need to face? And what do I need to what do I need to become to be able to face that challenge? And so the physical is so important. 
Because if I don't have that energy, if I don't have the capacity for me to be able to do it, well, then I'm not going to show up. And I'm not going to do it well. So that's one, the other, you know, there's a few of them. So another one is my spiritual background. And we joke at each other with a woo-woo thing and all that sort of thing. But I do believe I'm here for a purpose. And if I'm going to be, we don't know, our day nor our hour. And if there's one thing I've learned over the last few years, is we have to make the most of this life, we've been given a life. And I think we've been given things in our hand that we have already. 
What are we going to do with that? How do we do that? Well, and so I'm always going back to that, what is my purpose, I think, you know, when you can focus in on what your purpose is, it keeps you on the pathway of what you're meant to do. And so when you've got that, so for me, you know, knowing my purpose, what I'm here for that is really important. So physical purpose. And then I think the other I mean, there's a few other things, but I do think having where is your mind? Where is where What are you? What are you filling your life with, with your thinking, what you're listening to who you're going back to you spend your time with. 
And that becomes really, really important, because if you are not in an environment, and that goes to your environment, so one of the things that I do, and you know I do this is I will go and spend time in beautiful locations, or even if I don't, I'm out on a really busy schedule, I will just go and take 20 minutes out, maybe an hour out if I really need a little bit extra, go for a walk with the dogs and just get back into that space and I will put in my ears. Some, you know, like listening to something that's really inspiring or motivating or the other side of it is I will actually just be in silence. Sometimes I just need that space and I find as actually, as I'm playing a bigger level. There's those times of silence i need them more and more, so that I have more to give when I need to go into that noise.
Samantha (15:06):
It's really interesting, because as you were speaking, I was making notes. And I was going to ask you about that, you know, that busy mind that we have, when we're, we've got all of these new things happening. And there's this constant chatter in our head and the difference between educating and, you know, listening to podcasts and reaching the next level, and versing, or, you know, versus spending that quiet time. 
Because I know, Leon and I just last week, went and had a session where we went in the sauna, and we're going in a float tank. And it was like, we needed that space to switch our mind off and almost surrender to and let those old thoughts go, to allow the new thoughts to come in.
Kiri-Maree (15:52):
Yeah, totally. And I think, you know, we've got to be kind to ourselves on this journey as well. And go, is today going to be one of those days, I'm pushing hard? Or is this the day where I've just got to get a few things? And if I got those few things done, would I be okay with that? And that goes back to our human side of us. And I think, you know, that has been such a powerful tool, and in my own toolkit around asking myself, is this humanly possible did I do today what it was humanly possible, and I think, you know, we have to be kind, this journey is a long journey. 
It's a journey that's got it set up and downs, it's got its tough moments, it's got its moments that extend what we think or where we thought we'd ever end up. And, you know, that takes some stretching, it takes some learning. And I don't know that we're always kind to ourselves as we do this journey. And, you know, that noisiness that loudness, the loudness is often because other people have put expectations on you, their loudness can happen, because you've gone into overwhelm you started going down a pathway, that is not necessarily your pathway. And, you know, that's why I'm really strong on what are your non-negotiables. 
What are the things that will only and the only things that will you will do and the things that you will not do? And, you know, don't get distracted by other things, or don't get yourself in a space where you're so tired? You're just doing things? Because that's all you can cope with at that moment. I think anytime you find yourself going down that pathway, it's time to go what does it what do I need to do to get myself refueled and maybe even take a moment or take some time where you're refueling that pot so that you can keep going on that the pathway that you're meant to go on? 
And I think that's what I see a lot of leaders doing throughout. You know, the time that the years of working with leaders is that leaders get tired leaders get, you know, like, the vision is hard holding that space for other people, let alone for yourself. And if you're gonna do leadership, well, if you're gonna lead your sphere of influence, wow, what you need to keep making sure you're at the top of your game, whatever that is.
Samantha (18:31):
What's the difference for you personally, in knowing that you need a timeout, because you've been pushing hard, and procrastination, because you have an absolute fear? Because as we go to the next level, I know we're entering into something new. Because I think that's sometimes we know, and sometimes it can actually, like really fly under the radar. And we don't even pick up what we're doing. So how do you pick this up in yourself?
Kiri-Maree (19:00):
Yeah, so I have kind of a process where I analyze, I diagnose, and then I prescribe, and then I act upon, right, I literally, and I analyze, so I want to create an awareness around Is this one of those decisions that I'm about to make, that I'm actually just taking time out? Because I'm procrastinating, and then I go, and I literally will ask myself that question. And if it's not one of those moments, then I make sure that I fill myself up with whatever I need, so that I can then re face that. 
One of the things I do though, if I am putting a decision on hold for a moment, and I always think of it as a moment because it cannot be forever or otherwise it's full procrastination and you'll never get anywhere. But I do think there are times and seasons where we have to slow our timeline down a little or there are other times we need to speed it up and we need to just make a decision and move on that. And I think you know, and this is where I go back to a lot of data. And I think, you know, what is the data that you've got, that helps you to be aware of what is happening at that moment that you need to make a decision. 
I think anytime that you can action on something in the next few minutes and the next, like, literally go and ring someone, or, you know, go and spend some time with someone, or go do what you need to do in that moment, anytime you can do that straight away. That's you don't procrastinate on something like that. You just do it. And it might be tough, it might be that tough call, that you've got to work with a team member, because something's not working very well, at that moment. Just do it. 
That's, that is definitely a procrastination sort of pot. But if it's something that affects a lot of other people in your world, you've got to work out is, and doing this is worth the return on that decision. And I talk about the return on your decision a lot because I think it's easy, often for a person who loves to feel in the now to make decisions based on how they're feeling right now. And that return on that decision that you might make now might affect many other people might affect the team that you're working with, might affect the outcome of your clients in your company and the growth that you're having or doing. 
Because it fixed the problem right now doesn't mean that it's a sustainable solution for you at the table going forward. So I think that you have to put into perspective, what are the variables when you're making that decision. And how are they either adding value to what you need? Or where you need to go? And are they moving you like that dial closer to the solution that you're actually wanting, and the results that you want? Or the outcomes that you need at the table? 
And I think when you think of it through a lens of what's the return on my decision, as I'm making that decision, as I'm thinking? And is this a decision that I've got all the pieces at the table, in other words, all the data that I can have at this time to make a good decision, and then being really going back to that being kind about if I make a decision now? Is it life-threatening or life-changing enough that if I make it and I make a mistake, I need to learn as I go on that journey? Is it okay, if I do that now? And you know, will I be? In what in my case, I always go, where's my timeline that I will go, I need to reassess this to make sure I am or I have made a good decision, or I need to maybe shift that a little bit different to just go down a different pathway, but the same outcome. 
And I think, you know, that's that's the thing that when you really consider what the return on your decision is and as much as you can as possible. And then I think there's that moment that you have to learn to take some risk, because you sometimes you don't have all the data, but you have enough to be able to make the best decision you can in that moment. I think you need to invest. 
There's that moment in time where sometimes you have to invest and it might be more dollars on the table. It might be you've got to invest more time, more energy, more focus, all these things, maybe not a consequence, but because you've made this decision now you've got to step this up. Are you willing to do that? And I think anytime you're making a decision, anytime that you don't make a decision, it's because you're not willing to do that. And that's okay. 
But just know if you're not willing to do it, nothing's gonna change if you are willing to do it. There are lots that possibly can change. Are you ready to walk into those changes? And you know, every time I go to a new level, it's am I willing, and sometimes Sam that's leaving behind relationships. Sometimes that's making new friendships. And it's uncomfortable because it's a word that we don't necessarily know. Right this moment. Sometimes it's, it's making those tough calls that we know we need to and we've known we've needed to do it for a while. But we've actually got to do that before we can move to that next level. And that's really uncomfortable. It is
Samantha (24:45):
Super uncomfortable. everyone that's listening is gonna go yep, I know that feeling. But you said something really interesting in that you've got your data, you're making your decision and you said I'm going to put this in air quotes if I Make a mistake. 
But we both know that there is no way that it's always going to be an F. Because when you're stepping into something new, there is always going to be something. And I'd love your take on this, I don't think it's ever a mistake, because it's always something that you need to learn. It might not go as planned, and often doesn't go as planned, but you're going to get some different sorts of data that will help you to move forward. 
But how do you personally work through those times? When things don't go? Well, when it is maybe a mistake? Or, you know, something happens? And, you know, it throws you completely off? off kilter?
Kiri-Maree (25:44):
Look, it happens all the time. And, you know, one of the things that I've learned is to learn from it. And to evolve from it. A mistake is only a mistake if I don't ever learn from that and grow from it. And I think, you know, I've not always been good at making mistakes, because in a lot of ways, I've kind of been like this perfectionist, and it's held me back a lot in my life. And I really try hard these days to, to just understand that it's all part of the journey. 
And it's part of stretching that muscle that sometimes needs a little extra stretching, I don't always understand why we have to go through those moments, you know, like, I get frustrated, because I'm like, Why do I have to be at this point? Again? Why did I get to this moment? Where did I not learn last time, that when I do it this certain way that this happens? And so I get frustrated with myself way more than I deal with other people. 
And that's because I'm like, I need to remember that I need to, and I think you remember things when you make it a priority, and sometimes the learnings that I've learned in the past haven't become a priority. So I'm really making sure I guess, in what I do that when I'm going through those difficult things, or those mistakes, and learning from them, that I'm in that moment, where I'm I'm like, What am I learning from this? 
How can I make sure I don't go back to space? And how do I make sure that if I'm going to make mistakes, which we agree that we're going to make mistakes, who's coming with me, and going to be there to help me go through that? And I think that's really important, because, you know, we don't have it all right. And it's, it's too hard to think that you can have it all right all the time. 24/7. And, and I think that we are in a time and season in life, we have to see change, happen. And we'll you know, I go on about the need for a new approach all the time. And when you're doing the new, it's not a tried and tested thing. And so there are going to be things that fall apart. 
And there are pathways that we will start going down and then decide that's actually not going to be right in the season. And what's needed. You know, a great example of that, as in leadership over this time with the pandemic. You know, there were ways in which I started doing what I was doing, which worked really well at that season, before the pandemic during it. And as we see ourselves readjusting into our world right now. 
And I've had to change a lot in the approach of how I do things, what that looks like, and I've had to learn new things leave behind things. And I don't even think that some of those things were mistakes. I just think that they were, there was a season for that. And that's what I needed to do for that season. 
But I also needed to grow because if I'm to take where I need to go, and what I need to do in my next level, I need to stretch myself, and I need to lead in a new way. And that means that it's unknown ground, not just for me, but for others. And I'm not sure, let alone for myself. How to take other people on there. Yes, I'm learning that right. 
So there's going to be lots of, you know, falling over picking yourself back up and trying different ways. I think, you know, and I've studied a lot of the so-called greats that are doing amazing things across the globe, and I've done that a lot lately, even more so than I probably have in the past. And I'm doing that because I'm looking at how do they get back up. Like we know people get back up but you know, even if we think in the business world and I know there's a lot of You know, entrepreneurs in your world and coaches, and speakers and, and things like that, I think we miss out on a lot of things because we, we take that first no and go, that's a no, we should just move on. 
What I've studied a lot in a lot of the amazing people who are just doing phenomenal things across the globe, is that first no is just a no for that moment, and they cannot run back and they keep that stride. Or maybe there's something else going on in their world that this is not a right fit right at this moment. But if you keep having a conversation with them, and at that right time, that could be the right time that then they connect, and you go further with your relationship. 
And I think that there's so many times in life, that we get beaten down, we just don't get back up. Or we've got the scars, the wounds the pain from something like a partnership that broke down, or a collaboration that just didn't go the way you wanted. And so we never do that again. And I think that that's those things, we have to learn how to navigate through those things right now, and pick it back up and go, How do we do this? Maybe with someone who can actually take that to the next level? 
And I think that's those things right now. Are the things that I'm learning in not as mistakes, but as learning grounds and going How do I do that better next time more effective next time? And who is it that I need to get on with that piece of the journey with? And I think that's why I keep going back all the time to Who are you who are you hanging out with spending time with doing the journey with? What does that need to look like for you to love that journey? And you know, what, what are you willing to do and add into that, to make that actually happen?
Samantha (32:00):
It's so much easier to do these crazy, hard, challenging journeys when you're with other people. Sometimes they're there to support you. Sometimes they're there to be an ear, sometimes they're there to give you a bit of a slap and say hey, like, just get over yourself and keep going. And I think that, that having these people around is so so so important.
Kiri-Maree (32:23):
Okay, so let me ask you a question, though. Like, what does that look like for you? Like, when you make mistakes when you have to go through that journey when you have to? You know, get yourself back up? What do you do? How do you think, what gets you through?
Samantha (32:41):
That it's my inner circle, having those conversations with people behind the scenes, that, that it's really once you've got these people, and they're not they've, I would say they're few and far between. 
Because they're people, they truly have a safe space with their people that you can really tell your truth and what's going on for you at the moment without a fear that it's going to come back out in public or be shared with someone else, or, you know, just some something that doesn't, that is going to hurt you even more. 
So there's definitely just a handful of people in my world that I'm able to say and also them to me, send me a message and say, Hey, I'm lying. I'm in a really bad headspace today, when can you pick up the phone really need to chat. 
And I think that that is the most important thing. You know, I talked, you talked before about going for a walk going to the gym, you know, meditating, going to the float tank, all of those things, they're all part of it. But if there was one thing that I was going to pick more than anything, it would be having that close person to be able to, to speak with.
Kiri-Maree (33:59):
So if we're to play bigger levels going forward, how do you see or what do you see that looks needs to look like for leaders to be able to do that? Well, because I think we've got to we've got to change the way we've done it in the past. 
And maybe it's you know, what is what has been okay on the front end. Like in other words, there's there's a lot that we keep behind the scenes over the years because if you bought it out people wouldn't trust you or you if you bought it out. That's not what you bring. You don't sort of you know, bring out your dirty laundry or your mistakes or your and I think there's there's been a touch of that coming out a lot more. Now. That doesn't mean that we have to bring out everything but I do think that there's this need for this evolution of what is how do we do this and we do the good the bad ugly together. 
And that has to come out and our way that we do it on social media, but it has to come out on our way that we're willing to stand up and actually lead as well. What do you reckon around that? Like, what do you think about that?
Samantha (35:13):
So I definitely think that and I don't know if it's just the people that are in my world, but I feel like this ability to share the downtimes is a lot more open than it used to be. But it could just be the network that I've curated over many, many, many years. And so I actually, I'm not quite sure of the answer to that. 
Because I have some really, really, truly, truly amazing people around me that I'm super grateful for with you being one of them, you know, we share very openly and have, and know that what happens in the safe space stays in the safe space, I have no fear that it's ever going to get out. There'll be a lot of that a lot of ribbing in different ways. Every now and again. I think that's just you as a person.
Kiri-Maree (36:02):
I have no idea what Sam's talking about.
Samantha (36:05):
Sure, right. But yeah, I do believe that, that finding these people, you know, there was a group of people I was at with the other night, and we'd come together. And actually, and this is a major part of it. We're all on a very similar journey. So it's a group of people, we're all up leveling at the same time. So we're very aware of what each other is going through. We're very aware that we're all going through the same challenges in business, the same challenges in our personal life as we're going through this. 
So I find that they're the best people to be able to confide in. And it's not just anyone, you know, this happens over, you know, multiple meetings or happens over months, or sometimes even years. It's not something that just happens. But for you, where do you find these people? And you're right before you all say said that those people can change? Sometimes for me they have and sometimes they haven't, you and I have been very close for many, many, many years now. 
And there are some other people in my life where we've only become close maybe in the last 12 months, but we've known each other for years. So I think it depends on sort of what that evolution looks like. But how do you find the next people at your next level?
Kiri-Maree (37:21):
Yeah, and it's interesting, because you might find those people in the strangest of places. I think that's, for me, at this moment. It's deepening a lot of my relationships I've had for years, and going, are you really coming on this journey with me? If so, like, bear my whole heart and soul and come with me on this? And me with you? And I think that there are definitely those moments, I think it's the opportunities that, you know, who am I? Who am I just meeting in my everyday, like life. 
And, you know, always when I traveled the world, I get to spend time with just amazing people I was asked at last night, actually. And, you know, I've got a big birthday coming up this year. And they were like, who you're going to be asking to it and I go it's tricky. Because, like, I just want to invite the whole world to my, my, my, my special celebration, yeah, my celebration of like, I don't, I don't want it just to be one day, but and it's so strange when I think about that, because it's, it's for so many different reasons that I'm connected to so many different people. 
And I think that, you know, that's the beautiful thing is that there are awesome humans in this world. And I learned from those and I think, you know, there's actually a generation that are missing out on. And I'd love for, you know, if you've got younger people in your, as your listeners to be listening to this, but the older generation have so much wisdom, that if unless you take time to spend time with them, you're actually going to lose out on that. 
And then I love spending time with those that are young right now as well, the way they're thinking the quickness of their brain, the way they are using what they've got in their hand right now. And there's so many opportunities, but also the way they're seeing through the through life at this moment. And what they're facing, you know,
Kiri-Maree (39:46):
compared to what I was facing at their age is very, very different. And, you know, it's such a it's so interesting, and then there's lots of us, who are, you know, at our journey at this moment, you know, building In many cases, companies building a life or legacy and leaving, what are we leaving behind in that case? And, and I want to spend time with that. 
But I also want to spend time with people who are, who are just playing in the new innovate in something different. And just curious about what that could look like, I actually find that quite intriguing. Because it makes me keep having to think, Wow, if I was like, in, you know, like the scientists in the in the lab, and I was to come up with something new? And what would that need to look like? Or what could that look like? And so I love hanging in spending time, with people who are willing to get curious and willing to just play and, and, you know, probably come up with all these amazing ideas that will never ever get executed. 
But it's fun to hang out with. And to keep your mind. I don't know, one of the things I do a lot of is, and I've worked in some of the I love the art here in Italy. And I walk into some of those places, and I just go, what was that person thinking when they created that? Right? Or who were they with when they came up with something like this? Or, Oh, I have no idea how you would go from this to that. And I just, I want to be like that in life. I want to keep doing that. In my business. I want to keep doing that in my personal life, I want to keep it with my children, that we are always curious to understand that there's more to learn. 
And so when you ask me that question, Who do you you know, spend time with all want to spend time with, I want to spend time with people that are excited about life, again, going into the future, who are willing to push beyond what you see now the pain that you might see the challenges, you might see the frustrations, the fears you may have, and are willing to push beyond that. And go, wow, what, where would I live? If I was living in the place that would just bring me the most joy? Who would I invite to the table if I just wanted to have a great fun? 
You know, yesterday, in Australia, you guys were all celebrating or? Well, yeah, it was yesterday for me. Father's Day. And you know, here in Italy, it's not Father's Day, but we did a Father's Day celebration. And I loved it. Because the people we're with, they helped put together some amazing food, we put music on we had, we may have had some lunch, oh, you have to do that visually, and have fun in that way. And but it was just beautiful. 
And I thought what a great way, I wouldn't think of any better way to celebrate a Father's Day with my family in a beautiful environment in a different culture, spinning out with beautiful friends, and just having a great time. So you know what I mean? Like, that's priceless. To me, that is also learning because, you know, we're sitting trying to speak Italian. And you know, the kids are trying to dance like you dance in Italy. 
And it's very different to how we did so, you know, it's it's just a lot of fun. And as you start learning new things, it actually makes your brain work harder to, to want to play in a different space and not just stay with what it knows. So I love that. And I think that's what and who I love spending time with anyone that loves life, anyone that's willing to play at a bigger level, and anyone that wants to sort of become curious of what could be possible.
Samantha (44:00):
I love having conversations with those sorts of people, because it's not like a one plus one equals two scenario where you've got an idea and someone else has an idea and you like That's great. It's like they just layer on top of each other and layer on top of each other and layer on top of each other. And you have these conversations Cool. Well, that's awesome. Well, what could that turn into? And you end up you know, coming up with something that's 1000 times bigger. And they're the people that I love to hang around as well. They're really cool. 
But what I wanted to know was with you mentioned, right, right at the beginning, the whole thread through this is your purpose, your life purpose, and the vision for what you want to do. Do you share that with everyone? Do you have parts of it that you keep to yourself? You know, is it just certain people that you share it with and how does that all look? Because I think that this is important for people, you know, are going to be helpful for them to be in the right frame of mind.
Kiri-Maree (44:59):
Yeah, And it's a really interesting question because I think that there's an I always talk about seasons in life, there's seasons and in the way that we evolve, right. And so there's times where that vision needs to be shared, maybe just with a few people, the few people that you trust, and they might not agree with everything about that bigger vision. But that's okay. 
You just share it, and you start speaking it out. But I think there's times in life, and I'm in that time now, where I'm an open book, and you can ask me any question about anything and people do publicly? And I will answer, because I just literally, I just want people to learn from anything they can from my work life and what you know where I've come from, and what I've learned, as I've, I've done my journey. And I think that so for me now, that is, you can ask me anything, and we can go anywhere, and we always do. 
But there's not always been times like that. And I think if you're in safe spaces, you talked about that earlier that we have conversations and you know, it's a safe space to share, and it's not going to go anywhere. I actually are now in a space where it's safe enough in my world that if you ask me questions about anything, it's I feel safe and who I am. And trust what I'm about that even if you disagree with me, even if you don't like what I'm saying, this is true for me. And it might not be true for you. 
But it's true for me. And as long as you can understand that I'm talking from what I'm thinking, what I'm believing? And what is true to me, then I'm really willing to just share my world and my life with anyone. Does that? Does that sometimes come with some pain? Absolutely. Because when you share, you've got to understand that not everyone's gonna agree with you. And people say some pretty horrible things or people don't understand you. I know that as I've evolved, you know, I was like everyone else I was kind of running a business just like anyone else. And that was kind of easier for me to build, to be honest. 
Because everyone else is comfortable. Because they're not thinking, Oh, what is she doing? Who is she think she is or, you know, any of those ugly thoughts that often can appear when people feel challenged when someone's doing it differently? And the other thing is socially acceptable. I think there's a lot of times that we don't step into that next, because it's not socially acceptable to do it that way, or that's not been done that way. 
So why would you or you don't have that proven data foot to prove that this is the right way. And I know it's times I've had to do it in ways, again, being gentle with who I am. And knowing that at that time, I only had a small capacity to cope. Or knowing at that time, I only had a lit like I could My confidence was only at a stage that could cope with a little bit. 
And, you know, sometimes when I'm feeling that lack of or more of that fear or having to work harder to get back up again. It's in those times that I've got to go What am I okay to bring out into the world at what at what capacity and at what speed. Right. And, and it was scale. And sometimes I always talk about amping it back up. Sometimes I have to do that slowly, slowly. Yeah, that was I love that word. Well, I could
Kiri-Maree (48:45):
see me slowly. Yeah, that's right. And sometimes you know, and for me personally, sometimes that means Hey, I've just got to get back on that horse and just go for a gallop. And knowing what I can, I'm ready for is really important. So I'm really willing to be an open book. 
And at the same time, I have to be careful who's around in my world. So I will ask permission if I'm to use a story or I'll ask permission. You know, like, I say, is this something that we've spoken about that it's not to be shared with the world and that's okay, and we just keep that, but there's a lot of my life and even with my children, I'm quite protective of my children, too, what I share, but then I will teach around the 10 leadership strategies around having children that are autistic right? 
Because I think that there's a lot of learnings that I've had to learn that I think I can help with others and what they do so You know, I think this, like I said, seasons to how much and to what that looks like but when you're confident with your vision, and you know that where you're going, then why wouldn't you take people on that journey with you, I think their vision and holding a space for a vision can often be tricky. And the more you share it, and the more you believe it, it doesn't really matter what everyone else is saying. It doesn't matter if people are on, on it with you. 
But I do think that what can hurt the most is those that are the closest to you, not believing your vision or not having your back on that, or not going on that journey with you. And that's often tricky to navigate. Because some of those close people, you can't just get rid of or say, Hey, I'm moving on from that, and taking them with you. So it's also here, do you love the bus in the background? You also get so by the way, there are the roads around here, so tiny, and when you've got two buses trying to actually go on the road at the same times. It's, it's hilarious. And when you then you try and walk in that road, it's pretty hilarious, too, I think, you know, we're talking about a lot of life's issues, you know, things and choices and decisions and, and things like that. And I just think of this road. 
It's exactly like that, right? Sometimes they'll be grasses that come in along, sometimes it's the small cars just going so fast, or it's like there's no space on that road, you've just got to carve it out, and take a risk and go around that corner. And I just think that's what I'm talking about, you know, and how do you do that? And who do you take on that journey with you?
Samantha (51:48):
For people that have listened to this episode, and they just love what you, you know, what you're bringing to the table? How can they stay connected with you?
Kiri-Maree (51:57):
Yeah, so now I've got the church bows happening in the background. So I hope that's giving that spiritual side for anyone that you know, it's hilarious. How do you get hold of like, just check out the 1% movement, anything, and anyone can connect through that. That's the front end of everything that we do. I'm also on social media anywhere, just reach out. I'm happy to have conversation. And, you know, I always love our conversation, Sam. And, you know, I never know where we're taking it and what we're talking about, but I always enjoy our conversations. 
And I just hope that you know, our conversation here. Just like you and I have conversations that just prick some curiosity in someone's, you know, brain to think a little different, maybe, and, you know, go Okay, so I've done it this way. But maybe I don't have to do it that way going forward, or, okay, I need to step up to that next level, maybe take it up that hill, don't do what I did. But how can you do that? And what can that look like? So? Yeah, well, I know, social media
Samantha (53:11):
over at the 1% movement.com. You've got the is it the wall of humanity? Is that? Yes, it is. And you can put up, your 1%? What it is that your 1% that you're going to give. So I think that for this episode, we've been talking about leadership and sharing our vision, I think it'd be great for people that are listening to head over to the 1% movement.com. 
And to put their leadership, you know, 1% change up on the wall. Yeah. And then mines up there, yours is up there, it'd be great to see other people's and to really proclaim to the world, hey, this is what I'm here to do. And stepping into that leadership right now and stepping into the unknown. If there was one thing that you want to leave our listeners with today, because we've talked a lot about stepping into the unknown and the evolution of the next, what would be that one thing that you just want people to take away today and noodle over in their head?
Kiri-Maree (54:10):
Yeah, what's in your hand? That's what I want people to think about what's in your hand? What have you got in your hand right now? Maybe it's a few people that you could connect with, that maybe have and you want to share your vision with? Maybe it's some relationships that you could go and connect with. 
Maybe it's an idea that you've been thinking about but you haven't executed on, but you've been thinking about a lot, just go and get curious to how you could make that happen. Maybe it's that next business that you've been wanting to exit out of? What would it take for you to be able to exit out of what you're doing now to be able to do what you need to do next. And I think, you know, we've all got something in our hand. What are we doing with it? What can we do with it and who can we take on that journey with us to make it even happen faster, because then you can join what's in your hand, what's in their hands and actually make a real big difference. I
Samantha (55:10):
love it so much. Thanks so much for coming and chatting to me for the third time on the show. And for sharing this beautiful sunrise. I can't believe it's we've been chatting. I've been watching the sunrise behind you. It's been absolutely amazing, visually, mentally, spiritually, auditory, and all of things. Thanks so much for joining me all the things. Thank you. 
Samantha Outro (55:35):
Thanks for joining me for this episode of the Influence By Design podcast. If you want more head over to influencebydesignpodcast.com for the show notes and links to today's gifts and sponsors. And if you're looking to connect with other experts who are growing and scaling their business to join us in the coaches, thought leaders, and changemakers community on Facebook, the links are waiting for you over at influencebydesignpodcast.com