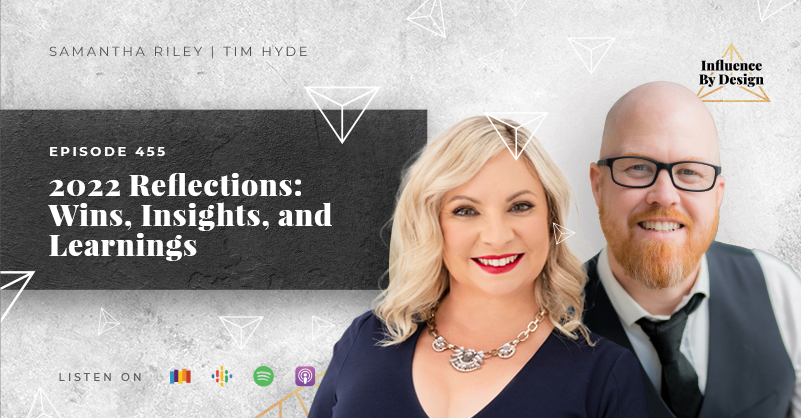 We're about to enter a new year and it's time to reflect on how 2022 has been and evaluate whether we hit the goals and intentions we had at the start of the year.
In this episode of the Influence By Design podcast, Samantha and Tim take on a raw and honest conversation about their 2022 reflections: wins, insights, and learnings. 
Running a business is not all roses and butterflies and understanding what's really happening with your numbers, operations and team gives you deeper insights on what to keep, avoid, and improve for the next year.
The reality is you can't expect the business to be perfect, however, setting intentions and themes grants you a clear view of the right path to take. Tune in as Samantha and Tim share valuable insights from their 2022 journey and how you and your team can work in alignment toward your 2023 goals.
IN THIS EPISODE YOU'LL DISCOVER:
The importance of setting intentions for the year (02:55)

Wins, insights, and learnings from 2022 (03:33)

Why you need to look far beyond your numbers (05:00)

The value of simplifying offers and systems (10:10)

Why it's important to set accountability for your team (13:15)

What it actually means to be the CEO of your company (18:03)

2022 theme – how it impacted the business and the learnings looking back (21:05)

Setting intentions for 2023 based on the wisdom from this year (26:05)
QUOTES:
"The cues to how you're feeling are a huge spotlight on what's going wrong in your business." -Samantha Riley

"As the CEO, you're the driver of your business. You're the one with the vision and you need to be very clear and stay the course." -Samantha Riley

"Good people don't stay good people if you don't give them the framework for success." -Tim Hyde

"The thing that we created is not there for us to serve it; it needs to serve us. And if it's not serving us, the only person who has the control to change it is you." -Tim Hyde

"People do what's inspected, not what's expected." -Leon Flitton
RESOURCES MENTIONED

​​SUBSCRIBE & REVIEW THE INFLUENCE BY DESIGN PODCAST 
Thanks for tuning in to this episode of the Influence By Design podcast. If the information in any of our conversations and interviews has helped you in your business journey, please head over to Apple Podcasts, click the 3 dots in the top right corner of your smartphone screen, follow the show, and leave us an honest review. Your reviews and feedback will not only help us continue to deliver valuable content but will also help us reach even more amazing entrepreneurs just like you!

BOOK AN INFLUENCE AUDIT
If you want to be known as the leader in your industry, book a quick 15-minute Influence Audit.  
We'll work together to identify:
Your current situation and immediate opportunities for growth

Uncover the #1 thing holding you back from not being booked as an industry leader

Develop a 3-step implementation plan to increase your authority and visibility
WHERE TO FIND TIM HYDE
CONNECT WITH SAMANTHA RILEY
TRANSCRIPTION
Tim Hyde Snippet  00:00
Was I productive this month? Did I enjoy my business? Am I getting the right lifework balance? Was the business actually profitable. And if any of these things start to get out of alignment, and they're not kind of five out of five for you, that's an area that you need to focus on.
Samantha Riley Snippet 00:17
Pay attention to the needs of the business and actually ask, we need to pay attention to those little cues, because those cues to how we're feeling are a huge spotlight on what's going wrong.
My name is Samantha Riley, and this is the podcast for experts who want to be the unapologetic leader in their industry. We're going to share the latest business growth, marketing, and leadership strategies, as well as discussing how you can use your human design to create success in business and life. Inside and out. It's time to take your influence, income, and impact to the level you know you're capable of. Are you ready to make a bigger difference and scale up? This is the Influence By Design podcast. 
 Welcome to today's episode of influence by design. I'm your co host for today, Samantha Riley and very happy and excited to be joined by my co host, Tim Hyde. How are you today? Tim?
Tim Hyde  01:15
I'm really good. It's good to be back again. I feel like I've been missing it actually really cool.
Samantha Riley  01:20
It's been really busy with all the travel and
Tim Hyde  01:23
stuff. Yeah, I've been a little bit crazy, actually. Yeah, but good, crazy. Good, crazy.
Samantha Riley  01:29
It happens. It's life. But I'm very glad to be back in the driver's seat with you today, you're going to do a reflection of our year 2022 in reflection and just talk about a couple of the wins that we've had a lot of insights because I think that it's always worthwhile reflecting and and getting the learning so that you can use the moving forward and chat a bit about our themes. And did we did we hit the goals that we set essentially at the start of the year? So you're good to dive in with this topic?
Tim Hyde  02:04
Yeah, let's let's be, let's be, let's be raw and honest, transparent.
Samantha Riley  02:11
We never anything else. But yeah, I think that it's super helpful to be super honest. So that I think that it helps people to understand what really, really happens out there that it's not all, you know, roses, and that everything doesn't always go perfectly in business. Gospel.
Tim Hyde  02:33
I do love this. I do love this quote from Mad Men, you know, the award winning TV series, which I haven't seen, you should definitely go and watch because it's it's really awesome. He is one of the very early episodes, they're talking about the client that they've just lost. And the response is, don't worry about it, young fella, that's okay. Right, because the day you win a client is the day you start losing them. And I think when when we set intentions, you set your intention for the year to be wealthy. And I set my intention for the year to be maturity. That's almost the day we start, we set that intention is the day we started falling off what the intention is supposed to be, it's very hard to stay the course and continue to come back and go well did we achieve this goal? And if we didn't achieve the goal, or got close to it, because a lot of things like wealth or maturity are very sort of amorphous concepts? What is it that we learned and taken insights from along with the intention to go towards this theme?
Samantha Riley  03:31
Totally, totally. Well, before we dive into reflecting on our themes for the year, let's talk about a couple of the wins that we've had and sort of the insights and the learnings that have come from that. So one of your big wins was around your products and your offers. So why don't share a little bit about that?
Tim Hyde  03:54
Well, this was this is one that I think as you know, as at least at the start of the year, I was going to do more support work for clients. And historically, I've done a lot of product based stuff, you know, here's a system see later, you know, we might teach people how to use the system and stuff like that. And I was finding there was a lot of a lot of churn with clients. And I'd go for two or three months. And it was definitely my intention this year to try and win longer term contracts with clients because I found myself just caught in this vicious sales cycle, get a new client deliver Next, get new client delivered next. Right, and that can be very difficult from a profitability and wealth growth perspective. And so at the start of the year, I certainly intend my intention to do more support work for clients who may have had, you know, a CRM system in place already and did a lot more of that and our average customer value, skyrocketed, probably 10x My average customer value this year, but what I've discovered But in the process that it's also more complex, and more income doesn't necessarily mean more profit.
Samantha Riley  05:06
I think this is one of the best learnings that we can have as a business owner, is to look far beyond that number. So can you dive into this a little bit deeper? And, you know, what were you tracking? I mean, I know that sounds super simple. What are you actually tracking? To start to unpack this? Like, obviously, you were, you were looking at the numbers. But, you know, I guess I'd love to hear more about the insight so that other people can, you know, take a look at their numbers as well. Yeah,
Tim Hyde  05:39
well, I think that's probably another insight, right, you have to look at your numbers. And if you're not looking at your numbers, you're not doing a very good as their job as the CEO of your business, you need to look at the numbers, you need to look at what is it that it's costing you to deliver. And it's I think I found, when we weren't quoting the work, you know, I'd say, I think this is 50 hours, or that's 100 hours, or whatever it might be, or that's 20 hours, and putting sort of almost fixed price quotes on things, that it became very difficult to understand there was a bunch of work that I didn't anticipate that we should have probably quoted into the work but didn't write. So, you know, we might have said is one hour to do that thing. But that's one hour of, of effort time, by one person, not the three people that might have had to collaborate and understand where that work was, was on. And the fact that you know, every single team meeting, we talk about, What work are you doing at the moment, and we would talk about that client and that clients work. And that might have only been five or 10 or 15 minutes, but it's five or 10 or 15 minutes for, for people, yeah, to collaborate on that particular thing. And that's time that we weren't billing to the client, but effectively working on their account. And that was probably a big insight for me this year that when we estimated the amount of work, we probably didn't estimate that maybe there are several people working on that. And we need to account for that. Right? Yeah, even showing up to a client meeting. If you're saying, Well, it's a 30 minute client meeting, but you've got you and your ops manager, and maybe one of your technical team on that call. Well, it's actually an hour and a half Yes, of work. Yeah, durational effort time to deliver that 30 minute meeting with the client, and probably didn't necessarily account for that. So and some of that, you know, the clients not necessarily going to recognize the value of that, or they're not going to suddenly say, well, there's three people on this call, I'm getting three times the value. This is something that we need to think about when we're sort of productizing or packaging, what it is we do for clients, and how they get, you know, where they see value. And where we make money. We don't just want to scale to $50 million company, if the profitability is still only a million dollars as we get there. Yeah, I prefer to run a $2 million company with a million dollar profit than a $50 million company with 200%.
Samantha Riley  08:05
That was so valuable. And even the way that you break down that, you know, start to think about even like the project management time, or meetings or any of these, because it's amazing how quickly that time can escalate, as you just talked about, and it's definitely worthwhile to track. But, you know, even as you were saying, you know, it even made me think, wow, you know, there are some things that we will be on the team meeting for a lot longer than other times, sometimes we'll have a 10 minute meeting. And then other times, I know that we've had projects with clients that have needed over an hour where we've even just talked about that client. So super valuable insight there.
Tim Hyde  08:49
Yeah. And we've got to, we've got to account for that in our business, when we look at if you're going down to this as the hourly rate, well, what does that actually mean? And we will always have, even if we give a client a fixed priced thing, or a value based pricing, we need to be aware of how much time that our business consumes to deliver that outcome to a customer. And because we don't price that and I would suggest that if you if you've kind of got any rubbery news into your pricing, double novelette because that's probably well, it's gonna it's gonna cost you right, the our costs as a business to deliver a solution to a client often come in hourly rate, right, because we employ our staff on an hourly rate, well, we've got a fixed price for you know, for something that we're going to sort of bundle in, but we need to understand what all those we definitely do understand what is the cost of delivery of a solution to a client. Probably double that and then put your margin on top.
Samantha Riley  09:50
Yeah, yeah, it doesn't take long to I won't say get out of hand, but you know, things can escalate rather quickly.
Tim Hyde  09:59
Yeah, absolutely. We don't Just want to run a bigger business, we want to run a more profitable business.
Samantha Riley  10:03
Yeah, totally.
Tim Hyde  10:04
What is it for you? What was your sort of big insight from the year? Yeah, so
Samantha Riley  10:08
it's also around our suite of products and getting really clear and minimizing, you know, right from 2020, we have simplified a lot. And we've simplified even more, we've reduced the number of our offers again. And we've really spent a lot of time especially in the last, like, in the second half of the year, really getting clear on the systems around the delivery of those offers, so that I'm able to delegate more, I was really getting caught in the weeds a lot. And my human design is the absolute opposite of that I am not designed to be in the weeds. I'm designed to be the big vision person. And I know we're going to talk about this a little bit later on. But because I was spending time doing things that aren't in alignment with me, I really started to lose energy, and feel like I was just in Groundhog Day. So really, really important. I guess, you know, I do know a lot about human design. But it was like, it was a bit of a slap across the face like Sam Yeah, let's take that learning to a whole new level. And pay, you know, even more attention, like get even clearer on how you're designed to work. And really make sure you're doing that.
Tim Hyde  11:34
You're absolutely right, Sammy, and working in that genius zone, being almost ruthless with yourself. long, hard look in the mirror and say, What am I really good at? And what should I not be doing in my business? And have someone filled that in? And I think that's, you know, that's one of another one of my takeaways from this year as well, I probably got to the point this year where I was overstaffed, because I thought, this is the thing that I really love doing. And I just chucked this other stuff off to other people. Let's just bring someone else on. Right, they'll take care of that. But you know, in the same ways, as we want to focus on the thing that we're very, very good at. And that energizes us and gives us our purpose. We also can't lose sight of the fact that we can't just dump it off elsewhere. Can we?
Samantha Riley  12:18
Yeah, yeah, totally. Yeah.
Tim Hyde  12:21
Well, we'll come back to this, I think, all right. And even when we hire, and I know you've had astonishing growth in your business this year, right, you know, we've gone from practically you and, you know, a couple of outsiders two years ago to on what's your team now? 15 2015? Yeah, 1515 people, that's a that's a massive growth. And whilst that gives a great deal of redundancy, you know, you've got capacity. Now, if someone's off sick, yeah, you've got capacity, you're still a few zeros, you know, off having to have to pay people to sit on the toilet all the time. But the good people that you've run, you know, and I think we acknowledge that when we start, we go, Yep, you're going to be really good for my business. And you can fill in depth in my skill set that, you know, I don't have good people don't stay good people, if you don't give them a framework for success. And, you know, big insight for me this year is that I probably took my eye off the prize a little bit. Some people I get, you know, you're a good person, you're going to take care of this stuff for me. And I'm going to be over here doing my little thing that I'm really good at. But again, I sort of, you know, probably didn't keep my eye on the fact that I can't just let them go and do their thing. Because that necess isn't necessarily aligned with my vision, and even Invisalign with flat vision. That's my responsibility as the business owner, to make sure that they're still in line with the vision and doing the things that they want to do. Yeah. And that's probably where I found myself overstaffed. I probably brought some people in that I didn't need to bring in and listen to a fantastic podcast from Mike McCalla wits, who's the author of profit first and Pumpkin Plan a bunch of really other awesome, awesome books. And literally, I was giving this. I just had this bombardment of sort of stuff all coming at the same time thinking, what are they doing? What am I actually paying for? Yeah, I jumped on a jumped onto this podcast, I was literally driving to the chemist and the podcast came on and it's like, oh, you need roughly one person for every 150 to $200,000 in, in revenue you're creating and like, Oh, shit.
Samantha Riley  14:28
The numbers aren't quite working numbers
Tim Hyde  14:29
don't, not quite working. But you know, the key thing here is that I didn't give those people necessarily, even though I gave them a framework for success in terms of what is it that I expect you to deliver to the business? I didn't necessarily keep them accountable for that. Right. And because over the last couple of years with COVID, we've had so many people kind of working from home and, you know, we've sort of can't really see what they're doing. That's become even more and more important, and I know that's something that you you've had to deal with in your business as well.
Samantha Riley  15:03
We have this year definitely. So we've bought different frameworks in two, I guess. Yeah, to make people accountable as well, I think Leon's got a saying that people do what's inspected, not expected. And I think that it's one like that. Yeah. Like,
Tim Hyde  15:23
what do you do before we go on? What do you mean by inspected as opposed to expected?
Samantha Riley  15:27
Like, are we checking that it's actually being done? Or are we just assuming that they're getting it done, because what will happen is, if things aren't being checked, as you've was just talking about, they may fly under the radar saying, Oh, no one's noticed that I haven't done that for a little while. I don't need to do it anymore. And sort of over time, things start to slip. So there does need to be some sort of framework or how do we make sure that that doesn't happen?
Tim Hyde  15:53
Yeah, it does start a little residual and serious influence of culture in that as well. I know, I was about to say that. Yeah, we had a conversation off here a little while ago about, well, if you if the team started to see someone not, I guess doing what's expected. They go, well, they can get away with it. So um, yeah, why should I do it? Why should I do it as well? And and that can sort of start to miss, you know, unconsciously sets the expectation of behavior around what people actually do, doesn't it?
Samantha Riley  16:25
Totally, totally. So it is all about culture. And I know that there's a lot of, you know, I've seen a lot of people say, Well, your culture should be that, you know, you trust your team. And I think that there is a gray area here because I do 100%, totally trust my team. But I also know that we're all human. And sometimes we all take the easiest route. So we have bought in a lot of systems. One of the other things I did want to bring up here that plays into what we're talking about is about being the CEO, because when you're the CEO of your company, you can't just expect that things are happening, you do actually need to follow them. You know, like you were just talking now you do need to follow up and make sure things were happening. And about maybe 812 weeks ago, I sat down with Leon, and we had a conversation on I went, if you were the CEO of the company right now, what would you say about yourself? And it wasn't, it wasn't, you know, I wasn't having a go at him or anything? Because I asked the same question back to me. If I was hiring myself as the CEO of my company, would I be happy with my progress? And it actually bought out some really cool things. And we use that we've continued to use that filter a lot more, would we, you know, what would we say to ourselves at a, you know, at a review at a wage review? It's a fantastic answer. And it's actually bought up with some really cool things to like.
Tim Hyde  17:54
That's a fantastic question. I think that if we go through this review process, and you've got team members on, I would absolutely ask them that. Just before you sort of mentioned that I was reflecting that one of the things that we let creep in this year that I let creep in, I'll take responsibility for this was when people were taking leave from the business. And it got to the point where people were telling me that they were taking leave, saying, Can I take leave during this period? Yep. All right. And I, because I let it fly. Yeah. But it might have been a day to start with and say, I'm going to take next Tuesday off, is that okay? Yep, sure. And then it got to, I am going to decide when I take leave not, you know, can I take leave on this particular time? You know,
Samantha Riley  18:34
pay attention to the needs of the business and actually ask Yeah, right.
Tim Hyde  18:38
And so that was just an example of, I guess, for me that letting people was dictate how the business was being run. And, and I've got, I'm suddenly found myself, like, I don't really want to be. Yeah, this is not where I want my business to be at right now.
Samantha Riley  18:54
Yeah, we need to pay attention to those little cues, because those cues to how we're feeling are a huge spotlight on what's going wrong.
Tim Hyde  19:05
Yeah, I was on a call this morning, actually, we were talking about networking groups. And in a group that's it's a small group at the moment. And then like we've got a few people are falling off. And we're talking about this idea of what the people keep turning up to things that they find valuable. And you guys wouldn't be listening to this podcast, if you didn't continue to find value, or we really appreciate that you, you keep coming back time and time and time again, that we were talking about this idea of, of networking in this, you know, social groups, referral groups and mastermind groups, and we're talking about one of these things about as a in a mastermind group, you tend to get to work on your business, a lot more than the other types. Yeah. And even there, we were talking, you know, got into detail for my mastermind group that I'm developing about. One of the questions we ask is how not just how you feel, health wise, you as the CEO. I know you're looking after yourself. Is your business profitable? Are you productive. But, you know, on a scale of one to five this month, did you enjoy your business?
Samantha Riley  20:06
It's such a huge thing. Okay, such a huge thing?
Tim Hyde  20:09
Well, we don't ask this question I think of ourselves enough. And I would encourage you, as you're listening to this, if you're going to take anything forward into 2023, put an hour aside, or a day aside, I don't really care how long it is, you know, every single month where you check in on those four things, you know, was I productive this month? Did I enjoy my business? Am I getting the right lifework? Balance? Right, so many things? We'll talk about that shortly. Was it was the business actually profitable. And if any of these things start to get out of alignment, and they're not kind of five out of five for you, that's an area that you need to focus on.
Samantha Riley  20:49
Absolutely. I know that as we have. And when I say Wally, on an eye over December been doing a lot of reviewing, regrouping, reflecting, you know, and recommitting, I guess, to 2023. What I noticed was a theme coming up over and over again, was that we need to have more fun in our business next year, that we had got really caught in a lot of work. And it's because our business is in a growth phase. And I'm grateful for it. But also noticing that we do need to have more fun, so that we can continue to keep the level of workout that we need to, to put into the business.
Tim Hyde  21:30
Yeah, it gets an important, I think it's a super important thing. You know, we've talked about that a lot. Sam, we get into this, this thing that we've created is not there for us to serve it. It needs to serve us. Yeah. And if it's not serving us, the only person who has the control to change it. Is you
Samantha Riley  21:49
clear. Exactly. And that's why it's so important to reflect. So before we jump into what we want to do different next year, what was your your theme for 2022? And how do you feel like you achieved it? Or where do you feel that it slipped? Or did it not?
Tim Hyde  22:14
Yeah, no, it definitely slips I think we sort of moved towards, you know, our theme was maturity. It's one of the things we we brought up every single team meeting we said, these are our this is there a theme for the and I had had three one was a sort of revenue target. One was a maturity target, I guess. And the other one I can I can't remember the one was who we're going to work on. And I think we definitely think the who we're going to work with and the sort of average customer sighs we definitely ticked the profitability or the revenue goal, not necessarily the profit goal, but definitely the revenue goal. But the maturity goal was one of like, what is maturity? Okay, it's an unattainable. Really, and I think that's an important thing. idea for a theme, as opposed to, you know, this is the exact goal, we're going to tell whether we're successful or not. I think largely we did achieve that, right, we brought some maturity of our products, we did an absolute ton of work on our operating procedures, and our business. That was good. We read a lot of streamline around some of the ways we manage our work as well. And we and you could probably go back to a couple of episodes where we talked about the systems and tools that that we use in our respective businesses. I think overall, that was probably a lot of maturity. I brought on some new people into the business, I think that have worked, some that haven't worked. Right, we've learned a lot in it. But maturity for me is about the learning from the things we're doing not just doing the things blindly. Yes. Oh, my goodness. Yes. And I think in that case, yes, we take those goals as well as giving us a good foundation to to move into next year. Yeah. I don't ever want to be in a position for me. Where I'm not learning a lesson from the stuff that we we try. Yeah, we know absolutely with certainty that some of the things we do will not work. Yep. But I don't want to lose the lesson in the process.
Samantha Riley  24:13
Yeah, yeah. Love that. So much. Love that. Yeah, our theme this year was wealth. And for me, that meant really taking our profits and moving them more into wealth creation. It was definitely a theme that we made a lot of decisions through the lens of which is that's why you have a theme, right to actually use that as the filter or the lens to the decisions you make. It didn't play out the way that I expected it to play out in that we definitely did invest, but it was more investing back into the business than I would have thought at the beginning of the year. So I I'm not, or we're not in the position that I thought we would be at this point. But we've invested a lot back into the business. So as a whole, we've achieved our theme. But does it look like I thought it would? No.
Tim Hyde  25:13
I guess that's something that seems like we do land. Again, this is probably a good takeaway for everybody. Just because you have a theme. How do you know whether you actually achieve it or not? Yeah, and you know, have this, you know, as you look to 2023, if you haven't already done so, look at what does success look like? And what does success look like for 2023? For you, how can you look back, even through whatever lens and say, Yes, we achieved that God. And the more that we do that, the more you know, on a sort of 10 year, five year, three year, one year, two year, etc, one month, one week, one day, the more I think we set that intentionality, the more likely we are to get to where we want to go. Because we're literally designing our entire roadmap, totally around totally.
Samantha Riley  26:03
So with all of your wins and your learnings, and you're reflecting, what is the I guess the one thing that you want to take into 2023? With?
Tim Hyde  26:16
It's ironic how more often we talk, Sam, how aligned we are. Great.
Samantha Riley  26:22
It's actually as we weren't really mapping out this episode, it even surprised me how aligned we
Tim Hyde  26:29
were at the same analog Lastly, that reflects the amount of years we've been in business and where we are now, and our personal growth in our lives as well. Right. For me, I think is this coming back to this idea that my business needs to serve me, not me serve it? And I definitely got caught. dCi certainly I started the year doing a four day week. And I definitely let more creep in. It was like, Oh, I've got to do to stop that meeting in there. And again, not a slot, that extra meeting in there. And then all of a sudden, I'm finding myself doesn't take long does it? Right. And I know, Sam, you're all I mentioned I wouldn't start work before, sort of 8:38am in the morning. And then there was a 7am meeting. And it was just one and then there was another one, it's okay. And then then there was a 6am meeting. Oh, yeah, take that one. And then there was a 530. It's not very often I'll just do that one. But you know, it's these these little things that don't seem like a lot to start with. Suddenly creeping them become the norm. Yeah, and we need to, we need to really nip them in the bud very early on.
Samantha Riley  27:38
Well, if you don't control your calendar, your calendar will control you.
Tim Hyde  27:42
You've seen my calendar, sometimes it's crazy. I have it's crazy. My intentionality for next year is to really make sure that, that my business is serving me, not me serving it. And if that means that I only work a four day a week, right? That will be a measure of success. If by the end of 2023. I'm working four days a week, I will decide that that will be my businesses serving me and not me serving it.
Samantha Riley  28:10
You have definitely worked very hard this year, I think, well, actually, I don't think I know, earlier in the year, your wife and I had a little bit of an intervention and said, Tim, you are working way too hard. And you need to take some time out, you are someone that is very proud. And like you, if you're going to do something, you do it well. And that has got such a good part of it, because you're so good in business and in serving your clients. But it can have a very negative effect when it gets a little bit out of control.
Tim Hyde  28:45
Again, we talked about the slot, you know, the business is there to serve our lifestyle, and the things we want to do from it not to be the lifestyle itself. And if we lose sight of that we then kind of the people who are around us, like I'd like some of you to be there. And they like when are you gonna Hello.
Samantha Riley  29:07
They love you and they want to see you
Tim Hyde  29:10
like not just a cardboard cutout? I want to get one of those.
Samantha Riley  29:16
Yeah, mine is very similar. In that next year, I definitely need to take more CEO time and how I explained that I got this idea originally from Vanessa Shaw, who we've had on the podcast and say, Oh, time is time where we're not in delivery mode. It's taking that time out so that we can be creative. It's taking the time out to go and maybe get a massage or taking time to you know, even jump on the phone like you and I do to talk through different challenges. It's that time that we need to have to make sure that we're driving our business in the right direction and Just like I mentioned earlier, I did get, you know, it wasn't for long, but I kept sort of getting caught in the weeds this year. And it's something that I just do not want to do next year. Because, you know, we are the CEOs of our business, and we do need to drive it were the ones with the vision. And we need to be really very, very clear and stay on task to that.
Tim Hyde  30:22
Yeah, it's pretty hard to envision when you're in weeds. Yeah,
Samantha Riley  30:25
exactly. Plus, I get hay fever. I don't like being in the weeds.
Tim Hyde  30:33
Oh, like some awesome, some awesome insights here, Sam. And I think that's really important, right? You know, if you're going to be the CEO of your business, be the CEO.
Samantha Riley  30:41
Yeah, yeah. I've really enjoyed this year, I'm also very much looking forward to going into a new year, even though it's just a date on a calendar, and it is no different. I always get positive for I was feel positive at the beginning of the year, like we've got, you know, this fresh page, that we can create something new. And, you know, we could do that at any time. But I love the feeling of a new year coming in. So I'm certainly happy and excited and looking forward to next year. And to being back with you more next year.
Tim Hyde  31:11
I know, it's gonna be good. Yeah, more podcasts. Absolutely. I'm launching my podcast, of course, which is going to be super exciting. That's going to come out very shortly, we've got a bunch of episodes all wrapped up, and look forward, looking forward to sharing that with some of our listeners as well, if they want to get onto the systemization side of things. Sam, I really loved working with you this year, as I do every year. And you know, I'm just happy that you allow me to be in your world and share so much and I think this is a good time of year. Just take a you know, take the headphones out. If you're listening to this right now, obviously, subscribe and do all that fun stuff first. But you know, go with your loved ones don't just be the sort of face that comes up when they when you call them. Actually go and spend some time with them and reflect on why did you why you're actually doing what you do title and pat yourself on the back for all the successes that you've had
Samantha Outro 32:01
Thanks for joining me for this episode of the Influence By Design podcast. If you want more head over to influencebydesignpodcast.com for the show notes and links to today's gifts and sponsors. And if you're looking to connect with other experts who are growing and scaling their business to join us in the coaches, thought leaders, and changemakers community on Facebook, the links are waiting for you over at influencebydesignpodcast.com