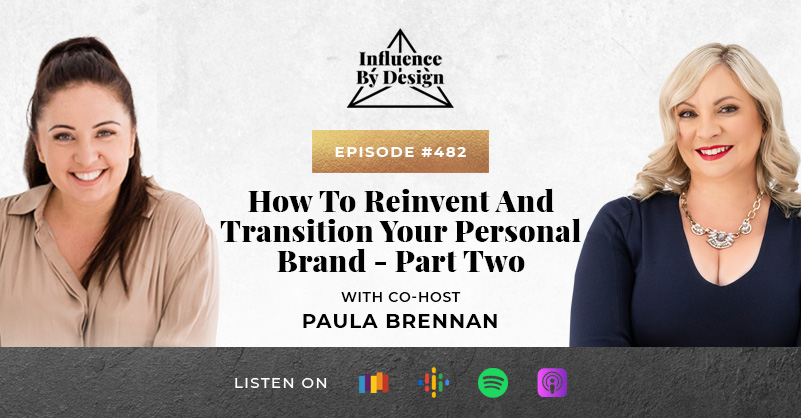 Reinventing a brand that reflects your personality and values can be a challenging yet rewarding experience. Your brand is an extension of you and should convey your unique identity, story, and purpose to your audience.
This episode of Influence by Design is the second episode of our three-part series on how to reinvent and transition your personal brand. In this episode, I am joined again by Paula Brennan and we share how you can transition your brand to truly reflect who you are. 
We share our insights and expertise on the importance of understanding your audience, as well as your strengths and weaknesses, so you can create an authentic and effective brand. 
We also discuss the key elements of a strong personal brand and provide practical tips and examples to help you develop a brand that is deeply authentic while also resonating with your target audience. 
Ultimately, creating a brand that reflects who you are is a process of self-discovery and intentionality, and can help you stand out in a crowded marketplace and achieve your personal and professional goals, while lighting your soul on fire.
IN THIS EPISODE YOU'LL DISCOVER:
Niching is important – but how deep do you go? (01:29)

To make small tweaks or to completely start again? (05:17)

Some examples of people who've niched extremely successfully (07:43)

How to position yourself in the market you want to be in (12:32)

If you start a new business, are you really a newbie? (17:38)

Creating messaging that attracts or repels prospects (21:28)

How to enter the conversation that's going on in your prospects head (23:46)

How to get people to hit your 'buy button' (25:22)

Logic vs emotional marketing (28:10)
QUOTES:
"When you understand what your motivators are and why, it's going to be a lot easier to position yourself." -Samantha Riley

"A lot of people are scared about being specific with their audiences because they're afraid of scaring off everybody else." -Paula Brennan
"You get to decide where you're positioned. No one else" -Samantha Riley
WHERE TO FIND PAULA BRENNAN

​​SUBSCRIBE & REVIEW THE INFLUENCE BY DESIGN PODCAST 
Thanks for tuning in to this episode of the Influence By Design podcast. If the information in any of our conversations and interviews has helped you in your business journey, please head over to Apple Podcasts, click the 3 dots in the top right corner of your smartphone screen, follow the show, and leave us an honest review. Your reviews and feedback will not only help us continue to deliver valuable content but will also help us reach even more amazing entrepreneurs just like you!

BOOK AN INFLUENCE AUDIT
If you want to be known as the leader in your industry, book a quick 15-minute Influence Audit.  
We'll work together to identify:
Your current situation and immediate opportunities for growth
Uncover the #1 thing holding you back from not being booked as an industry leader
Develop a 3-step implementation plan to increase your authority and visibility
ABOUT PAULA BRENNAN
Paula Brennan is a personal brand photographer, educator, and host of the popular podcast, The Business of Personal Brand Photography. With over 16 years of experience in photography, Paula has built an impressive portfolio of work, from wedding photography to personal brand photography.
Through her work, Paula discovered that she could bring values and emotions to life through her guidance and imagery. Her passion lies in bringing out her clients' connection, confidence, and authentic personality through her photos.
As a result, Paula started working with entrepreneurs to help them communicate their brand personality through unique and authentic imagery. She is dedicated to helping her clients create a powerful visual identity that reflects their brand values and resonates with their target audience.
With her talent, passion, and dedication, Paula Brennan has become a leading figure in personal brand photography, inspiring and empowering others to create meaningful and authentic visual stories.
TRANSCRIPTION (AI Generated)
Paula Brennan  00:00
Are you scared to make the flip and niche down because perhaps you're afraid of getting it wrong, or maybe going backwards financially or even losing clients who you're already working with? Well, today we want to talk about how to create your brand with intentionality. So that that way you can accelerate your results and also create a business festival that's going to light your soul on fire.
Samantha Riley Intro 00:21:
My name is Samantha Riley, and this is the podcast for experts who want to be the unapologetic leader in their industry. We're going to share the latest business growth, marketing, and leadership strategies, as well as discussing how you can use your human design to create success in business and life. Inside and out. It's time to take your influence, income, and impact to the level you know you're capable of. Are you ready to make a bigger difference and scale up? This is the Influence By Design podcast. 
I'm Samantha Riley from samanthariley.global host of the Influence by Design podcast.
Paula Brennan  00:59
And I'm Paula Brennan. I'm a personal brand, photographer and educator. And I'm host of the business of personal brand photography podcast. Now welcome to this three part series on transition and reinvention. Now if you're currently thinking about making some changes in your career or business, or you're feeling like that, you want to do something bigger and more aligned with your purpose, then my friend, welcome.
Samantha Riley  01:22
Now this is part of a three part series, if you haven't listened to the first episode, then go back and do that. We talked about listening to yourself over others. And we talked about getting clear on really what you don't want so that you can get more clarity on what you do want. So you're creating your business with more intention.
Paula Brennan  01:42
Yeah. And so today, what we wanted to start chatting about is really about a word that I think gets thrown around a lot when it comes to marketing and building your business for I don't know that a lot of people really understand it. And particularly when it comes to this sort of transitionary phase. And that is to do with niching down. And when we talk about niching down, of course, we're always talking about finding your audience. So we talked a lot in the last episode about you know, finding your people and knowing who to work with. But today, we really wanted to kind of further come down on this, and what it really means to you when you're in this transitionary phase of your business. Because I think for a lot of the time people want to just completely do an about face when they're making changes in their business. I think don't you find like I find a lot of people are just like, you know, kind of like throwing in the towel on what they've been doing for years and years and who they've been serving. And they feel like they need to kind of like reinvent the whole thing over and over again, and come and on and speak to a whole new entire audience. And it just to me seems like it's so dysfunctional because you've spent years building relationships with people. What do you feel about this, Sam?
Samantha Riley  02:49
You know, as you're going through this, this is a huge, big thing in your life. And you go through this, you know, you feel like you're wading through mud, and it feels uncomfortable, and you're turning within going, Oh, my God, what is wrong with you? Why can't you get this right? You know, it's this big, huge thing. And I don't think people realize that it really is a refinement in you know, making this this pivot or this transition. Because you're not actually throwing the baby out with the bathwater. Usually, it's just a few little tweaks and changes. And it's a refinement rather than reinventing the wheel. And I think when you understand this and take that pressure off, that this will happen in a much more organic and beautiful way.
Paula Brennan  03:31
Yeah, I find so many people when I'm interviewing them, particularly people who are like changing career courses, like in a dramatic way. They just want to kind of almost hide what they're doing from the people that are already in their world. Do you find that like? Yeah, totally is sort of like, oh, I don't want people to know that I'm doing this. And I'm like, why not? Your new customers, your new audience sitting right there, they're already connected with you via through your LinkedIn profile, or your other social media channels, or your many connections that you've accrued over the years, you'll probably find that your ideal client is sitting right in front of you now, but you're just not having the conversations. Or perhaps you're finding that the reinvention or the transition that you're doing in your business is based on discussions that you're having with these people, but you're not really taking stock of that and realizing that they may be transitioning in their life too. And they need what you can do for them.
Samantha Riley  04:24
Totally. I have never worked with a client who hasn't made this sail with someone that's already in the audience. So in saying that in a different way, there is a client waiting for you in your new reinvention brand that is already in your audience guaranteed.
Paula Brennan  04:43
Yeah, and I find when we talk about this whole concept of niching down is a lot of people get really scared about being really specific about who their audiences because they're afraid of like scaring off everybody else. So I find a lot of people that I work with what before They sort of twisted up getting into the nitty gritty of things that can speak in generalities like, you know, you go, Who's your ideal client? And they go, Oh, I work with all women. All women need my help. Yes, I'm sure they do need your help. But are you going to be able to serve them if you're trying to speak to all of them all at once?
Samantha Riley  05:16
Absolutely, there is. And I think the other thing is people are afraid that they're going to turn people away. And when you think about how many billion people there are on the planet, for you to have a million dollar business, you probably need less than 100 people. Yeah, when you think about that, and she's like, oh, you know what, let's get really specific about what it is we do. So we can just call in the people that will do best with working from us, because I know this gets bandied around all the time. And it gets said all the time. But I think it's really important to say this is that when you're trying to speak to everyone speaking to no one, so so just think there's people sitting there scrolling on their phone, if you're not speaking directly to them, they're not going to stop the scroll, you need to be able to call them out specifically.
Paula Brennan  06:09
And I love this idea that you said of like really just staying in your lane, because you're already having those conversations with people, and you really do already know who they are. If you're staying in a similar audience, yes, you might be solving a different problem for them in a different way to what you're doing now. But don't discount or undervalue all those conversations that you've already had with people, it's really now about sort of getting to know them a little bit better on this with this new angle in mind. So it's like, what are the different questions that I need to be asking them or, or getting to know from them, because I know for myself, like, you know, I can talk in my own transitionary periods going from weddings, to portraits to personal branding, she is the same client, it's just that her needs have grown as so has mine, you know, as I've been growing with her. So I find that a lot of the time, a lot of my clients when they're, you know, becoming more sophisticated, I'd say within their business is when they're really starting to identify as you talked about the Bollinger clients, and they're starting to sort of just go, I'm only going to be speaking to those clients. And sure enough, you're going to feel like you're maybe excluding some people from the conversation, but people will take what they need from you. So a lot of the times when you read something you might go, most of that doesn't relate. But that really hard relates to me. So I'm still here.
Samantha Riley  07:25
Totally, I'm still here for you, I know that you had a client that, who is a broker, I would love you to share this story, because this is going to very eloquently show what niching looks like,
Paula Brennan  07:39
well, this beautiful client of mine, so she moved from interstate to where we live. And she's only been back I think about four years from living into state. And she is mortgage broke up. So when she first came back, she recognized really early that there was this whole big space in the market for people who were having challenges getting loans. And by that I mean, a lot of the time it was people in business who work for themselves, we all know what that's like, we don't look the same as everybody else who's got a paycheck on paper, and it can be really difficult for you to get approved. And so she recognized that there was a huge market for people who needed to circumvent maybe the standard sort of mortgage procedures, and help people who find it difficult to get loans. And within just a couple of years, her business was winning awards, she was known all over the place, because she helped so many people that when you find someone like that, all you want to do is talk about them, and who am I talking to, I'm talking to my other friends in business, you have challenges getting loans. And so by her being so very purposeful and direct to this individual market, she has been able to have an abundant business way beyond her dreams in such a quick and accelerated time.
Samantha Riley  08:50
I love this story, what makes or to really understand what niching is, with that story. We're able to remember who that person is, and we're able to refer her so if you pull her if you said to me, who's a mortgage broker, you know, well, I know a gazillion mortgage brokers. And it'd be like, well, you know, and you forget lots of them and you don't remember them. Where if you said to me, I'm a small business owner, I'm really looking to get a new or buy a new house, who do you know, straightaway? It's like this particular client because she's memorable and referral for exactly what it is she does.
Paula Brennan  09:28
100% and I have to say I'm an evangelist, and I have told so many of my clients and friends about her. She helped me to get a loan. She's helped a bunch of my clients get loans, and that's the way her business has been built because she was so specific about who she wanted to serve. And yeah, it's just her business has gone gangbusters and so good. I just loved watching it loved watching it because you know, she loves who she works for too. Yeah, loves the people.
Samantha Riley  09:53
Totally. I want to share another story just to really bring home what niching looks like I worked with to women who on paper do exactly the same thing. They work in the health and wellness industry, they're both about the same age, both female, both have done similar, if not the same courses. They've got similar backgrounds, letters after their name, all of that. When I started working with each of them, we started to get really clear on who are the Bollinger clients with the people you love to work with? What's your passions? What clients do you get the best results with? And this is a, that's a really great question to ask yourself, Who do you get the best results with who, when you get out of bed do like really jump out of bed to work with. And what we did with both of these people who, when they came to me were positioned the same as A, I'll put this in air quotes as a personal trainer, which, you know, there are a lot of personal trainers around, we got really clear on their niche. One of them now works with specifically women in midlife to get their mojo back. And one of them specifically works with women surfers who want to get on the qualifying circuit, completely different niches on paper, they're exactly the same. Now, if someone came to me and said, Do you know a trainer and I asked a few more questions, it's very easy to say you need to go and work with this person or this person, rather than our will. I know actually a lot of people in that, you know, I don't really know who to refer. So we want to be memorable and referral.
Paula Brennan  11:25
And I guess this really, really leads and it's a beautiful segue into what we wanted to discuss next, which is how you're positioned in the market. And you couldn't have two better examples of that, over the two clients that you just mentioned. And when we're talking about positioning, we're really talking about perception, we're talking about how people perceive you, and how people are perceiving your brand. And there's a wonderful quote, I think it's to do with positioning, or maybe it's to do with personal brand, but it's what people essentially are saying about you when you're not in the room. Yeah, totally. I know, for a lot of people that can kind of make you cringe and get a little bit sort of, you know, a little bit feeling a bit insecure, or that kind of thing. But we're talking about how they're perceiving and what their experience and how they felt when they worked with you, right.
Samantha Riley  12:09
And I think that that, that really uncomfortable feeling of like, oh, I don't know what they're saying, you're in control of that. You get to decide where you're positioned, you get to make the decisions around, you know what that looks like. And as soon as you realize that, that can completely change the narrative.
Paula Brennan  12:29
Totally. And it just comes down, I think, to asking yourself some really simple and basic and fundamental questions, so that you've got this sort of, like overarching filter by which you can make decisions within your business, you know, what do you want to be known for? Or what do you stand for? Or what are the values of the business? And, and I think unless you start to really ask yourself these, honestly, and I say that, honestly, because I think for a lot of people, you can feel like you're a bit weird, navigating this stuff for yourself, right? It can feel a little bit strange, like, oh, I want to be known to be the best photographer, or I want to be known to be, you know, Australia's number one, or I want to be known for being the Gold Coast most fabulous. It doesn't matter what it is that you want to be known for. But it mean, it does matter if you know what you want to be known for. Yeah, in how you want to be perceived. That's really where it comes down to is you controlling the narrative here?
Samantha Riley  13:21
Totally. And I think one of the pieces is that's really important to understanding why. Because when you understand why and what your motivators are, it's going to be a lot easier to understand, you know what that positioning looks like? Yeah, and
Paula Brennan  13:34
I think it's really important to to say here that this stuff doesn't just happen overnight. It just doesn't happen when you wave a magic wand across it. Of course, it takes a lot of steps to get there. But this is part of that process of reverse engineering it so you decide where you want the end goal to be you decide what you want to be known for you decide how you want people to feel and and then you work out what are the steps that I need to take in order to make this happen and become the reality as part of my new business, my transition my rebrand whatever it is that you're doing right now for yourself.
Samantha Riley  14:05
Totally. Now, I think it's really important here to, to note, it's a piece around mindset and a piece around people thinking that they're newbies. And I really want to touch on this because I think that this is so important for anyone that's transitioning out of a corporate position, or anyone that's slightly making that refinement process or that transition in business, is that and I know that Paula, you've seen this so many times, people saying, Oh, I'm new in this new niche, or I'm new in this positioning, and I need to give away my services for free to build up, you know, to build up those testimonials or to build up that portfolio. That's actually not the case. I want you to really start to separate your experience and expertise from being new in this particular A niche or position in your business, they're two separate pieces. So you're not a newbie, even if you're a newbie in business, you're a newbie, maybe in business, but you're not a newbie in your experience, you still got the context, the connections, the content, all of that IP that you've created, and built up over years and years and years. So separate that experience from the business, find someone to help you with the business, because you may be new in that, but absolutely own your position in where you are.
Paula Brennan  15:33
And I think what a lot of people don't realize when they enter into business, is that if you give away your services, if you discount, if you do these things from the beginning, it's going to take you a long time to work your way back up to where you want to be. Whereas if you just enter the market, if you start where you meant to finish, if you walk into that room, if you are there already, because you already probably are, you've probably got the qualifications and the credentials. But as Sam says, you probably maybe just don't have the business sense yet. But it doesn't matter. Because if you start lower than where you are, right, now, you're going to spend years working your way back up. I see this time and again, with my clients who are photographers who might be charging $6,000, for a wedding over here, they enter into the space as a headshot or something doing a slightly different genre. And they feel the need to come back down to charging two $300 for a shoot for essentially the same level of service, the same level of expertise, just maybe a slightly different subject matter. But wow, it just blows my mind that people can really like set themselves on the back foot so early in their new business when they're making that change.
Samantha Riley  16:40
Yeah, so not only will their income be hurting, but this is really important to understand, if you don't position yourself in alignment with your experience, you're actually going to become resentful, you're going to be resentful of the clients you're working with and get into that idea of blaming them because, oh, they're only paying, you know, $300. And they've got all of this experience. And I used all of this time and I was able to add all of this extra knowledge, you'll be resentful of the clients, you will be resentful of the income you're making you're you'll start to resent your business. And that will bleed over into your life. And you'll start to be resentful in all areas of your life. And that is someplace you do not want to go.
Paula Brennan  17:23
No. And I have to say that. Unfortunately, when you are in business, a lot of the time, you have to be in charge of this yourself, you don't have a PR team around you. You have to be your own cheerleader, you have to be your own person that is making the moves and making the decisions in order to be able to position yourself well. But let me tell you, if you can walk the roll. If you can walk into the room with that hat on, your life will instantly change. And let me tell you this beautiful story about a mentor of mine. She was had hit the top of her career, right? She is a major huge player when it comes to the education space online. She is a go getter. And in certain industries, when you say her name, everybody knows who she is. And I was sitting in a room with her I'd met her 12 years before I'm sitting in a room with her. And I said to her, what changed for you like what was the point that you know, you everything just changed because it seemed to change overnight. And she turned around to me and she said, Paula, one day, I just decided to walk as if it already was, and then it came to be. And I was like wow,
Samantha Riley  18:30
Mike drop moment
Paula Brennan  18:32
totally. Because if you believe that it's already happened, it will start to come to life in your world. And that is the true message here is that you get to decide all of this stuff, but you have to make the decision. And then you have to walk it every single day.
Samantha Riley  18:48
I love this so much. So we've talked about niching. We've talked about positioning, let's talk about something that is going to make or break you. And that is messaging. I know Paul is something that you're very passionate about. I know that this makes or breaks clients is getting their messaging on point
Paula Brennan  19:07
100%. And one thing that irks me so much, particularly in the landscape of social media, is that a lot of people are just speaking a lot of empty hot noise out there. And they're not speaking to people with specifics. They're not actually really engaging in conversations that people can latch on to, because it's just they're just speaking in such a generic language. And I think it's due to the fact that they haven't done some of this work, you know, they haven't necessarily really drilled in on their ideal clients. They're not speaking as you say to their volunteer client, they're not speaking to them intimately enough. And they're not taking the time to really understand the conversations that are going on inside their niche markets head. Yes. And you know what I'm talking about when I'm saying this Hey, Sam,
Samantha Riley  19:51
oh my goodness. This is like one of my biggest irks and it's one of the things that can hold clients back until they Understand this, we need to look into the conversation that's already going on in their head. Now there's conversation that's going on with other people. So there's going to be things that they're talking about externally, there's also going to be things that are going on in their head that they don't talk about. And we need to speak to both of these. Now, as coaches or a service providers, we often know that the core problem as to why our clients aren't getting results is not what they're talking about. Our clients or our potential clients only understand the symptoms that they're experiencing. So we need to talk to that don't go over their head and start talking about the core problems, or, you know, you'll start working with me with this, and you'll start understanding all of these other things will happen. Yes, we all know that that's what's going to happen. But don't enter that big conversation. So what are they already experiencing in their life? And how is that playing out? That's the conversation that we need to enter into.
Paula Brennan  21:01
Yeah, and it's really I guess, you know, it's, it seems like a little bit, sort of overarching, I guess, but it's really understanding the fears, the frustrations that they've got the things that they want the aspirations that they have, you really need to understand that. And I know a lot of people kind of get a bit funny about this sort of stuff, because they're like, Oh, but I don't know exactly what he or she is talking about in their heads. And it's not really about understanding the exact conversation that they're having. But it's more about understanding, what's the guttural thing that's happening inside of them, right? That's sort of that fear factor. And those sorts of concepts are quite universal, I think totally. But the thing I find really frustrating, I guess a lot of the time too, is that people and I see this in my own industry a lot of the time is that people speak in industry speak. jargon, this sort of like industry language, I call it isms. But I find it really hard to read, because I'm like, most people don't get that stuff. They don't understand what you're talking about. They don't understand pixels, we're talking about photography, they don't understand what pixels are. Resolution means. Do you know, they understand? Does it make me look good? Do I look? How am I gonna look a bit skinnier? Yeah, yeah, totally.
Samantha Riley  22:11
Can you make? Can you make my tuckshop? Lady arms go away?
Paula Brennan  22:16
Exactly. So I think you know, that and that's coming back to that language and that dialogue that's going on in her head, right? She wants photos, is that make her look nice. But I understand that underneath it all, she does want her arms looking a bit skinnier, she does want her face looking a bit fresher than what she sees in the mirror in the morning. You know?
Samantha Riley  22:32
Yeah, let's refine this down even more though, because really, I'm messaging. In our messaging, we want to get someone to hit the buy button. So and I mentioned this in the last episode about something that you've got on your website, Paula. So I know that when women aren't feeling great about themselves, they're not going to hit the buy now button on booking their next photography session, because the conversation that's going on in their head is when I lose five kilos, when I lose 10 kilos, then I will hit the buy now button, you've got some amazing copy on your website that makes people go, Yeah, okay, I need to hit that button. Now, I need to do that now. And then when I lose my five or 10 kilos on the track, then I'll order another branding shoot. So it's about entering that conversation and getting them to hit by.
Paula Brennan  23:24
And so for me, I like to think of my messaging is as a big warm hug. I love I like to think that I've heard you that I've listened. And now I'm giving you a hug. And I'm telling you that I've got you and it's going to be okay, do you know,
Samantha Riley  23:39
I love that so much. Because let's face it, people want to be seen, they want to be heard, they want to be valued. And that's exactly what we want to make sure we do in our messaging. And Paul, you do a great job of this.
Paula Brennan  23:51
But I'll tell you how it happened though, is I just learned to listen to exactly what the concerns are of my client. Now for me, it's actually usually fairly easy and open and honest, is you know, I just have to listen a little bit and she'll start telling me all the things that aren't good enough about her and why she can't get photographed and all that. But what I really had to start listening to was how on the phone in that sales conversation, how I was alleviating that stress for her in real life. So that that way I could translate that messaging into actual kind of copy on my website that was doing the same job that I was doing in in the sales calls in the room. Do you know Yeah, so for me a little trick that I heard if anyone wants to have these tickets are really good. One is I started to put the voice memo on my phone. And I wouldn't do it without people's permission. But I will often just record what I'm saying to people. So that that way I can pick up my own cadence. I can pick up the languaging that I do. I can hear what they say. And I can find out what my response is to that. And because our core messaging really does come from who we are as a person and how we Yeah, you know, and I think a lot of the time that it can get a little bit lost when we're trying to write in grammatical form or punctuation, and do all the things that we were taught, you know, this stuff was stripped out of us when we were in school. And it's how do we get back to writing into relating to people in, in the messaging in the, in the written form? How do we make that feel like
Samantha Riley  25:16
us sound like Yeah, and I love that you've used that I use a similar method is, you know, I think about what happens in sales calls or the things that are coming up. And essentially, that's what you're talking about here. And why I'd love it is because we're getting out of that logic brain of thinking, I need to get this right for my marketing. And we're putting ourselves in this place of service to our clients. When we're sort of more in that emotional, we're still in the logical, because we're trying to help them fix the problem. But we're also in this emotional place as well. And that's where the magic happens.
Paula Brennan  25:49
And I love that you said that, because I talk about this all the time, is switching from sales mode from smarketing mode just into soul service mode. I think when you're coming from that place, which is what we authentically do when we're sitting in a room with somebody, you're genuinely just trying to figure out what's the best way to solve their problems and serve this client. But I love this that you said that because it really is overarching with all of what we've been talking about is how can I best be of service to you that one person who is coming and looking at me right now, it's not about the numbers, it's about serving each individual person. And I think that through your niching, through your positioning and through your messaging, all you're doing is trying to figure out how can I make sure that I'm in front of them in the moment when they need me with the right thing that they need, so that I can help them
Samantha Riley  26:37
absolutely summed it up so well. So hopefully, as you're listening, or as you're watching, it's giving you some ideas of where you can go with your niching. Maybe you need to niche down a little further with your positioning, maybe you need to position yourself a little bit higher in the market and your messaging, maybe you need to really start to get into the symptoms and talk about those a little bit more, get into the conversations in the heads that your audience is already happening. So have a think about how that can then work. Please, if you're on social media reach out to us. But next episode, we're going to really talk about how you can take that leap and bring your refined brand to life. And we say refined brand rather than new brand. Because as we've discussed today, there probably are only just some small little tweaks you need to make to really step into what that next version of your brand looks like.
Paula Brennan  27:34
Sam, I've loved this conversation and I can't wait for everybody to listen in and hear about this whole aspect of personal brand because you know, this is really my happy place.
Samantha Riley  27:42
Absolutely. Look forward to seeing you on the next episode.
Thanks for joining me for this episode of the Influence By Design podcast. If you want more head over to influencebydesignpodcast.com for the show notes and links to today's gifts and sponsors. And if you're looking to connect with other experts who are growing and scaling their business to join us in the coaches, thought leaders, and changemakers community on Facebook, the links are waiting for you over at influencebydesignpodcast.com