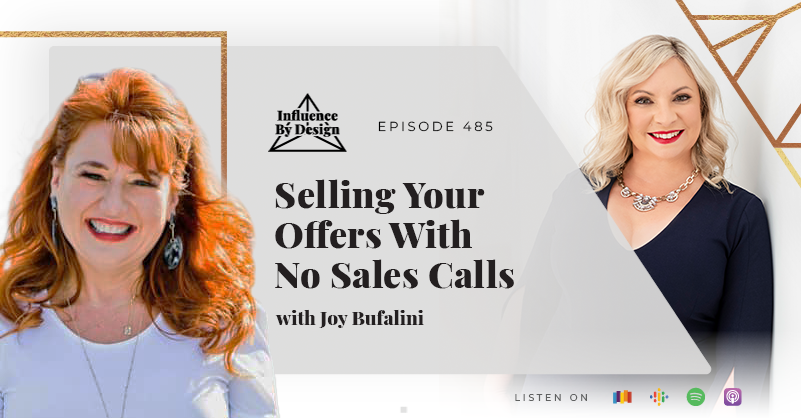 Sales are the lifeblood of your business.  Now imagine you can sell your offers without having to go through the process of traditional sales calls… 
In this episode of Influence by Design, we explore how to fill your offers with zero sales calls and no sales pages with Joy Bufalini. Although trained with the conventional wisdom of growing a business, Joy took the courage and set forth on a new sales process.
The transformational journey begins with recognising who the 'yes clients' are and educating them about content that aligns with them. By shortening the sales process, Joy honours her prospects and leans into the energetic component of whether she's the best fit to work with clients or not.
Joy has tapped into an ingenious way of leveraging her sales process. She shares how she signs clients without sales calls and creating sales pages.  
IN THIS EPISODE YOU'LL DISCOVER:
Joy's journey to coaching and entrepreneurship (02:15)

The importance of having an energetic component in the sales process and why it works  (06:23)

The power of speaking with 'yes clients' (13:25)

How to communicate your offers and services to prospective clients (17:47)

The secret to Joy's success (21:20)

A week in the life of Joy Bufalini (24:45)
QUOTES:
"We can attract clients by being ourselves, being clear on who we are, who we serve, and what our message is." -Joy Bufalini

"When your content is on-point and speaking to what's going on for your 'yes clients', you're going to have people coming out of the woodwork." -Joy Bufalini

"Even when people don't believe the energetic piece, they still feel it. We know when the energy is right or wrong." -Samantha Riley
RESOURCES
Daily Needle-Movers Cheat Sheet
WHERE TO FIND JOY BUFALINI

​​SUBSCRIBE & REVIEW THE INFLUENCE BY DESIGN PODCAST 
Thanks for tuning in to this episode of the Influence By Design podcast. If the information in any of our conversations and interviews has helped you in your business journey, please head over to Apple Podcasts, click the 3 dots in the top right corner of your smartphone screen, follow the show, and leave us an honest review. Your reviews and feedback will not only help us continue to deliver valuable content but will also help us reach even more amazing entrepreneurs just like you!

BOOK AN INFLUENCE AUDIT
If you want to be known as the leader in your industry, book a quick 15-minute Influence Audit.  
We'll work together to identify:
Your current situation and immediate opportunities for growth
Uncover the #1 thing holding you back from not being booked as an industry leader
Develop a 3-step implementation plan to increase your authority and visibility
ABOUT JOY BUFALINI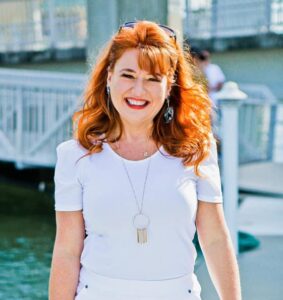 Joy Bufalini is the creator of the Simplify to Multiply® Method, helping women scale their business by simplifying their focus. In her 11 years as an entrepreneur, she's been featured in both O and Entrepreneur magazine as a leader in the business coaching industry. She's known for her warm but no-fluff approach to helping women do their soul work in the world. Even while raising her daughter with multiple disabilities, Joy has built a robust 7 figure business by keeping a simple and scalable focus.
TRANSCRIPTION (AI Generated)
Joy Bufalini  00:00
When you see people reaching out, you've never heard from before. They may have been on your email list for years, they may have been falling on social media and never liked or commented. But this process like they feel safe and secure. They're in the privacy of your inbox. You've built that know, like and trust. And when your content is really onpoint and really speaking to what's going on for your yes clients, you're gonna have people coming out of the woodwork. That's the fun part too.
Samantha Riley Intro 00:28:
My name is Samantha Riley, and this is the podcast for experts who want to be the unapologetic leader in their industry. We're going to share the latest business growth, marketing, and leadership strategies, as well as discussing how you can use your human design to create success in business and life. Inside and out. It's time to take your influence, income, and impact to the level you know you're capable of. Are you ready to make a bigger difference and scale up? This is the Influence By Design podcast. 
Welcome to today's episode of Influence By Design, I'm Samantha Riley.
And today we're going to talk about how to fill your offers with zero sales calls and no sales pages. And if you think that sounds absolutely amazing, then stay tuned, because I have invited Joy Bufalini to join me today. And she's the creator of the simplify to multiply method. And she helps women scale their businesses by simplifying their focus. She's been an entrepreneur for 11 years. And over that time, she has been featured in both Oh, and Entrepreneur Magazine as a leader in the business coaching industry. She is an amazing, amazing person. She's done all of this while raising her daughter with multiple disabilities. And she has a robust seven figure business that is simple and scalable. So I'm very much looking forward to jumping into today's topic. So welcome to the show Joy.
Joy Bufalini  01:56
Thank you so much for having me, Samantha, I can't wait to have this conversation.
Samantha Riley  02:00
Absolutely. This is a conversation that I know that people have already picked up their years that are like, seven figure business, no sales calls, I'm gonna put my hand up for this. Before we dive in, I'd love to know a little bit about how you wound up doing what you're doing. You've only been doing what you're doing for 11 years, which I guess in internet years is a really long time. And in real life years isn't actually that long. So give us a little bit of a free call to entrepreneur days.
Joy Bufalini  02:31
Oh, that sounds like fun. Thank you. So I had always thought I'm going to be a teacher always wanted to be a teacher. So went to college, married my high school sweetheart, became a math teacher. And you know the plan, have a couple of kids go back to teaching. There's our nice little simple life wrapped up in a package. Except it didn't happen that way.
Samantha Riley  02:54
As most of things in life don't, right?
Joy Bufalini  02:56
No true. So in 2000 My twins were born 10 weeks early, and one of them with very severe brain damage. life was turned upside down like was she going to live was she not going to live like that went on for several years. And surgeries. And you know, a lot of trauma actually, of just trying to get her to keep her stable. And then Is she going to walk is she going to talk and as you can guess I never went back to teaching. Jump ahead to 2010 and 10 years after they were born, she had stabilized they finally been able to solve a lot of the brain bleed issues she was having. And I needed a purpose outside of just being home and through all the trauma and the emotional journey that I was completely unprepared for. I really had to learn some schools and learn the whole world of personal growth and development and mindset. And, you know, my my emotions, it was just just a very new world to me. Anyway, by 2010, I was like, I found this whole world of life coaching, I worked with a life coach and realize, coaching, this is perfect for me, I can work from home, I can help people I was really passionate about wanting to help people after the journey I had been through and just wanted that sense of purpose. And you know, it really wasn't about money initially at all. It never really has been but you know, just I needed a purpose. And so I started into life coaching. I enjoyed it, I loved it, it was perfect. The first few years I was kind of in hobby mode, and then you kind of get to get to that point where it's like, okay, I need to figure things out, or it makes the money or I'm gonna go get a job. three teenagers then at this point, and you know, lots of medical costs that have piled up over the years, I'd moved to mindset coach and then I ended up in some groups of entrepreneurs and then I ended up starting to figure out some business strategy. What was so hard for me is I was trying to follow everyone else's advice and it wasn't working for my brain. It wasn't working for my lifestyle. It wasn't working for me my the time I had available Well to work on my business, and I was doing funnels and landing pages and trying to run Facebook ads, and they first came out and all the things. He did it, did it. So I shifted into like, kind of throwing everything that I had learned out the door. And I went in my office and he wrote down three things, I am just going to focus on these three things. And I never made 120 K a year. And the next year, I made $104,000. The next year, I made $250,000. The next year, I kept Balto, I kept multiplying that from 2017. On him. I'm onto something here. Yeah, so it's a little counter intuitive, a little going against the grain. But it's worked really well. And it's what's become my simplify to multiply brand. And it's worked without having all the tack without having all the 20 sales calls on my calendar a month like I used to have. And it's worked for scalability as well as my business has grown. So it's, it's been a journey, I never would have guessed 11 years ago that, you know, I'd be here and I'd be in this place of being able to reach a lot more people and inspire people to who were my earlier self who was really struggling.
Samantha Riley  06:14
Totally, totally. So I'm going to ask a question that may be coming up in people's heads, I just want to call the elephant out in the room. So you don't run sales calls? Do you have a sales team?
Joy Bufalini  06:27
No, I do not. So here's how my sales process works. And I'll explain some of the back end of like, why it works if you'd like a little as well. So all every client that comes into my program, and I have higher ticket programs, like 5k Plus programs, we have high touch, you know, higher higher investment level. And every single client comes through me, I'm the gatekeeper. So we vet our clients to make sure one and I say our clients because I do have coaches on the team that work with my clients as well. We vet the clients, they make sure they are enrolling in the right program to make sure they're getting in the program. That's the right fit for where they're at in business. And also to make sure they're energetically aligned, and make sure they're comfortable.
Samantha Riley  07:12
Yeah, and that is so important. Mm hmm,
Joy Bufalini  07:16
exactly. Now, my fear when I let go of sales calls, which was three years ago, we were in the middle of moving, that we were like a month or two into the pandemic. And I was fully overloaded, you know, your home even though they were older, Amber still has my daughter, Amber still had a lot of needs and, and I had learned it from someone else. But I was too afraid to try it. And I wanted to put my own imprint on it. And like I have, I'm going to do it, I cannot have 20 plus sales calls on my calendar, which was becoming the norm. Anyway, so I shifted to it. And guess what? My sales started going up? Wow. Like they went up. Instead of like, if I could just stay the same, I'd be happy. But they actually went up. And I got real curious about this, like, Okay, what's going on here. And I started getting feedback that, wow, Joy, I really liked your sales process. I want to learn this sales process that I actually joined, because I do teach my clients if they so desire to sell in Messenger, once they've you know, they've got clients coming in. And, you know, I didn't realize there's an energetic component to it as well, you know, there's a component of my confidence, my confidence that I don't need to convince you that if I give you the enter information about the program and really flush it out, like I have a document, like a seven page document that talks about my first level program, my entry level program from head to toe, they know exactly what they're getting, like, they don't even really have any questions. It's like, is it aligned for your next steps, you know, and I actually put the ball in their court and I want them to know, it's aligned for them. Do you have any questions that you'd like to move forward? Right. So it's become super simple on my end? So I asked application questions once I can see yep, this program that they're inquiring about is the right fit for their stage of their business journey. And from what they're sharing, I can sort of read into it. Yep. They feel energetically aligned. Here's the information. Here's the price points. And they, okay, I'm in send me the link. Could it really be that simple, huh. And it really has been and it's been it's really freed me up energetically? I'm an introvert. I'm an empath. You have to be careful with sales calls and you're introverted and impact because you can quickly get people out. And also you can feel everybody's stuff. Yeah. So especially if you like just anybody get on a call with you. Like, it's going to take a lot to be able to manage your energy and then serve your clients really well, too. That's really what I want to serve the majority of my energy
Samantha Riley  09:48
for. Right? Yeah, absolutely. that have come into
Joy Bufalini  09:51
my program. So it's been a fun journey to see it in action. And it's not just for you know, a couple $1,000 offer. It's work for 20 30k offers the same process. And clients really, I believe the right ones, not everybody's meant to work with me or any given person. But the right ones really respect the process. And then it just tells me like, they'll follow the process. And they're, you know, they know they know what's right for them. I'm not here to tell them what's right for that. I just need to give them the information and and be there for them if they have questions.
Samantha Riley  10:23
Totally. So how many offers Do you have? You said, you have multiple programs,
Joy Bufalini  10:28
I do I do, I have three for three different stages of business. So for those who are building to six figures is my first level offer. And then there's a next step after that, for ones who are ready. And then for my women who are like past 150k, into multi six figures, that's a exclusive, you know, one to one type of offer work with me, which I just work with a couple at a time, you know, the the handpick ones that are the right fit. So it's a fun process. Now, what makes this work selling a messenger, what makes it work is knowing who is the what I call the yes client, like who is the person that is a yes fit for where they're at, in their journey, what type of business they have. And that offer takes them on a journey, you know, it takes them from point A, to where they're at and a point B to where they're going to be. And I think that's where people often miss, even with sales pages. That's why I don't use sales cases I sell with a PDF, I like to call it selling, I like to call it inviting clients into the program that's right for them, they want to work with me with a PDF, because it gives a different focus. It's not objection handling, and you know, like 10 pages with all these graphics and five by now buttons, and it's, it's sometimes even hard on the nervous system, right? It's like, Yeah, I agree to take in. So with a simple PDF with nothing but a logo on it. The people who are interested have an opportunity to tap into the energy of the offer, and to actually see the transformational journey. So that's what's really important is that the steps you do before you give them the information, writing, I call this an offer letter, I help my clients write one as well. So they can invite their clients. And many of them stick with sales calls for a little while, like get clients enrolling pretty regularly, know who your yes client is, then you can, you know, move the process into DMS and only do a maybe a short call if absolutely needed, you know, if you think that's the right thing to do. So shortening the sales process, it honors your energy, I feel like it really honors the prospect as well, right? Because instead of like being on a call, and they have to make a decision, and there's fast action bonuses, and there's this, there's that and I know about you, but I've been on the other end of calls where I felt like taking feverish notes, it's where I need to make a decision. Now it's a little overloading, I need time to think I need time to step away. That's how I make decisions. So I respect a lot of other people probably make decisions like that, too. They don't want to be on the spot. They don't want to, you know, have to, you know, decide or they miss out on things. So I like the process too, because they can really see the journey and they can really see is this aligned for me? Is this the right time for me? And then they have a chance to process it without somebody waiting for them on the other end of the phone.
Samantha Riley  13:21
Yeah, I love that. So how many chat starts do you do a day? And is this something that you personally do? Or do you have a team that starts your chats for you?
Joy Bufalini  13:32
Great question. I'm glad you said it that way, because I don't start any chats. So that's another part of this is there's no cold DMing there's no DMing people, Hey, bah, bah, bah, bah, someone has to lean into me first. So this is why it's so important that your content works. In other words, you're speaking to your yes client and your content. It's clear your expertise. And you're regularly getting calls to action for your different offers. So what do you have as an educated prospect? So let's say that I just shared a post today about the QUANTUM LEAP program, which is my program for quantum leaping to six figures. Of course, then I can reasonably expect at least one or two or three DMS in my inbox, or if I send on an email replies to emails, joy, can you please tell me more about the QUANTUM LEAP program? And do you know why they do that? Because that's exactly the directions that I've given in that piece of content. Right? So you're a little I give some value, I give some insight, I bridge to talking about the program and what you know, short summary of who it is and what it's for. And then here's what to do next. Yeah, I really feel like it helps people feel safe and secure. They're not like booking a call that knowing what's going to happen on that call. They're a little bit educated, they know what to ask. And, you know, then I go with my process from there, you know, oh, hey, so nice to see you. And what's even better is, when you see people reaching out, you've never heard from before, they may have been on your email list for years, they may have been falling on social media and never liked or commented. But this process like they feel safe and secure, they're in the privacy of your inbox, you've built that know, like and trust. And when your content is really on point, and really speaking to what's going on for your Yes, clients, you're gonna have people coming out of the woodwork. That's the fun part to you know, just like, ah, you know, these people were in my world never had a conversation with them. So that's really fun, too. And then you can use the application questions to get some context, sometimes I ask a follow up question or two and messenger, maybe I'll voice message, I like to give a little personal touch as well. But it doesn't, the process doesn't take too long. And then give them the information. And, you know, I'll follow up in a day or two, any questions ready to move forward. And it's really streamlined, I do have a tracker, because I do a lot of have a lot of reach outs, and where is everybody in the process, you know, that I'm going to be checking a couple times a week, and I have had a team member, if someone reaches out, my husband's a team member, so he can be how easily he might just copy and paste the application questions for me. If I'm in the middle of you know, a workshop or something where I'm getting a lot of them, he might start this first step, but I take it from there. Yeah. So the chance I take all the chats because energetically, you know, if I have 30 people in a program, I want to know, those 30 people are energetically aligned. And sometimes I can tell for me the answer to like, I'm not so sure about that. And I'm gonna ask a follow up question on that. They didn't like the asking that follow up question. Okay, you know, not a good fit right now, you know, so I hear of programs where there's a lot of drama, sometimes, or unhappy clients or clients not getting results. And I know that can be a thing. We're all human beings having a human experience. But I would like to say outside of like, DM selling, which is not cold pitching or anything like that. I think this piece of like vetting your clients and doing the very best you can to make sure that they're going to the right place, that they're not investing in something that they're not ready for. They're not putting out money. That doesn't make sense if they're not yet at six figures. I think that piece is really important part of this process as well, that we should talk about, everyone should talk about a little more.
Samantha Riley  17:22
Yeah, totally. I love that. I love that you're bringing that energetic piece in because even people that don't necessarily believe it, they still feel it. We know when it's right, we know when it's wrong. Exactly. And in that conversation that you're having with people that reach out to you. And you're asking qualifying questions, and you're asking questions, you know, about their business? At what point? Are you bringing in your, you know, what this program is about? And how much the program is at where does this come in that piece?
Joy Bufalini  17:57
Yeah, really, after they answer the application questions, I gentleman will have one or two follow up questions you acknowledge, you know, that they've faced, and I like to celebrate that, like, wow, look at you, you know, you have 500 people on your email list, or you build a Facebook group of 300. Fabulous. That's so that's so great, that's a great foundation for building to six figures is having an audience like that, or some don't have as much, or they have a 5k offer that they're already selling, you know, in their first year in business. Fabulous. Yay. So you know, I love hearing that I love seeing what everybody's doing and and cheering them on. But it's not too long after once I feel really clear on like, who they are what they stand for. I asked them to share a link to their most used social media platform, again, a little bit of an energetic read of like, showing up for their business. Yes, you know, I want them to do that in the program. You know, and, you know, if they're if done it a little bit, you know, energetically, you know, does it seem like my Yes, client, you know, and so yeah, I think it's, it really can be done, but it's really about trusting yourself. And if you want to switch to DMS, you have to have a clear process. And you have to have a way to communicate what the program is what the offer is, in very clear language. Like, I have copy coaches on my team that helped my clients, but I have my copy coaches review mine too, to make sure I'm on point or if I create something new or I change something up because most of us are just too close to our own stuff. 100% like serving you serving your clients, me serving my clients. It's just me being me. It's like breathing now. How do I step back objectively, and articulate what's actually happening not just practically as far as deliverables and calls and sessions and things like that, but like what is the actual transformation that's taking this client from point A to point B? That actually takes a good bit of introspection. You know, whether you work with three clients, you're gonna give it your best guess and fine tune it or you've worked with 10 clients, or 100, or 300, right? Still, it's like stepping back and being able to accurately articulate it. So that that prospect, you're not having to convince them on a sales call, like, Yeah, this is, you know, rah, rah, rah, this is the thing for you. They're actually envisioning themselves going through that journey. And there's self identifying like, oh, yeah, that's me. And that's what's ongoing, you know, experiencing, and, yes, this is what I need. Yes, this is where I want to be. And this seems like the way I want to get there. So I think, being as explicit and transparent as we can take some self reflection, but then your offer really can. You can enroll like hotcakes once you've nailed it down. It's a process to fine tune what's working, what's not working, pay attention to that. But it really does lighten up the whole process of bringing in new clients.
Samantha Riley  20:50
Yeah, you mentioned then that it's a process that you fine tune. And I believe everything in business is like that, that I see so many people trying something new once or twice and saying, Oh, it doesn't work. And I've been in business for 30 years now. And you know, you've been in business for a while. And we know that everything that we do, you know, you need to try it, and you need to tweak it, and you need to test it and measure it a little bit more, and then refine it just a little bit more. You mentioned that you moved into this way of selling at the beginning of 2020. Yeah, how long? Would you say that? It was until you really felt like you had fine tuned it?
Joy Bufalini  21:30
No, I'd say I mean, I started selling at the same levels right away, like the number of clients that would normally come in a month, and then it started going actually ticking up a bit, which was like really neat to see, I would say buy, within six months, within six months, I'd had enough people reach out, you know, some people who don't get as many leads, maybe maybe it'll take you a year, that doesn't mean you're not getting calls, like you can do part of the message. But that doesn't mean you can do part of the process in Messenger, and then take them to a short call. Right? So you're coming to the call maybe with the offer information, or I noticed, like follow up questions I get when I sent them the PDF, I pay attention to what wasn't clear, what were they asking about? Okay, let's go fine. tune that a little more. So yeah, just paying attention and being persistent being committed. I mean, that's really the secret to success. It's known that there's magic, but kind of not magic, you know, a former math teacher that stayed really persistent. And you know, knew that I wanted to make a great life for my family wanted to be able to have really great care for my daughter, she's 22. Now, which I can't believe I can't be that old. You do not look bad. Oh, my goodness. So you know, it's it's definitely been a journey. But I'm really glad that I went against the conventional wisdom of like how you need to grow business. And I have clients coming into my programs, who are burnt out and spent from 60 minute break through calls to cold leads that they were taught to, that's how they were taught to do it. And convincing people and twisting arms, because that's what they said you have to do to get clients and they hate. And huh, Gosh, darn it, so did I. That's why I ditched it. And so really believing like there's a way that's going to work with your personality that's going to work with how you need your life to run to work with what's in integrity for you. And I think I think we've all, you know, those of us who've been around the industry for a while we've matured, you know, we don't need to do the old school sales tactics. We can attract clients, by being ourselves by being clear and who we are and who we serve and what our message is. And yeah, and when you try to convince somebody to come into our program, they're not completely convinced you've convinced them, which means they're completely dependent on you now, rather than being self responsible. So if you bring someone in from a self responsibility sort of standpoint, I get, I feel like I am so blessed to have such amazing clients that take responsibility. We support them, were there for them, that they do great, because they've really made the decision. Yep, this is exactly what I need, it actually becomes a bit of a placebo effect. Like, I believe in it, not because joy told me, I had to do this because I am sure that I need to do this. So it gets the brain on board with it too, you know, so it's a win win for everybody.
Samantha Riley  24:21
I love that so much because no one loves to have clients that are dependent on them. It's energetically draining, it is draining in all the different ways. It doesn't feel nice. And just being able to bring or covered that base I guess as you're going through a sales process. Like magic. love it so much. Joy. What is your, I guess your days and your weeks look like as you're doing this? You've got a seven figure business. What's the breakdown of what your weeks look like? How much have you coaching, how much are you in the DMS all of the other things that have to happen?
Joy Bufalini  25:01
That's a great question because my schedule has been a huge part of me managing my energy and raising my kids. And you know, all the extra care I've had for my daughter who needs 100% personal care. So I only host my coaching calls on Tuesdays, Wednesdays and Thursdays, and only three weeks out of the month. So that was a process to move to that, you know, where I'm on Zoom, I'm on camera, the only exception would be is when I'm running a workshop that I will be on camera all five days, because it's a five day workshop, okay. But other than that one week, a month, I don't get on Zoom, I don't do podcasts, I don't get on camera. Now I will serve clients in the Facebook groups or privately, you know, in Messenger and email if they're private clients, but energetically, that really helps me. And then I keep my alma, I like to like to, like tend to for basically, on my coaching days, and just being this out, you know, I'm not working on other projects, I'm not working on other things. That's how I work best, like, I'm in the coaching zone, or I'm in the coaching offline, or I'm doing, you know, writing content or other things. And then, you know, those Mondays and Fridays are my planning days, Monday, Friday, I like to be done by noon. Yep. And later days, so it really can work. You know, of course, it's been a process I brought on team. So I've teamed coaches. So I don't have to lead a call every single week for every single program. I have mindset coaches, copy coaches, social media, marketing coaches on the team, which my clients love them, I really feel blessed to have brought on team members that are in alignment philosophically and energetically as well. So but actually, even when I had just one to one clients, when everybody was one to one, before I had any, you know, hybrid models or a combination programs, I just decided that last week of the month, somebody else modeled it for me, and I'm like, You know what, my clients will be okay for a week without, you know, having a call. Yeah, totally. And it's good for them to, you know, if they have a question, they can email me, it helps them to start becoming more dependent and figuring things out. But knowing that I'm there for them, again, we don't want to create dependence, we want to create people who can go do their work in the world, and help the people they're meant to serve and be confident in it. So yeah, that's made all the difference. And just knowing when it is business focus time, knowing exactly what to focus on. Like I said, I don't have much Tech, I have a very low tech business for a little more now at this level with, you know, managing certain projects and things like that. But I don't even know how to use some of my software. I just that's the I just don't go if it's not my zone of genius. I don't do it. And that's been a lifesaver to
Samantha Riley  27:40
I'm hearing you there's so many times my clients say hey, how do you do you know, x y Zed to do with tech? I'm like, I don't know, like I could give you the strategy. And then I point you in the direction like my genies who are my team that looks after my clients and say, they will do it for you. It is our job threat to be looking after the ticket. It's not our job to be putting together, you know, back in parts of the business. We're here as the visionaries.
Joy Bufalini  28:05
Exactly, exactly. And I see too many people, and this was me early on to too many people spending so much time on tech that they do not need to get clients. You know, they're working on tech that they may or may not even need past six figures, you know, things that are two that are complicated, they end up spending a whole day on it, you know, or weeks, you know, for a $47 offer, let's say right? Three people buy. Why not just spend your time re on one offer, this is what I teach. For those building the six figures, one signature offer priced, ideally, two or 3k. Put all your heart and soul into that and really do a great job and be consistent and persistent with talking about that and who it's for. And it's your expertise in that package. And you can get the six figures with one 3k offer. That's what I did. That was part of my simplify strategy when I did it. And I've added on others, you know, as I've grown, but that my capacity because I have team has grown as well.
Samantha Riley  29:07
Totally, totally love that. So we were just talking about how you spend your day. And I believe you've got a free resource that helps people to understand what those needle movers are in their business. Because, you know, we were just talking about spending time on the things that aren't actually going to move the needle on your business. And this is one of the things that I notice is the biggest thing that holds people back, they haven't got to six figures. They're just spending their time in the wrong place, but they're unaware that they're spending time in the wrong place. So can you tell us a little bit about that resource?
Joy Bufalini  29:38
Yes, thank you. It's called the daily needle movers. I gotta say my own freebie, right. I'm getting over a little bit of a cold like I told you before, so getting it out daily needle movers cheat sheet. So basically the four C's The only things you need to focus on to bring in clients. And so if you just did these four things or two of these four things right several times a week You'd be way farther ahead than all of the complicated things. These are really simple, really doable, print them out when you get to your desk and are like, Oh, I got so thanks, I got so many things to work on, I gotta just look at that list and do that. First, you have to be a lot further ahead.
Samantha Riley  30:16
I love it. And where can people go to get a copy of that?
Joy Bufalini  30:20
Yes, it's at simplify to multiply.com. So the name of my brand simplified a multiply.com, you'll see it right there at the top. Perfect. And
Samantha Riley  30:29
of course, as always, that will be in the show notes over at influencebydesignpodcast.com. Joy, it's been an absolute pleasure to chat with you today and hear about how you've run your business. And, you know, one of the things that I often hear from people that have businesses that are doing really well is that there's something in their life that has made them you know, really reflect and say I can't do it the normal way. And people like you that have had these really challenging experiences in their life that have had to learn new ways, you know, we can learn from you and without having those big challenges. So thanks so much for sharing. It's been fabulous.
Joy Bufalini  31:06
Thanks for having me really enjoyed the conversation.
Samantha Outro 31:09
Thanks for joining me for this episode of the Influence By Design podcast. If you want more head over to influencebydesignpodcast.com for the show notes and links to today's gifts and sponsors. And if you're looking to connect with other experts who are growing and scaling their business to join us in the coaches, thought leaders, and changemakers community on Facebook, the links are waiting for you over at influencebydesignpodcast.com