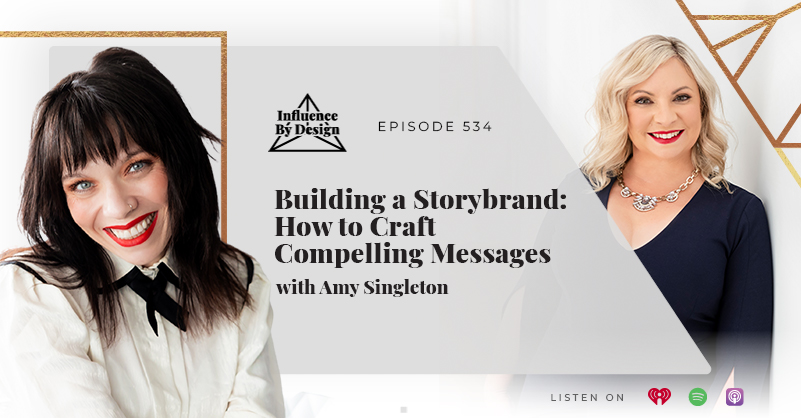 Imagine having the ability to craft messages so compelling that they not only capture your audience's attention but also move them to take action. However, the online space is noisy so it's easy to get lost in the sea of information. So how can you cut through the noise and offer messages that best resonate with your audience?
In this episode of Influence by Design, we speak with Amy Singleton about building a story brand and how to craft compelling messages.
The conversation centres on the StoryBrand Framework, a powerful tool used to create messages that leave a lasting impact. It allows ideal clients to be the hero of their story while you assume the role of a trusted guide.
Amy shares valuable insights on the key concepts of a clear website, the benefits of a website audit, and the strategic use of platforms to elevate messaging. 
Are you ready to create a brand message that engages with your target audience and helps you achieve remarkable results? Don't miss this episode.
IN THIS EPISODE YOU'LL DISCOVER:
The Hero Concept – what is it and its impact on business marketing (02:29)

The impact of tailoring marketing messages (08:08)

Utilising the StoryBrand Framework for effective marketing messaging (09:35)

The roadmap to clarifying and refining your brand messaging (16:30)

Key elements to look for in a website audit (21:45)

The benefits of using WordPress for business websites (26:45)
QUOTES:
"As humans, we are trying to survive and thrive and unless something we see or hear speaks directly to that survival and thriving mechanism, we won't hear it." -Amy Singleton

"We need to share stories because that's how people connect with us." -Samantha Riley
Resources
Building a StoryBrand: Clarify Your Message So Customers Will Listen
WHERE TO FIND AMY SINGLETON

​​SUBSCRIBE & REVIEW THE INFLUENCE BY DESIGN PODCAST 
Thanks for tuning in to this episode of the Influence By Design podcast. If the information in any of our conversations and interviews has helped you in your business journey, please head over to Apple Podcasts, click the 3 dots in the top right corner of your smartphone screen, follow the show, and leave us an honest review. Your reviews and feedback will not only help us continue to deliver valuable content but will also help us reach even more amazing entrepreneurs just like you!

BOOK A BUSINESS ACCELERATOR CALL
If you want to be known as the leader in your industry, book a quick 15-minute call and we'll work together to identify:
Your current situation and immediate opportunities for growth

Uncover the #1 thing holding you back from not being booked as an industry leader

Develop a 3-step implementation plan to increase your visibility
Click Here to book your no-charge Business Accelerator Call.
ABOUT AMY SINGLETON
Powerhouse Amy Singleton is an entrepreneur based in Oklahoma City, Oklahoma. Originally an OR Nurse, Amy's own health tragically ended that career- so instead of saving LIVES, now she's SCALING businesses as the Owner/Partner of Hite Digital Norman.
Cutting through the bodies of people was quite exciting, but cutting through the NOISE of the internet to help businesses grow, is even MORE exhilarating. As a trailblazer in the male- dominated industry of digital marketing, Amy has successfully helped countless deserving business owners find a relationship with marketers they can trust.
 Amy is the founder and host of the Queens Lead podcast, where she interviews women entrepreneurs who are making a BIG impact on the world around them. She's inspired to give women business owners a platform to share their stories & learn from one another.
Above all, it's important to Amy that an audience leave not only moved to action with clear takeaways, but personally connected to her in a genuine way. Guiding others to be their MOST authentic selves both in business and in life is her life's work.
TRANSCRIPTION (AI Generated)
Amy Singleton Snippet (00:00):
So if you're a coach, maybe you just say, don't stay stuck in your rut or whatever it is, though that failure piece and show them how they can have success on the other side of that as the guide, and then they become a transformed character, the highlight in the stage as the hero in the spotlight, we don't have to be in the spotlight, our customer needs to be in the spotlight.
Samantha Riley Intro (00:22):
Welcome to the Influence By Design Podcast. I'm Samantha Riley, authority positioning strategist for coaches and experts. If you're ready to build a business that gives you more than just a caffeine addiction, and you dream of making more money, having more time, and having the freedom to be living your best life, then you're in the right place, it's time to level up. 
Welcome to the Influence by Design podcast. Amy, it's great to have you here. I'm looking forward to having a conversation today about branding, specifically how you can you know, create your story so that you attract the right clients? 
Because this is a topic that I see many people struggle with really getting their messaging, right. And I'm sure that's where you even started here in the first place. Right?
Amy Singleton (01:11):
Yeah, definitely getting the story straight of a business is so important. And typically people want to default to telling their story. And unfortunately, that's not the right story to share up front in order to generate leads.
Samantha Riley (01:23):
Yeah, now I find this really interesting, because I'm gonna say probably like, around, you know, the 2010 to around 2014 at a guess, was the height of I'm going to lean on a Ferrari. And I'm going to stand at the front of this massive mansion. 
And I'm going to, you know, have all these images, and then you'll know that I'm really rich. And that means that I'm really good at what I do. And you work with me. And I can see.
But there are specific times to share those stories. And that's what you're going to sort of dive a little bit deeper into today. The first time we spoke, I wrote down the quote, you're not the hero, your client is the hero. I would love you to start there and share. 
Obviously, in our conversation, that was a big thing, because I've written it down and I've got little notes around it and all sorts of things. What do you mean by that? From a marketing perspective?
Amy Singleton (02:53):
So if we are a plumbing company, and our Daddy and I started this plumbing company back in 1955, and all of that, and we're, and we present ourselves as this great hero, for being this great plumbing company, and we have all these wonderful things about us. 
Well, nobody really cares about that. Because who's the ideal client in a plumbing scenario? Well, I can tell you, it is a female homeowner who's usually a wife and a mother. That's who an ideal client is for many, many home services companies. 
It's the wife that makes that phone call after her husband has ran to freaking Home Depot 1000 times and 10 hours later, and seven days later, and nothing gets done. The wife's the one that makes that phone call. So speaking a message to her about her home. 
And the reason that she deserves a home that functions without leaks. She She doesn't she shouldn't have to have water in her floor. Because she has a leaky sink. She deserves to have a home that works she deserves Yeah, a plumber she trusts show up when she calls them she deserves to have you know it shouldn't be that she may or may not expect them to show up or they may or may not answer the phone or they might show up. 
Like all of these things are concerns that this woman has. And all she wants is a household that runs she needs to be a hero. She needs to have a house that runs and operates with ease, you know, and that's what she's worried about. If she's seen 5000 ads that day. She's not going to pay attention to any one of them and less it says something like you deserve a home without a leaky sink. 
Oh my gosh, yeah, I have a leaky sink. I totally do deserve the home. I paid a lot of money for this thing. I do all my dishes all the time. I keep up with stuff. I'm a busy mom. I'm a busy wife. I have all of these responsibilities. I shouldn't have to put up with a contractor that is subpar that substandard or a home with a wet floor. 
I shouldn't have to present her as a hero in her own story in order for her to, to engage that business or else she's never going to do it. Now there's a time and place like on that bid on that plumbing company social media channels, they should absolutely be talking about their staff and their story and how they came to be the ways that they give back to their community and what they're involved in. 
And all of these things matter. But the sales message has to speak directly to that wife to that the busy woman who's frustrated and fed up and sick of that kid, cram and micromachines and Barbie, or whatever they're called now, Hot Wheels and Barbies down the toilet. She heard that she shouldn't have to put up with that. 
And she needs to hear that message as a clear loud Bell, in a symphony of noise that's happening on the internet and on billboards, and in her car, and on the radio, and everywhere that she's bombarded with every day, as humans, we are just trying to survive and thrive. And unless something we see or hear, speaks directly to that survival and thriving mechanism, we won't hear it.
Samantha Riley (06:06):
Yeah, I love that so much. Because it brought up a story that I heard probably about 10 years ago, and it was a plumbing business. And their messaging wasn't getting cut through, they really needed more or less, they just couldn't win contracts. 
And what they did was just like throw their hands in the air and go back to square one. And what they discovered by going back and speaking to their ideal clients was that the mums who let the plumbers in the door, were often frustrated that they would drag mud through the door. So they created an advertising campaign. 
That was nothing about leaky sinks, or blocked toilets, it was We promise that when we walk into your house, all our contractors will have plastic on our boots, so that we won't drag mud through, and it blew up for them. Because they were speaking directly to that pain point of that mother who's got the kids running around the house that's trying to get them to soccer training, don't have time to mop the floor. 
So it's really worthwhile taking that breath and taking that pause and saying what is important to my ideal clients?
Amy Singleton (07:17):
Yeah. And it's not just a physical problem that we're solving, right. So we have to speak to the philosophical problem as well, we have to speak to an emotional problem, you know, like, there is a physical problem, there's dirt on my floor. 
But you know, the emotional problem is like, I'm a hard working mom, you know, I work hard to keep my floors clean. And I expect everyone else to do that. And the philosophical problem is like, you shouldn't have to have a contractor come in your house and trap mud in here. You deserve a clean floor when that contractor leaves your home. 
Right? So we can't just talk to that physical problem. We have to evoke emotion and philosophical reasonings on why things should be a certain way. Or they shouldn't have to deal with it. A certain Yeah.
Samantha Riley (08:07):
Yeah. So we're all driven by different drivers. You know, some of us make decisions based on moving away from fear, for example, some of us make decisions moving towards pleasure. Is there a certain, I guess, way that is better to come in? Or do we need to make sure that we have all of those problems talked about in different pieces of our marketing? Well, it
Amy Singleton (08:34):
definitely different pieces like so, for instance, a nonprofit, they have two different client avatars, right? Like they need to speak a message to those they serve. And they need to speak a message to those who donate. 
So there should be definitely an overarching broad language base that is used in a company from the C suite down to the person mopping the floor, or the barista, whoever everyone should be speaking that same language as it relates to the business overall. 
But when it comes to individual advertising campaigns, yes, you can basically story brand, any campaign in and of itself, the whole business itself should be also story branded with that overarching message as well. But yes, we should definitely get granular with our messaging for every campaign.
Samantha Riley (09:24):
Yeah. Cool. So you mentioned story brand there, there's going to be a lot of people listening that know what that is. But for those that haven't heard of it, and need to, because I love story brand. Can you? Absolutely. Can you just quickly walk us through what it is that you're talking about?
Amy Singleton (09:41):
Yes. So story brand is a framework, a messaging framework. It was developed by a genius that I consider a genius, Donald Miller. If you haven't heard of him, look him up. I've got several of his books on my shelf. 
Some of them look as well worn as my Bible. They are practically I mean, they're golden, as far as I'm concerned. And one of those books he wrote is called Building a story brand. And it walks through the process of a character. And a character. 
Our ideal client is a character in a story, okay? And that character wants something, what do they want? They have a problem, right? Think about every movie you've ever seen a character, they have a problem, if there was an opening scene of a movie, and there was a character, and he was like, Well, life is just great. 
There wasn't some bomb going off, or there wasn't a girl to chase or there wasn't, you know, some impending doom, we wouldn't care. Right? It wouldn't be very interesting story. Interesting, the story would be over, right? Yeah. 
So this framework walks you through building a story about your business starting with a character, and that's the ideal client, the character wants something. But there's a problem standing in the way. And we have to personify that problem as the villain in the story, right. So if you think back to the old Musa IDEX commercials, they like personified a booger pretty much. And it was just like a snot wad of like, and they're like, Okay, this is the problem, we can't sleep because we have phlegm in our mouth. Right.
So we personify a villain, that root cause of the customer's problem. But that problem, like we were just saying, it's not only external, but it's also an internal problem, like it's just playing. And then it's also the philosophical The reason it's just plain wrong, like, it's a shouldn't have to deal with this, I don't deserve that it should be a different way. 
But then they need a guide. That's the business that's your coach, that's you coach that's listening to this, you're the guide, you have to show them empathy. Look, I've been there before, you have to explain to them that you know where they were, and that you have the solution to bring them to success. 
So we have to show them empathy. And then we have to show them some authority. Like we have done this this many times, here's how many times we've been successful at it. If you're a plumbing company, you know, we've successfully service this many, sometimes numbers are great to show that authority anyway, you can show that authority as the guide, we have to show empathy, and then we have to show them authority. 
And then we have to show them a three step plan to get there. And that might be you know, people don't know what to do unless we tell them what to do. And so we have to give them a plan. We also this framework also guides us to to not ask everyone to marry us. So what most everyone is out there doing is saying, will you marry me? Will you marry me? Will you marry me? Which kind of sounds like buy my program by my program by my brother? Yeah, okay, well, not everybody's ready to marry us when we very first meet right. 
So sometimes, we need to offer them a date, which is what we in the story brand world call a transitional call to action, the call to action, that book the call hire me pay now all those those are marry me. But people need, they might need a little coffee date. So that's your lead generator, right? 
That's the thing you give away for free that costs around $10 People value those email addresses that about 10 bucks. 10 to $15 is what we value, our spam email address that we give to everyone for coupons that we value at. So we give them a transitional call to action just to date me so that we can get them into that pipeline, and email marketing and text campaigns and all those things where we can continue to have touch points. 
But the step has to be three steps. If I catch on fire right now, I don't know. Oh, my doubt. It's 106 degrees here in Oklahoma City. So I might it's very hot. But so I might, but I'm going to do what I'm gonna stop, drop and roll. Our brains are wired to remember three things only. 
So you know, we got to give him a three step plan, book the call, get the plan, let us go to work. I mean, it can be as simple as that, make the call schedule your appointment, service tech shows up whatever that thing is that three step process, we have to give that to them on our website, in our marketing, we have to tell them, we know our businesses really, really, really well. 
But not everyone knows our business as well as we do. So we have to give them that step. We have to call them to action to take those steps, which is that marry me or date me. And then we have to show them how their lives will be better on the other side of of doing business with us. Tell them the way that their life will positively change as a result of doing business with us. 
But it helps them avoid failure and help them guide them to success. So we want to sprinkle in a little bit of failure. There were some ASPCA commercials that went around about the poor, terrible homeless animals and they all need to be fed for just 1999 a month your donation can feed these poor starving animals. Well, they took it a little heavy on the failure side like it was depressing. People were sad. 
So you know, we want to say like, you know, don't stay stuck in your rut for another six months. Your life can look like this too, right? So if you or coach, maybe you just say, don't stay stuck in your rut or don't stay overweight or don't say depressed or don't stay in this job you hate whatever it is, though that failure piece and show them how they can have success on the other side of that as the guide. 
And then they become a transformed character. Like they're all of a sudden the dude that defuse the bomb, or he got the girl you married, that marry the girl or overcame that terrible thing, because of this wonderful guide that come alongside them, and didn't have to take the highlight in the stage as the hero in the spotlight, what I was trying to say, we don't have to be in the spotlight, our customer needs to be in the spotlight, they need to know how they win. 
Their ego is what we have to lift up. And that's okay, we are human, we are wired to be very, very selfish. And that's okay. But we have to remember that when we're when we're developing language, that speaking directly to that client,
Samantha Riley (15:57):
I love that it's coming from a place of service to the client, rather than serving our ego, which it can it can do when you lead with that even though I also believe and you mentioned it earlier, they do need to know about their story, because that's how they connect through values, and all sorts of different things. 
But it is coming from that place of what are their 2am problems, what's keeping them up at night? What is it that they need? Now? I've just mentioned a couple of those questions to ask yourself, but I know and I'm sure you see this too, that a lot of people, they're so good at what they do, they really struggle to get their head around this piece. 
And I see a lot of people feeling like they're the failure, because they can't get their head around this piece. Now, if this is you right now, it's got nothing to do with how good you are at delivering and serving your client at all. 
This is a completely different skill set, but it is one that we need to get right. So there was some of the things that I said like, what are the questions that we have to ask ourselves to get really clear on that. So it's like, what are the 2am? Problems? What are, you know, it's those questions to help them really understand how to pull that story out.
Amy Singleton (17:18):
Ask your clients ask your favorite client, you know, what was the problem that brought you to me? You know, that's a great place to start. If you're already having some success with those ideal clients, a client survey is an excellent way to find out what the problem was that that brought them to you. 
You know, like, data, data is one one big thing on, you know, on how to know, but just really starting to dig in and asking yourself, what is it that my client is dealing with that, that I help them with? You know, not not just what is the service that I provide? But what is that deeper problem? What is it that they're laying awake, thinking about at night, and just brainstorming with your team, if you have a team, a lot of times, you'll find that they have a completely different perspective than what you have as the owner. 
You think you know, everything, but then getting that the extra feedback from others around you is is a very valuable piece to take.
Samantha Riley (18:14):
Yeah, I love that getting feedback from other people, because it just helps to take your thought in a different direction, we can all get really stuck in our thoughts and hit a wall and think Oh, my goodness, I just, I can't come up with anything else, then all it takes is someone to go, Well, what about this? And it's like, How did I not see that? It was staring at me in the face the whole time?
Amy Singleton (18:37):
Yes. Yeah. A lot of moments like that.
Samantha Riley (18:41):
Yeah, you read something
Amy Singleton (18:42):
a million times, and then you read it again. And you're like, like, it just clicks. You know, I think there's a time there's a time in business when it's right and wrong to to do certain things. I think there's a there's a right time in business, you know, like, not everyone starts out in their business going, you know, I really need to get my messaging, right. 
They're going like, Oh, my God, how do I do this thing that I want to do? Right, like, features down their processes, their systems? And how do I get clients? And how do I even get clients? Right? So yeah, you know it, this isn't always the first step. In an ideal world. 
The messaging is always the first step. If I can take messaging, you know, and we work with several people in this manner. But if I can take the messaging first, before I ever develop a logo for you, that's the ideal scenario. 
But most of the time, 95% of the time, we're working back, we're working backward on that messaging, and just helping to make it more clear. Once a business already is established. Once they have a great sales process. 
Once they know they know their own internal process they've developed that they have it all ready to go and things are clicking and sales are are navigable within their own process and their internal team Seems so you don't have to start out this way. It is ideal. But but it's rarely the first step that most business owners take unless they're already aware of it.
Samantha Riley (20:09):
Hmm, there's a whole story brand process that you walked us through earlier, that first piece is getting really clear on, you know, what are those deciding factors or those pieces of information that make people go? 
Yes, I want to look further into you. What else do we need to work through to get this entire story brand mapped out? Or at least started into draft process?
Amy Singleton (20:35):
So we use a tool that's just basically like a roadmap. But after we have that roadmap of who is that? Who is this person about? Who's the character? What are they trying to get? What's the thing in their way? Why is it just plain wrong? 
After that, we take all that information back and we develop their what we call the one liner, that's that elevator pitch that you get when someone says, Hey, Samantha, what do you do? And like people go, Well, I do a lot of stuff. And I do some coaching. 
And I do some consulting, and I have a program and I do this. And like it's hard, because we know all the millions of things that we do. 
But having one concise statement to say, is very, very, very, very helpful. Yeah, we helped develop that we helped develop their explanatory paragraph, which is normally that about a section on the website, lots of email, headlines, website, headlines, a document that has all of that common language that can be shared across their entire business, so that everybody's speaking the same language, that deliverable on the other side.
Samantha Riley (21:43):
Yeah, I love that so much. Now, before we started recording, you were telling me about a website audit that you do, what are some of the things that as coaches and consultants, we can jump on our website, and really quickly have a look at to see where our messaging is a little bit off?
Amy Singleton (22:04):
Okay, well, if you go to a website, and you can't tell within three seconds, what that website is about where they are and what they do, then people are going to click back. So we have a very short time, a very, very short window of time to capture someone's attention. 
And so the very first step, when we do a website audit is we're looking for a very clear header that says what it is that they do. That is very, very important. We also are looking for a very clear call to action in that upper right hand corner, we're looking to see is it friendly on mobile, on tablet and on desktop? 
Is it quick, it does it load fast, it doesn't load fast, we're going to you're going to click back and go to the next results. Right. So just at first visual glance, we want to make sure strong call to action in the upper right hand corner. 
A photograph like your head or picture or a header video should be about what you do. So often, I'll go and see you know, a website that maybe like a plumbing website, and it's just a row of trees, because well, maybe the owner was really into hunting are really loves the forest. Well, are you selling trees? 
What are you selling? What are you about, please make sure your picture is about what you're about. Yeah, it's also very important, give a call to action, there should definitely be a forum somewhere on that homepage, preferably, above the fold, we talked about above the fold in a newspaper, like I had papers in there. In a newspaper before you know, before we open it up, all the most important things are above the fold. So the same is on a website before you scroll, that's what's considered above the fold. 
So before you scroll on a desktop version, we need to make sure that all those questions are answered. Who are you? What do you do? And where do you do it? You have to love questions. Yeah, yeah.
Samantha Riley (24:05):
So for people that look at it and go, I think it's okay, but I'm not really sure. You also do website audits. How can people tap into that with you?
Amy Singleton (24:17):
Yeah, absolutely. They can just go over to Amy singleton.net. All of my contact information is there all the socials and there's a form down there at the bottom of that of that page where you can enter your information. 
Just give me your website, URL, your name, the business name, your website URL, and I will go some myself or someone on my team will go and do about a 10 minute audit video showing you like, move this there. Here's what we would do. 
Here's problem. Here's areas of opportunity that I see. Here's where you're doing really, really well. We'll take a look at the speed of the website, what platform it's built on. Very important, by the way, you know, do they have analytics attached? What are they doing with their Google business profile? What are the rest of their lives? 
All listings look alike. So it's essentially not just a website structural and design look on it. But we also kind of go and dig into the SEO or the rankings of that website and tell you how to do better because building a website, and having a website that ranks, you know, for certain keywords is a completely different situation. 
Just having a website is like having a digital business card, no one will ever find it unless you tell them the URL, if you hand them your business card and say here, go to this website. That's how people will find that website. Unless and until the website is on an excellent platform is set up correctly from the back end has valuable content on it talking about the things that you do. 
And there are other websites out on the internet talking about your website, which will be referred to as a backlink. So there are several pieces of getting a website to rank. But I think it's really important for a business owner to know that just having a website does not mean it will show up in Google. Completely different thing. I
Samantha Riley (26:07):
love that so much because people I have heard people say your website is like your digital business card. And it's like saying that LinkedIn is like Facebook, for business owners. It's not, you know, and your website shouldn't just be digital business card. 
It is way more than that. Otherwise, you know, I like to say it's like having your website in the middle of the Sahara desert and expecting someone to walk past and see it, it's not going to happen. 
So I love that so much. I just would love to quickly ask you mentioned there are good platforms and bad platforms. We were going to talk about this, but You've piqued my interest. What are we looking for here?
Amy Singleton (26:46):
I will not say there are any bad platforms. There are lots of platforms that work for lots of people in a variety of niches. However, if I am building a new website for a business, it will be a WordPress website. 
That is what Google expects to see. You know, over 50% of the top top ranking websites are on WordPress, I challenge you to look up especially a home services business and find that top ranking and find one that's not on WordPress. 
That's what Google prefers. It's the most robust platform. And the bottom line is that you own it, versus many other platforms that are very easy to use drag and drop builders, I won't say their names, but there are many out there that a business owner doesn't own. 
And those things are great to get us started in business like we can just whip together a great looking website. But as we grow as we scale, we want to run ads, we want to do search engine optimization, we want to do some of these things. 
Number one, we're paying to build an asset we don't own. So that sucks like so if I'm adding a million pages to one of those website builders that starts with the W that's not WordPress. And that person comes to me and they're like, I have this 100 page website, I'd like you to move it to WordPress, well, moving a website isn't really a thing, it has to be rebuilt somewhere else. 
And that's 100 page website, that's a that's a five figure website versus you know, a $3,500 website where I could have built it at eight or 10 pages and started from scratch with something you own. When we build up things we don't own, then we're looking at a much higher expense later on to rebuild an asset that we own. 
So trackability tracking ads, being able to know your ROI that's really important as you grow and scale in business. And so being on WordPress is not only important for speed for Google's authority and in preference, but also for that track ability, aspect and ownership. And that can add six figures to the top line sale of a business. 
In fact, my husband and I just sold our second painting company earlier this year, we used to have a business model that was what we called a rank and rent, we would rank websites in areas of low hanging fruit. 
And we would get leads coming in from those websites and operate kind of like an Angie's List or HomeAdvisor. But locally, and we ranked a painting website. Within six months, we had three crews. We weren't trying to be a painter again. But there we were. And so we were able to actually sell that business because we had excellent branding, a great online presence of WordPress website that we owned that we could transfer to the new owner that had lead flow because organic SEO had been done to that website. 
And so that website continues to get leads for that business owner. That's the lifeblood of a business is those leads. So many business owners will not invest in a WordPress website and search engine optimization. 
If the money is there. The time to do that is day one. I mean absolutely as early as possible because it's like planting a tree it just grows and grows and grows and then eventually SEO is a zero sum game. So once you're on top and less than one else comes along and does more work than you. It doesn't take a ton of work to maintain those rankings over time. 
Samantha Riley (30:08):
love that so much. Wow, you have just given us so much value today, so many different things that as coaches we can look at to really get clear on a messaging, make sure that our digital footprint is nice and neat. 
We've got the good foundations there so, so much for dropping all the value today, and I look forward to seeing you next time.
Amy Singleton (30:31):
Absolutely. Thanks so much for having me on. It was great.
Samantha Riley (30:34):
Thanks for joining me for this episode of the Influence By Design podcast. If you want more head over to influencebydesignpodcast.com for the show notes and links to today's gifts and sponsors. And if you're looking to connect with other experts who are growing and scaling their business to join us in the coaches, thought leaders, and changemakers community on Facebook, the links are waiting for you over at influencebydesignpodcast.com