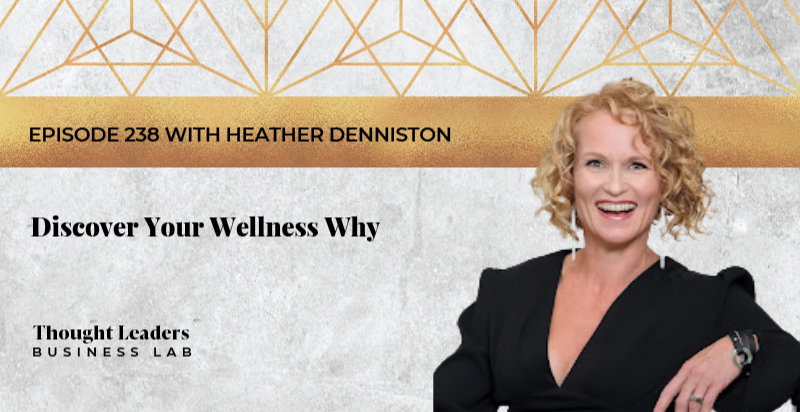 Although 2020 has brought us so many challenges, it has also opened up the opportunity to sit with ourselves and do a deep dive into what is truly important in life. 
As entrepreneurs, our health and wellness is the number one vital tool to help our business grow. The secret to why some entrepreneurs are able to succeed and sustain their business growth is because they first take care of themselves. 
In this episode, I talk with Heather Denniston, a seasoned chiropractor,  on finding your wellness why, letting go of excess energy expenditures, and bringing light to the holes in your wellness strategy.
Join us  as we dive into how you can optimize your personal vitality to improve your health, grow your business, and live your best life.
WHAT YOU'LL DISCOVER IN THIS EPISODE:
Taking deep dives and getting quiet (4:57)

Knowing the importance of reflection and the courage to act on it (5:57)

Finding your joy, dreams (6:30)

You are your own priority project (9:00)

The importance of your health to your business (9:59)

Energy Leakage Liability (12:26)

Decision Fatigue (13:31)

Pillars of the Wellness Amplifier Program (18:23)

Creating a consistent pattern (22:21)

Finding your wellness why (24:14)

The benefits of staying healthy to move forward with your business (25:00)

The power of habits (27:16)

Morning movement and morning routines (28:42)

4 Chronotypes (30:55)

Head down and head up time (31:25)

Finding the routine and flow that works for you (33:00)

Our mind and body are a partnership (34:50)

Building self-compassion (38:08)
RESOURCES MENTIONED IN THIS EPISODE:
Dr. Denniston is a seasoned chiropractor with an additional certification as a Wellness Chiropractor, (CCWP). She is an NASM trained Certified Personal Trainer, an avid athlete, health enthusiast, and writer who has a passion for inspiring people of all ages to ignite first steps toward their personal best. Through online content, public speaking and coaching, Heather shares wellness, fitness, and nutrition expertise for those looking for deeper change. Dr. Denniston is a frequent Wellness Strategist presenter for companies like Microsoft. She is also the author of "The Three Day Reset," and the creator of the online wellness membership program, "The Change Cave". Dr. Heather presents nationally in a format that is energetic and engaging.
CONNECT WITH HEATHER DENNISTON
Subscribe to Heather's Youtube Channel
Connect with Heather on Instagram and Facebook
Connect with Heather on LinkedIn
CONNECT WITH SAMANTHA RILEY
Connect with me on Instagram and Facebook
Connect with me on LinkedIn
Haven't left a review yet?  We'd love your help to get to 100 reviews.  All you have to do is go to https://samanthariley.global/itunes Thanks so much for your support of the show.
Do you have a guest suggestion for the Thought Leaders Business Lab podcast, a suggestion for a topic, or maybe a question you'd like answered on the show?  Click here and let us know:  https://samanthariley.global/submit-suggestion/