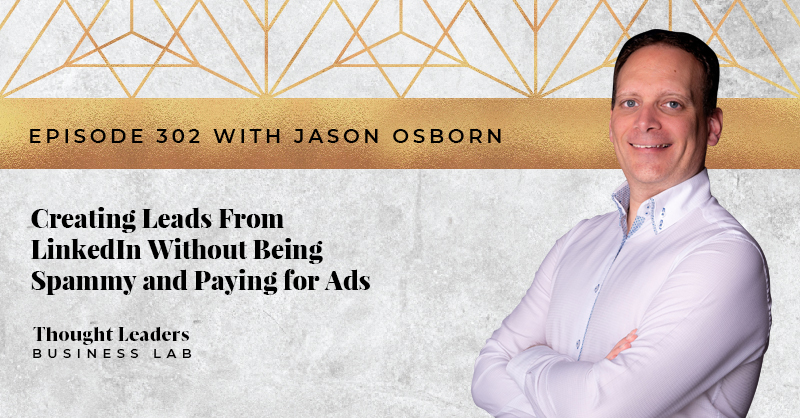 Social media can be a minefield of spammy sales messages, and one of the platforms getting a bad rap right now is LinkedIn.

With that being said, LinkedIn is the largest professional network online.  So how can we use it to generate leads? 
In this episode, I'm joined by Jason Osborn who shares his expertise on how to use LinkedIn to create leads in a more professional way. It's about changing your perspective before you land on the platform, because people come to LinkedIn to do business.

Are you ready to use LinkedIn the right way? Let's dive in. 
WHAT YOU'LL DISCOVER IN THIS EPISODE:
Why you want to be on LinkedIn (6:43)

What makes an irresistible profile (10:10)

The importance of keywords in the headlines (16:14)

How to avoid being super spammy on LinkedIn (21:35)

Sales navigator vs normal search function (26:03)

How to make the transition from connecting to sales (28:46)

Opening the sales conversation without being spammy (31:23)

Automation tools to use with LinkedIn (38:14)
RESOURCES MENTIONED:

Jason Osborn has been in the online world for 15 years and now works with coaches, consultants, and corporates showing them how to create high quality leads from LinkedIn without being spammy or paying for ads.
CONNECT WITH JASON OSBORN
ImpactForLeads.com
Connect with Jason on LinkedIn
CONNECT WITH SAMANTHA RILEY
Connect with me on Instagram and Facebook
Connect with me on LinkedIn
Haven't left a review yet?  We'd love your help to get to 100 reviews.  All you have to do is go to https://samanthariley.global/itunes Thanks so much for your support of the show
Do you have a guest suggestion for the Thought Leaders Business Lab podcast, a suggestion for a topic, or maybe a question you'd like answered on the show?  Click here and let us know:  https://samanthariley.global/submit-suggestion/