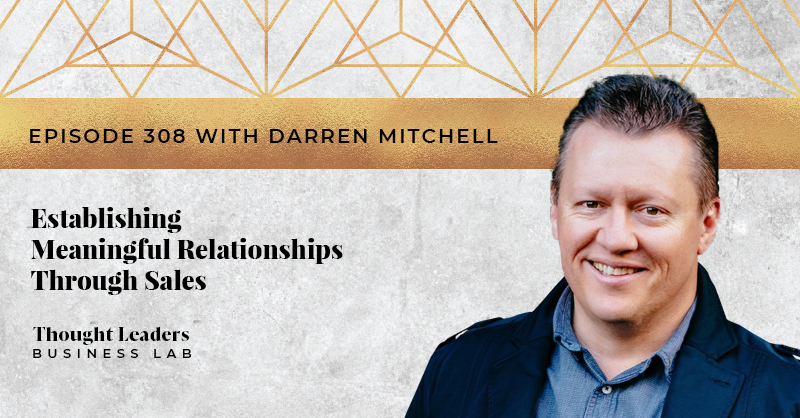 Whether you think you like sales or not, they are a necessary part of business. But sales aren't just about "making the sale".  It's about people, building relationships, and solving problems.
Before entering the world of sales, ask yourself what your intention is. Are you trying to help people or are you trying to get something from them? 
In this episode, Samantha chats with her good friend Darren Mitchell.  They talk about sales and why it's tagged as the ultimate form of service. 
You can expect great conversation that explores selling, adding value, price wars, and why it's not always about closing the deal. 
So, if you're eager to know more about how you can create an amazing experience for people through sales, let's enter the lab…
WHAT YOU'LL DISCOVER IN THIS EPISODE:
Sales is the ultimate form of service (05:05)
The Sales Scale – Selling and Adding Value (07:38)
Misconceptions about sales (09:46)
Value is entirely relative (11:55)
Every single person is in sales (15:06)
Defining your intentions (17:14)
What is the impression you're trying to create? (24:05)
Knowing who your ideal client is and is not (26:54)
Price War (30:17)
RESOURCES MENTIONED:

Darren specialises in helping Sales Leaders become Exceptional Sales Leaders who get to enjoy more money, more meaning, and better sales results, through Attracting the right sales talent, Developing that talent to unleash their full potential, and then Delivering results that become replicable & sustainable.
CONNECT WITH DARREN MITCHELL
www.darrenmitchell.com.au
Connect with Darren on LinkedIn
CONNECT WITH SAMANTHA RILEY
Connect with me on Instagram and Facebook
Connect with me on LinkedIn
Haven't left a review yet?  We'd love your help to get to 100 reviews.  All you have to do is go to https://samanthariley.global/itunes Thanks so much for your support of the show
Do you have a guest suggestion for the Thought Leaders Business Lab podcast, a suggestion for a topic, or maybe a question you'd like answered on the show?  Click here and let us know:  https://samanthariley.global/submit-suggestion/