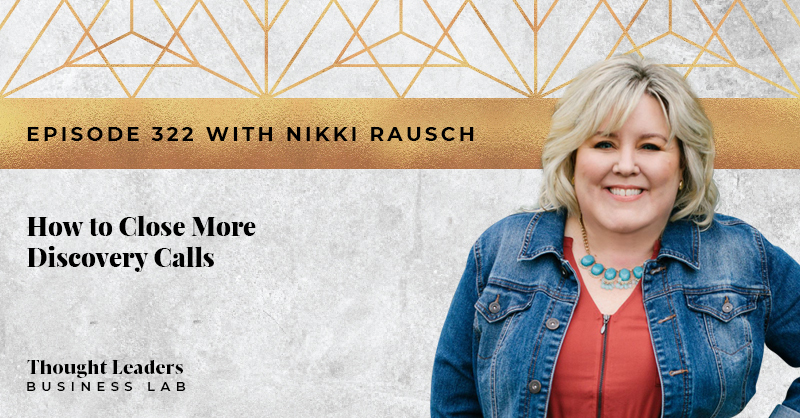 Some coaches really don't enjoy sales calls; it can feel intimidating and your prospect may feel like they're on the witness stand. It's helpful to understand that the path to success starts with your prospect feeling comfortable and safe to disclose any information during the call.
In this episode, Samantha is joined by Nikki Rausch, a trainer, speaker, best-selling author, and the founder of Sales Maven. Nikki has been helping business owners refine the skills and mindset needed to finally feel confident in selling for their business.
Nikki shares her 5-step process that begins by pre-framing discovery calls so that clients know that they are speaking with the right person. 
If you want to hear her tips on how you can close more deals with your discovery calls, let's enter the lab.
WHAT YOU'LL DISCOVER IN THIS EPISODE:
Nikki's journey into sales (02:55)
How pre-framing discovery calls will increase your sales (05:29) info
The Selling Staircase method to increase your chance of conversion (09:20) info
Why you should never coach during discovery calls (13:10) info
Questions to ask during a discovery call (17:53) info
What do objections signify? (21:40) info
Sell by chat or DMs- What is it, and how is it different to selling via calls? (28:15)
QUOTES: 
"One of the biggest misconceptions is that people think sales is something you do TO somebody.  Sales is something you do WITH somebody." – Nikki Rausch (08:00)

"Without sales, you don't have a business.  You have an expensive hobby." – Samantha Riley (04:36)

"It's less about you demonstrating your expertise and more about understanding your prospects' problems and needs." Nikki Rausch (15:15)
Resources: 
CEO of Sales Maven, Nikki Rausch has the unique ability to transform the misunderstood process of "selling". 
With 25+ years of experience selling to prestigious organizations like The Bill & Melinda Gates Foundation and NASA, Nikki shattered sales records and received "top producer" awards along the way.
Today, entrepreneurs and small business owners hire Nikki to show them how to sell successfully and authentically.
An engaging speaker, she shares the secrets of her sales success through keynote speeches and business-changing workshops. Her robust Sales Maven Society ignites game-changing outcomes for clients. 
Nikki has written 3 books, all available on Amazon. And she has a podcast called Sales Maven which you can find on your favorite podcast platform.
 CONNECT WITH NIKKI RAUSCH
https://yoursalesmaven.com/
Connect with Nikki on Facebook and LinkedIn
Listen to Nikki's Podcast at Sales Maven Podcast
CONNECT WITH SAMANTHA RILEY
Connect with me on Instagram and Facebook
Connect with me on LinkedIn