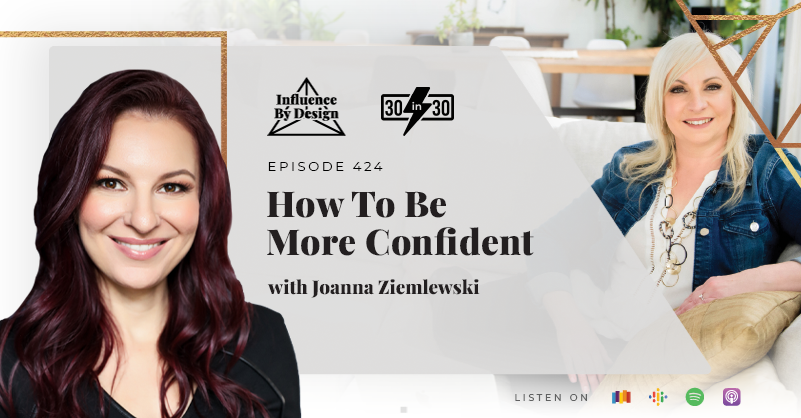 Have you ever had the feeling that despite doing your best, you worry that people will find out you're a fraud? No matter how much success comes your way, you tell yourself a different story. In this episode, we'll discover how to be more confident with Joanna Ziemlewski.
Joanna helps ambitious women get rid of debilitating self-doubt and sabotage so they can scale their businesses and live the life they want, free of guilt, suffering, and struggles. She is a transformational coach, mentor, and portrait photographer.
Regardless of all the awards, accolades, and positive experiences we've had, imposter syndrome crawls in and this significantly impacts our confidence. It becomes easy for us to feel unworthy of whatever success we have. 
Our self-doubt can have us downplay success and associate it with pure luck. If you want to learn more about how you can handle your imposter syndrome and gain confidence to truly believe in your work, skill set, and experiences, this episode is for you.
IN THIS EPISODE YOU'LL DISCOVER:
The moment Joanna realised the inner work had to be done (01:40)

The beauty and challenge of expressing your creativity (05:37)

Recognising the signs of imposter syndrome (07:07)

Why success is different for every person (10:07)

Knowing when you're done vs trying to achieve perfection (14:35)

How do we feel confident? (19:48)

Rituals to help show up in a confident state (26:55)

The value of documenting your success (30:10)
QUOTES:
"In order to have confidence, you do not need to know everything." -Joanna Ziemlewski

"If a failure is nothing more than a learning, then it's still a success." -Joanna Ziemlewski

"Our creativity comes from our soul, and there is nothing more vulnerable than putting that out on the line for people to judge." -Samantha Riley

"We're taught that failure is a bad thing but in actual fact, we cannot build a business without it." -Samantha Riley
RESOURCES MENTIONED
WHERE TO FIND JOANNA ZIEMLEWSKI
BOOK YOUR FREE BUSINESS ACCELERATOR CALL
If you're an expert doing over $10k per month, and want to be known as the Unapologetic Leader in your industry, you may be just a few small tweaks away from doubling your income and visibility.
On this quick 15 minute call, we'll:
Conduct a quick audit of your marketing to see what is and isn't working.

Review your niche, positioning and pricing of your current offers.

Uncover the top 3 bottlenecks from  holding you and your business back from scaling

Develop a 3-step implementation plan to get the growth results you are looking for.

​​SUBSCRIBE & REVIEW THE INFLUENCE BY DESIGN PODCAST 
Thanks for tuning in to this episode of the Influence By Design podcast. If the information in any of our conversations and interviews has helped you in your business journey, please head over to Apple Podcasts, click the 3 dots in the top right corner of your smartphone screen, follow the show, and leave us an honest review. Your reviews and feedback will not only help us continue to deliver valuable content but will also help us reach even more amazing entrepreneurs just like you!

ABOUT JOANNA ZIEMLEWSKI
Joanna is a peak performance and business coach who helps entrepreneurs optimize their performance, become engaging presenters, and strategically scale their business without burnout or overwhelm.
Joanna is a certified Master Practitioner of Nuero-Linguistic Programming and Hypnosis and serves as a Trainer for Tony Robbins and a mentor for Sue Bryce Education.
TRANSCRIPTION
Joanna Ziemlewski Snippet (00:00):
Name your imposter and name, that confident personality that you have in you, you can actually have a conversation between the two. And you can have that confident personalities, whatever their name is talks to the other one and says, Hey, you know what, I understand that you're coming up, and you're basically wanting to protect me. But I've got this, then you can access that personality on command just by saying the name.
Samantha Riley Intro (00:21):
My name is Samantha Riley, and this is the podcast for experts who want to be the unapologetic leader in their industry. We're going to share the latest business growth, marketing, and leadership strategies, as well as discussing how you can use your human design to create success in business and life. Inside and out. It's time to take your influence, income, and impact to the level you know you're capable of. Are you ready to make a bigger difference and scale up? This is the Influence By Design podcast. 
Welcome to today's episode of Influence By Design, I'm your host Samantha Riley. And today we're going to be talking about impostor syndrome, the triggers how you can move through them so that you can show up in a confident state. And I've invited Joanna Ziemlewski. Oh, my goodness, I've got it wrong. Zim Levski. I get it. Yeah. Oh, my goodness. I'm normally not too bad with names. But this one got me. Welcome to the show. Joanna,
Joanna (01:26):
Thank you so much for having me.
Samantha (01:28):
This is a juicy topic, I'd love you to share with the listeners. Just to add a little bit of context, before we deep dive. What is it that you do? And how did you end up working in this particular area?
Joanna  (01:40):
Yeah, so many, many years ago, I ended up at a Tony Robbins seminar, I was actually working as an engineer at the time, I was having massive self-doubt and imposter syndrome. And I also knew that I wanted to have something for myself for the future, I wanted to build something on the side in case, I just didn't want to have to rely on having a corporate employer. 
So I was looking at starting my own business. And so I went to the seminar, thinking it was purely for business reasons. And what I realized was, I needed to do the work on myself. I needed to overcome some past traumas that happened to me, I needed to overcome some beliefs. 
And when I felt were when I went, I just felt like I had come home. And I had no idea that you could do that type of work as a career, or to help other people. And I just felt like this is what I needed to do. And right after that, I transitioned, I started working with business owners, and we work on helping them get to that peak performance in their business, really optimizing their mindset, becoming better speakers and presenters, and then just also scaling their business and making sure that it's growing as they grow.
Samantha (02:55):
Love that. No, well, it's really interesting. And I'd love for you to, to sort of unpack this a little bit is that you went to a Tony Robbins event, you were an engineer, you were feeling a little bit impostor syndrome. And you actually transitioned out of that corporate career and into running your business yourself in exactly the same area. Like what was that like?
Joanna (03:17):
Oh, that. I can't say the imposter syndrome went away, it was actually a learning experience. Because it was stepping into a whole other world of a world that I really didn't know, because I had no business background whatsoever. I also needed to rely on my strengths. 
But what was the same was the problem-solving. And so what I realized is all of that schooling that I got in engineering, the the the way that I would look at problems, the way that I would break them down, and figure out the solution is the same way to work with people and to work with one coaching, right? 
So we are all a system as well, we're an operating system, essentially, we're programmed a certain way from childhood. And when we can figure out what's working, what's not working, or how things are programmed in us, then we can start to make the change. 
And so one of the big reasons why I talk about this topic is because of the journey that I've been on myself. And here's the even funnier part of that is I went from being a left-brained engineer, to a coach. And then I also went total right brain and became a photographer. And so now I actually work with a lot of photographers, artists creatives. And I help them to bring those two sides together as well. And to get over that imposter syndrome because especially for creatives, it is huge in the creative field because you have nothing to compare it to. 
But you're trying to you have this idea of what your work is supposed to be like this idea of perfection, but there's no standard, right? What because it's an art it's an art form. So some of the science yes, there's a standard there but so much of what we do whether we're an art Is there a creative or whether we're coach, it's all a huge artistry. And the fact of the matter is, is we're walking a path that really has not been walked yet. 
The industry is fairly new, if we can say basically about the last 2030 years is where it's grown. So there's a still a lot of unknowns there. So when we're trying to walk a path that hasn't been walked, and we're trying to create this idea of how it's supposed to be, and then we compare ourselves to that standard that doesn't even exist, that imposter syndrome takes over if we don't know how to control it. 
Samantha (05:34):
I think there's something really interesting about creatives is and I wrote about this in a book is that we as creatives, it is our innermost, you know, our creativeness comes from our soul. You know, it's, and there is and there is nothing more vulnerable than putting that out on the line for people to judge in a way that they're, like you said, there is nothing to compare it against. 
You know, I owned a dance studio for over 20 years. And when I was teaching our, you know, our regular exam work that the students had to do, that was easy, it was exactly this step at exactly these counts do exactly this piece of music, and no problems at all. As soon as it was, you know, performance time, and my choreography was out on show, I used to feel impostor syndrome like massively. And I think that this does move. This is the same for us as coaches, because we're creating content, and we're marketing and we're, and we're sharing stories that can be vulnerable. 
And we're putting our own creativity out there to be judged in the content that we're creating. So even though, you know, you could say that I think that coaches aren't creatives I feel like as content creators, we are. And it's this part of showing up where the imposter syndrome shows up. Absolutely. So how do you know? Or how do we know that what's showing up is imposter syndrome.
Joanna (07:13):
Yeah, so the let me break it down that I've kind of realized over the last few years, because I've worked with a lot of startups. And I've also worked with those who already have a successful business and they want to take it to the next level. When you're starting out, it isn't it isn't imposter syndrome. And here's what I mean by that, when you're starting out, you're still getting the skill set, you're still getting the knowledge, you're still getting the experience. 
And so it's a lot of unknown territory. And so it's just a matter of getting yourself into the habit and finding the success formula for you. So a lot of that is just becoming confident in your work. Making sure you find the right path for you. And just getting the experience so that way, you know, okay, this is what works. And this is what I'm going to move forward with when I work with my clients. 
What happens with a lot of people, though, in the way that imposter syndrome originated, is that once you've already had the success, right, you have the experience, you have the skill set, you've gotten the awards, you've gotten the accolades, people speak about you, you've gotten all that validation. And yet, behind closed doors, you have that underlying feeling of if they really truly found out who I am, they would find out I'm a fraud. 
Because you don't believe that experience. You don't believe the awards and the accolades that you've been given, or the success that you've had you think that somehow it was a fluke, that it was luck, that for whatever story, you will make up, you know, that it wasn't you it wasn't your skill set, and you're not worthy of it. And that's where it's just like debilitating self-doubt, and feeling of unworthiness of the success that you've had. 
And that is where the real imposter syndrome comes from. And so when you look at a lot of athletes, or musicians, or really famous successful people, a lot of them will tell you that they have imposter syndrome, they still don't believe it. And especially when you are using your natural talents, because it comes so easily to you that you can't believe that this is something that is a value to the world. You feel you have this story that you've created, where you think that you have to either work exceptionally hard or you have to burn yourself out, or all of these things have to happen in order for you to truly be successful. And you're not at that point yet. So you don't believe all the success that you've had and you downplay it.
Samantha (09:48):
I love this because that feeling when you realize hang on a minute, that thing that comes so easily to me that I could do it in my sleep. Ah, it doesn't come easily to everyone else. That moment is a game changer.
Joanna (10:02):
It is. It absolutely is.
Samantha (10:06):
So, let's, let's kind of like fast forward, that's kind of the beginning. And I feel like we need to fast forward all the way to the end and then kind of come back. Yeah. How do you actually know when you're successful?
Joanna (10:22):
So that's, that is a question that we need to answer for ourselves. And it's different from it for every person. Because each one of us feel something in different ways. So in our psychology, we have what are called subconscious rules for how we feel something. So the way that for example, the way that I feel love would be different the way that you feel love. So if I were to ask you what has to happen in order for you to feel love? What's something off the top of your head?
Samantha (10:51):
To feel love? My love language is physical touch. So it would be you know, someone you know, getting close and giving you a big hug.
Joanna (10:57):
Yes, yes. And one of my answers would be is having a cup of tea. And a lot of people would not have that answer, right. So each one of us has these different subconscious rules that we have for how we need to feel something. And so ask yourself, what has to happen in order for you to feel successful. And chances are, if you're having this impostor syndrome, there are a lot of external factors that are coming up for you. 
So it would be something like I would, I would have this external validation from maybe a person in my industry, which I see with a lot of artists, they need the validation from their clients, they need the validation from other professionals within the industry. Another thing would be is I have to get all of my ideas, right. And if they're not all out there and perfect, then it's not a success, which again, a lot of artists will do. 
Especially when you have a particular vision in your head of how you think something should be. And you have that that tunnel vision. And if it doesn't work out exactly that way, then you don't see the success along the way. Mm hmm. I so I was in a paint pouring Facebook group the other day, and I'm scrolling and I see a photo of someone's painting. And I'm like, wow, this is absolutely beautiful. And then I read the headline, and they wrote, this was a disaster because it came up came out nothing like what I was expecting. And it was the perfect example of how this imposter syndrome shows up because you think something's supposed to be one way. And you're missing the entire picture all around it. Hmm. And how much success happens when when when we don't expect it to happen? 
Right? How many inventions have we had? How many discoveries have we had, whether it's in science or technology, where we were looking for one thing, and something else popped up? And so we need to redefine what success is for us. And it's not based on perfection? It's not based on validation. But how would you feel successful? So let me ask you, how do you know when you're successful?
Samantha (13:10):
Oh, my goodness. For me, it's for me, it's actually a feeling it's not an external validation. So for me, it's just when I feel confident, when I feel like yeah, I've nailed that.
Joanna (13:24):
Perfect. And how do you know when you've nailed it?
Samantha (13:27):
Again, it's just a feeling, and on that it can be different on different days, depending on what's happening in my world.
Joanna (13:37):
And now, you just brought up another great point, a moving target. Right? And so you could get the same target on a different day. And it not be the answer that you were looking for. Right? So us understanding that this is something that can change and can develop as we grow and develop as well. 
Right? And so, if you're feeling like you're not being successful, go back to that question of what has to happen. Maybe it's in this moment right now for me to feel successful. And the best way to answer it is, like you said, is a feeling within yourself that you generate yourself are something that you have control over? Because if it's something that's external to you, now, you no longer are in control.
Samantha (14:22):
Yeah, and when you know, when you're not in control, that's when everything's just a mess. So I wanted to go back to you said and I can't remember the exact way you said it, but you said about something being perfect. And I find this really interesting because this is something that you probably hear all the time. 
It's something that I hear from my clients, you know, I can't do that. It's not perfect yet. I can't launch that. I can't release that. It's not perfect. And I find this fascinating, because what is perfect anyway, what can you talk to this
Joanna (15:01):
Yeah, so the first question that I would have is how very similar is how do you know when you're done. Because Done is better than perfect, right? Especially when you're talking in a business. So the faster you are to market with an idea, the more energy it has. And the more energy it has, the more probability that there will be of either a success or failure, right. And we get to define what that is. 
Because if a failure is nothing more than a learning, then it's still a success. Right? So we can continue to build off of that success. So if you shift your your mindset into Done is better than perfect, okay, what has to happen in order for this to be done now you can start to define what the milestones are. Nothing when it's launched, is ever perfect. Even your iPhone, even the iPhone, that's going to be coming out, right, they're going to be doing the announcement any day. 
Now the next iPhone and the software updates every, there's always an update. So there is no no need, especially in the the this day and age where we have the speed of technology, there's no need for perfection anymore. So you need to know what has to happen in order for it to be launched, what milestones need to be met, and then know that basically, once it's set up at about 80%, the final 20% will be what you update on once you launch it.
Samantha (16:27):
I also think that on top of that, when we're looking at the more creative side, which is where we sort of started off is that something that's perfect for you, someone else might still hate, like the you know, you're talking about this painting before, to you, that picture was beautiful, it was perfectly beautiful to the person that had created it, it was a big mess. So it's very, you know, what is perfect, what's perfect for one person is not perfect for another. So by holding something back, you're not allowing someone else to see the perfection that you perhaps have missed.
Joanna (17:00):
Yes. And this person that posted this painting wasn't so much that they didn't see the perfection. And that was the problem it was that they were ready to destroy it, or they were ready over it. And I was like, No, you don't want to do that. Give it away to someone that wants it and then work on the next version for yourself with the idea that you had. 
So put it still put it out there because there's always someone for it, right? There's always someone that has this, this desire to have this, you know, whatever it is it is that you created. And if there truly is no desire whatsoever, like no one wants it, then that's information that you just got back from the market. 
It's still a learning, it's still a success. And as long as we use those to define who we are, instead of the actual failures, or thinking that we're not good enough, in order to create something, or to put something out there, you know, then we'll actually be in the driver's seat instead of being in the passenger seat and allowing that imposter to control everything.
Samantha (18:06):
Totally. And I think that's that's definitely a theme that's coming up this month, just episode after episode is that we're taught that failure is a bad thing. But in actual fact, we cannot build a business without it. 
Because it's the feedback so that, you know, that failure that we've had is actually a perfect learning so that we can get faster feedback. You know, failure is just faster feedback. So when we can reframe that, that will let's just get it out there so that we can get that feedback even faster. So we can move faster. That's a whole different place to be in.
Joanna (18:49):
Yes. So one of the hardest things for creatives and artists to do is to separate themselves from their work, because we are putting our heart and soul into it. Oh, yes, such an old resource to identify with that project or with that art piece or whatever it is that we're creating. And so when it's a failure, we think that we're a failure. 
And what we need to do is we need to separate ourselves, and we need to just put it out there with the intention of I'm putting this out there as a test to see what is the response that I get. Because from there, I can start to build on something that is needed that is a value to other people, it doesn't mean that I'm not a value, right? Because that whatever it is that we create, it is still something that we love, but it is not a reflection of who we are and our self worth. So that's where we need to separate our identity from our product or service.
Samantha (19:44):
So for people that are listening, and they're like, this sounds really great, but I never, you know, I'm waiting for the confidence to get out there. And I want to dive into confidence because, you know, I think that people think that we need to have the confidence To get out there, but the confidence doesn't come first, right? The confidence is a secondary thing. So how can we get or feel the confidence to get something out there without feeling confident? Does that make sense?
Joanna (20:15):
Yes, yes, absolutely. So the fastest way to get there, and this is something that I do with my clients is, close your eyes. Think of a time of when you felt absolutely confident in doing something something were you just kicked. 
But when you went into it, you did it. You didn't think about it, you got the result that you wanted, you felt it in your body, think of that specific time right now. How did you stand? How did you breathe? How did you move? Was your body language open? Or was it shut down? How did you use your voice? 
What were the things that you were saying to yourself? What was the language? What words were you using, because it's very different. If I were to ask you think of a time you were scared, it's going to be different body language, it's going to be a different feeling in your in your, whether it's your stomach, or your chest or, or your head wherever it is. But you need to identify where it lives in your body. And so when you know how you move your body a certain way. And we see this with entertainers, we see this with performers, and athletes, you can tell especially at the Olympics, you can tell before they ever go whether or not say for example, a gymnast, whether or not they're going to know like, say that vault, because you see it in their body, it's the way they walk, it's the way they move, will have where their chest is right? We have what's what's a programming of how we use our thoughts, our beliefs, our words, and our body for a certain state. And we have this for our confidence. And for in order to have confidence, you do not need to know everything. 
This is another mistake that we make, right? So we don't need to know all the answers. You can have confidence just with faith alone, of knowing that I will figure out a way I will find the answers. I will have the answers flow through me. I trust in myself and my ability to figure it out. And that is my state of confidence. This is how I transform things for myself, was when I started believing that things will flow through me as long as I am in the right state. And I am open in that moment.
Samantha (22:33):
You talked about having the confidence in your faith that it's going to work out rather than having confidence in the whatever the task is. Are there some sort of questions that you have that help you know that no matter what happens that you will be able to tap into the resources that are available to you?
Joanna (22:57):
Yes, so I usually start off with thinking about okay, what are some of the things that one I need in order for me to feel confident right now? And sometimes they are external things? And that's perfectly fine. So for example, let me use prepping for this interview as an example. 
Okay, so I need to know, what are, who my audience is, what are some of the things that they're struggling with? What are the main points that and tips that I can give them so that way, they can go ahead and apply it right now. And so I made a list of those. And so I have a direction of where I'm headed in. But quite honestly, I don't know where this conversation is going to take us, right? 
Because we're just having a conversation, we're free flowing, we're asking questions, and you know, and just going with where it takes us. And if I'm like trying to look at my note cards and trying to think of everything that I need to say, and I don't say it, that's gonna stress me out. But if I know that, you know what, I have the main ideas of what I want to what I want to speak about. 
But if we don't talk about that, I know that we're going to be in a great flow state, and it's just gonna go where it needs to go. I'm just going to allow whatever needs to come through, just to come through me. And I've learned how to train my body and my nervous system to allow that to happen. Because if you don't train yourself to step into uncertainty, and to believe in this, again, the skills that you've you've had in the past, the experiences that you've had, the way that you've been able to show up and deal with uncertainty in the past, we've all done it. Right. 
We wouldn't be here today, if we didn't. We've all had experiences where we've mastered going through uncertainty. We don't have to stress ourselves out over it. And so really getting our using our body in the right way and not allowing that nervousness or that anxiety or any other fear or self doubt or chatter in the back of our brains to control control it right. 
So you want to have rituals You want to have triggers that will help bring out this confident or faith state in yourself. So one of the things that I like to do is I use music, it's one of the fastest ways for me, again, it's just to move my body, it's just to feel something that's outside of myself. So that way, I don't have to listen to any of the negative mental chatter.
Samantha (25:22):
Mm hmm.
Joanna (25:23):
So using music working out, you know, going for a walk, or having a photo that you look at, or spending time with someone that you love, create a ritual for you. And if again, if you look at any of these athletes, or entertainers, they all have some ritual before they step out onto that stage. And the stage could be, you know, whatever sport they're, they're in. 
But they have a ritual that they go through. And they usually go internal. And what they're doing in that moment, is they're focusing their thoughts. And they're envisioning exactly what's going to happen the way that they intend it to happen. And when you do that, that's how you create that flow state and that confidence state, where now, you've already seen all the different scenarios play out and how you're gonna handle them.
Samantha (26:14):
Mm hmm. I love that you use music. With my dance background, I do too. And I have different playlists depending on what state I went to get into. So we actually have in our Spotify, all the different playlists for depending what's going on, to get into, like you said, 
Whatever state that is, that's so cool. Tapping into that confidence. Even more, you know, we're getting to that state. What are some of the rituals? And you did mention a few, but what are some of the rituals that you've seen other people in your world tap into, to show up in this confidence state, because when we're confident, we show up in our best, or at our best, it makes so much difference?
Joanna (27:05):
Yeah. So it's one of the one of the first things you need to do is you need to stand up, and you need to move your body. So one of the poses that I use with my photography clients, I always start off with the same pose. And it's essentially them standing, they put their hands on their hips, they put their feet hip width apart, they stand up nice and tall. And they're basically in that Superman Superwoman pose. And there's a reason I start off with that, because and this is actually this was a psychological study that was done. 
And it's been proven that it works that when you get into one of these power poses, that you start to feel that confident energy start to go through you. And then once you're in that, that physical state, now we can start to think about that time, where you felt unstoppable, where you felt like you knew exactly where you were headed, you knew how you were gonna solve this problem, you knew how you were going to handle it. 
And you just had it done like that. So you put yourself back into that moment. And the fact of the matter is, is you have a reference moment, otherwise, you wouldn't be here doing what you're doing today. So we all have reference moments, and we all pretty much have many of them. Sometimes they get blocked by some of the imposter, right? 
But we all have references for when we've had success, we all have references for when we were just in our flow. And when we just had that confidence when we knew before it even happened, that we were going to get it done. And that result was going to happen. And so using your body, using your focus, and then also using specific phrases, or mantras, sometimes when I feel fear coming on, then I'll just say to myself, I am safe, I am loved, I'm worthy. Whatever it is that I need to hear in that moment. 
And that just starts to calm my nervous system down. And so you're not always going like if you're in a really negative or fearful state. Sometimes you don't want to just go a complete one ad into this high powered, you know, confident kick ass state, sometimes you need to go up a couple of levels first. And neutral is a good point to be as well. So if you if you're in a really bad negative state, and you can get yourself to neutral, that's progress. 
That's success. Because then once you're at neutral, now you can take it another two steps and then you can take it another two steps. But if you can do it all the way by all means go for it right? I mean there that sometimes you can do that as well. But know that again, it's you don't know how it's going to show up. And to be open to however it shows up. But you're always in control of your body. You're always in control of your thoughts, and you're in control of what you're saying to yourself. And so when you can do those three things, now you can get yourself into that confidence state.
Samantha (30:07):
Do you have some sort of practice that helps you build that Bank of evidence of the times that you were confident or the times that you were successful?
Joanna (30:20):
Writing down your successes is definitely helpful. Saving All of your client testimonials, any beautiful messages that you get, it just, you know, any sort of thank yous that your clients are sending, you keep those all in a blank. 
Because there are going to be days when you're going to feel like a fraud or failure, it doesn't mean it's true. It's just how you're feeling in the moment. 
But to be able to open up that little bank, and to read through some of the stories that your clients have have told you and seeing some of the successes that you've had, is one of the fastest ways to truly then appreciate how far you've come.
Samantha (30:59):
I love that so much. I love that. Joanna for people that have been listening, and they want to, they want to really step into this confident person, I believe that you've got a meditation or free audio. Can you tell us about that?
Joanna (31:16):
Yeah, I have a overcoming impostor syndrome training. And so in that training is a minute, five minute, five, six minutes meditation that you can actually keep on your phone. And I recommend listening to it. And it's as if I was right there in the room coaching you basically saying, you know, hey, what's the truth? What's really going on here? Who's the person that you know, you really are? How do you step into it? How do you breathe, and the whole process takes five, six minutes, it doesn't have to take a long time. 
And so you can use it before going into a client call into a sales session before you step out onto a stage or virtual meeting, just to get yourself in the right state. And so that's on my website, we can put a link to it. And so you can download it, you'll have the audio in there. And then I also summarized those questions into like a little PDF or an image that you can keep on your phone as well, because sometimes you can't listen to it. So but just going through the little list and taking yourself through it.
Samantha (32:12):
Of course those The link for that will be in the show notes over at influenced by design podcast.com Joanna, it's been an absolute pleasure chatting with you, I love the way that that you framed this impostor syndrome and confidence up in a way that we can embody these practices to then show up and be the person that we want to be so that we can really step into our unapologetic leadership. If there was one thing that you would love to leave our listeners with today, what would it be?
Joanna (32:42):
The biggest thing at this point is name your imposter. And name, that confident, I kick but wherever I go, personality that you have in you. And then you can actually have a conversation between the two. And you can have that confident personality. So let's say, you know, whatever their name is talks to the other one and says, Hey, you know what, I understand that you're coming up, and you're basically wanting to protect me. 
But I've got this, then you can access that personality on command just by saying the name. And that will you start to associate with that name. By the way, a great example of this is Beyonce, right? She has a Sasha Fierce personality. Right? So when she goes into Sasha Fierce, she knows exactly who she is being. And so we all have this within us as well. So find that personality, give them a name, and then access it on demand whenever you need.
Samantha (33:45):
Love it so much. Joanna, thank you so much for joining me today. It's been an absolute pleasure.
Joanna (33:49):
My pleasure. Thank you.
Samantha Outro (33:51):
Thanks for joining me for this episode of the Influence By Design podcast. If you want more head over to influencebydesignpodcast.com for the show notes and links to today's gifts and sponsors. And if you're looking to connect with other experts who are growing and scaling their business to join us in the coaches, thought leaders, and changemakers community on Facebook, the links are waiting for you over at influencebydesignpodcast.com