Traditional sales process teaches asking question and navigating objections, but, it doesn't encourage depth and a genuine connection. In this episode of Influence By Design, we discuss how to have your customers buy without the hard sell with Annette Lackovic.
Annette is not your conventional business mentor; she's living proof that basic business rules are made to be broken and recreated. She helps clients step into their true brilliance by unlocking their greatest potential, transforming communication skills, and helping businesses thrive financially. 
One of the challenges business owners have is the buyer's resistance to purchasing what they have to offer. But as a general rule, they're not having the in-depth conversations that will ignite their emotions to buy. 
By utilising The Reverse Selling Method, impactful conversations through strategic questions are established. Annette shares how to promote authenticity and move away from the inflexibility of old sales processes by using this framework. 
IN THIS EPISODE YOU'LL DISCOVER:
Annette's journey to discovering her love for sales (02:00)

The Reverse Selling Method – what it is and how to build it (07:49)

The challenges in setting up the sales process (13:30)

The most important rule to remember in follow-ups (18:45)

How to avoid wasted potential and consistently scale your business (27:38)
QUOTES:
"The golden rule in sales and follow-up is the longer you wait, the energy dies." -Annette Lackovic

"Nothing makes you scale faster than hiring someone." -Annette Lackovic

"You and your business have infinite potential." -Annette Lackovic

"The old adage, 'it's faster to do it myself' is one of the biggest beliefs that hold people back." -Samantha Riley 
RESOURCES MENTIONED IN THIS EPISODE:
WHERE TO FIND ANNETTE LACKOVIC

​​SUBSCRIBE & REVIEW THE INFLUENCE BY DESIGN PODCAST 
Thanks for tuning in to this episode of the Influence By Design podcast. If the information in any of our conversations and interviews has helped you in your business journey, please head over to Apple Podcasts, click the 3 dots in the top right corner of your smartphone screen, follow the show, and leave us an honest review. Your reviews and feedback will not only help us continue to deliver valuable content but will also help us reach even more amazing entrepreneurs just like you!

BOOK AN INFLUENCE AUDIT
If you want to be known as the leader in your industry, book a quick 15-minute Influence Audit.  
We'll work together to identify:
Your current situation and immediate opportunities for growth

Uncover the #1 thing holding you back from not being booked as an industry leader

Develop a 3-step implementation plan to increase your authority and visibility
ABOUT ANNETTE LACKOVIC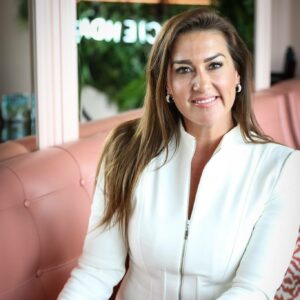 Annette Lackovic is the Founder of the women's business empowerment brand, Herpreneur™, which is renowned for its transformative events. Having built multi-coaching and consulting enterprises, has seen her win 3 Global Women in Business Awards. Today, she is the CEO + Co-founder of the remarkable 'Reverse Selling Method™'.
TRANSCRIPTION (AI Generated)
Annette Lackovic Snippet  00:00
The longer you wait, the energy dies. Sales is around energy, what you do is around energy, how much you make is around energy. And you are building that energy when you are on that call.
Samantha Riley Intro 00:17:
My name is Samantha Riley, and this is the podcast for experts who want to be the unapologetic leader in their industry. We're going to share the latest business growth, marketing, and leadership strategies, as well as discussing how you can use your human design to create success in business and life. Inside and out. It's time to take your influence, income, and impact to the level you know you're capable of. Are you ready to make a bigger difference and scale up? This is the Influence By Design podcast. 
Samantha Riley  00:48
Welcome to today's episode of influence by design. I'm your host, Samantha Riley. And I am so excited to be chatting with our guest today who's the founder of women's business empowerment brand, her printer which is renowned for its transformative events. This amazing lady has built several multi coaching and consulting enterprises. She's won three global Women in Business Awards. She's the CEO and co founder of the remarkable reverse selling method. And I was thinking about how I was going to introduce her and I was I was thinking and I was like, this lady is a firecracker. And then I was like not firecrackers a little. This chick is the bomb. So and welcome to the show. I am so looking forward to chatting with
Annette Lackovic  01:31
you. I love it. I love that firecracker bomb or take it
Samantha Riley  01:38
seriously, you bring so much heart and so much energy into everything you do that, you know, as I was preparing for this interview, I thought we could literally go in a million different directions, and every single one of them would be so valuable. But before we dive in, I'd love you to share, what is it that you're currently doing and a little bit about your journey to where you are because you've been doing this for something like 17 years, right?
Annette Lackovic  02:07
Yeah, I keep saying 17. But I probably need to keep counting along now. aged up to 5884 now. But that was a lot that you said like you know, in any direction that conversation can go. And that's the beauty of us women as well. We just have this ability to map all over our brains. Like there's 62 placements of communication to a man three, like we can talk a leg off a chair. And yet the crazy thing is when a woman has a stroke, she normally will keep talking where it will affect the frontal lobe will affect the male speech because that's where most of the communication store oh my goodness, to get me to where I am today. Oh goodness. I think what I always have loved is to be with people hands down. Everything I've done, I got myself a job when I was 12 years old, didn't realize I needed permission of my mom and my dad to go and get a job. But I suddenly got myself a job at the local market selling clothes, and came home and said hey, I've got a job. I love it and, and went into the fitness industry. And then from there continually just followed the invitations, invitations to speak, to manage to train. And I somehow got Paul into this beautiful world of business. And so I was in the fitness business, training people how to build clubs, and make money in clubs. And not that I ever saw myself as a salesperson, though, what I saw as selling from a very young age was helping people get what they want. In retail when I was 12. The how I got that job was a man actually thought at the markets that I worked there in that clothing shop where I was looking at Jane's for myself and the man asked her for a size 34. So I didn't even know what a size 34 was, but I thought I'll just help him he obviously can't see the tags. So I found the tags and I gave it to him. And then he just said we're in the change rooms. I sort of looked around on one other over there. And the men that worked in the markets saw what I was doing and said did you want a job you? That's
Samantha Riley  04:06
always I love the hair.
Annette Lackovic  04:09
Still to this day selling for me is that in the fitness industry, I helped grow a very struggling health club into a multimillion dollar business in a very short time. I mean under a year, realizing that what I did was connecting people's hopes and dreams and how they wanted to feel in their body and in their skin and in their mind to a membership. So to be able to replicate that into no matter what industry it is. That's what Pete and I do today. My husband with the reverse selling method is how do you get your customer to want to buy so you don't have to sell because let's face it, the most people don't like the hardcore selling we don't like to be sold to in a hard way. We don't like the achiness of an uncomfortable follow up call. Totally you know so it's like how do we make sale So it's easy for you and the customer. And that's really what brings us today. We've what we actually do now,
Samantha Riley  05:06
I love that. So you've got such a varied background, but I love that sort of sales is the the entry point. And then that opens up to so much more. And I think that's so important, because sales is the lifeblood of our business. And there's so many coaches that have got real, a lot of expertise, a lot of heart, a lot of, you know, really love for what they do, and for the people that they work with, but they're so afraid to sell. And I know that with my clients, I always say, you know, people love to buy, but they don't like to be sold to. So, you know, you've got to get out of that thought that, you know, people don't like to buy, because they do. How many of us have gone out if we're not feeling great, and at some point in our lives, bought something because it makes us feel better. Yeah. And I always like to think that that when we when we match the right product with the right person, it makes them feel better. And I'm hearing that this is kind of what you're talking about here.
Annette Lackovic  06:04
Yeah, yeah, is joining those dots is joining the dots from where they are now. Yeah, in whoever your client is, or who really wanted to on board with what your your product does. And it's joining those dots, and it's showing them the dots. And in your right, if we sit in a space when we sell and this is to all the coaches that are listening, you guys are probably already really successful. Though, maybe what's stopping you to get to that next level is your your own bottleneck of your business, you know, you may be too scared to raise your prices, you may be too scared to have somebody else sell for you now. So now you're doing all the selling, and maybe all the coaching and to uplevel. Now to your business again, it's how do you replicate? You are how do you replicate your system? Or what is that bottleneck? Because if you could increase your prices by 20%, tomorrow without your customers giving you objection, would you? And if the answer is yes, then you're scared of getting objections. And you need to be able to work your sales process to go what do I need to do in my own self belief or in my structure to show that value? If you truly believe that you prices up 20% more if you can integrally say I am worth that, but I'm scared to sell at that price. And I've been to this price point for the last however many years, then it's going okay, what do I need to look at? Is it the psychology is my, uh, how I feel? Do I freak out? When I'm gonna go through the prices, the contracts, whatever it might be? Or is it not matching the value to really want to my skin in my sales process? So it's a really good inquiry for that to really help them grow to that next level.
Samantha Riley  07:48
I love that. So can you give us a bit of an overview of what you mean by reverse selling?
Annette Lackovic  07:55
Yes, yeah. And I can imagine that the people that are listening now the audience that's listening, I'm sure. And I hope you do have some really great questions, really great questions that you are in a consultative selling space because you're a coach of some sort, or you've got some type of business where it's service base. And that's what we say the reverse selling method is it's for service based businesses. And the underlying thing is that the reversal in is how do we reduce that buyer's resistance at the very start of the sale? Old school selling was always about build rapport, build rapport, build rapport, that we know now that sometimes that is like a trick just to warm someone up to like us to then be able to go in and you know, sell, but it's like, do you really have a way to connect with your potential prospect, and to be able to reduce that resistance so they can hear you and not have their objections in their head. The reverse selling method also goes through around it depends on the business because we build them as well as we've got a program called convert and convert or convert club, we teach people how to build their own reverse selling method. So we teach them, we help them find their language, we give them the framework, we're not big on heavy scripts, but we give them the framework of the start a conversation, the middle of the conversation, how to transition into the solution and link your solution based on the needs. And that can be between 13 to 25 questions. And those questions. It's not about the question, Samantha, it's about how you ask a question after that customer or that prospect answers it. So if I said to you, what's your number one priority Samantha for wanting to learn? It's just so for you guys wanting to learn, you know, the reverse selling method? Yeah, it's what I say after you your answer. That's important. Because a lot of sales processes teach you ask the question, ask the next question, ask the next question. But there's no depth to it. We want to get the depth and the width. So by the end of it, the customer is saying to you, how do I buy? How much is it? I mean, because they've already made the decision 13 to 25 times before they've seen the price. Love it. If you've only got three questions in your sales process, then the decision making continue on like how many times that person loops around emotional logic, emotion logic, if they've never done it, you know, two or three times, they're not going to feel 100% eager to buy, and they'll give you the objection, or need to think about it. And that objection tells you exactly they're in the logical brain. I want to think about it not I want to feel about it. Uh huh. It's because they normally haven't got enough questions to really ignite that emotion and really get the depth that conversation. So personally method is really about how do we create a real impactful conversation through strategic questions, and building questions around their answers.
Samantha Riley  11:11
What is just absolutely standing out to me with a massive spotlight is that what you're helping people do is to build this framework. So they're actually hearing people. And this is something that I'm really passionate about, I feel that there's so many people in the world that don't feel seen and don't feel heard. And that's why I do what I do. I love that, because I think that everyone should feel valued and seen and heard. And as soon as you're flipping from a script, which is all about us as the business owner, and what our agenda is, and what we're trying to say, and moving it to a framework that you can flow between, and really use that framework to bounce off the prospect that completely changes the dynamics of that conversation.
Annette Lackovic  12:01
Yeah. And you're exactly right, it's the scripts give you in flexibility. And for a lot of women, because we get a lot of women that go through the program. It's they don't feel as authentic. So I've noticed, and this might sound a little bit sexist, but believe me, I love men. And I've got, I've got a son. I do know that boys love a lot of structure. Yes, the structure helps us know, the steps, though, the flexibility is the pure art of authenticity. And what we do is helping them build it through the structure. It's actually the person's own IP. So we actually say with everybody that comes through the program that we have, we say to them, we're building your IP, this is your intellectual property, that how you speak, how you serve, how you fill, and it pulls their intelligence out their national intelligence out that they're not even aware of sometimes. And then they've got their own framework. So when they start to build their business and bring teams on, they're actually really got the culture already, because it comes from that owner that's built it.
Samantha Riley  13:17
I love this so much. What can you share before and I do want to go into that a lot deeper, but I just want to kind of wrap this one up. Thinking about the sales process. What is important in the setup, before we've actually had the conversation? What are some of the problems or the issues or the challenges that you see around how coaches set up the sale? So yeah, before they've actually even had the conversation.
Annette Lackovic  13:49
The more touch points, the easier it is, the more touch points for anything, we run webinars, and we always used to advertise through Facebook, then we moved to LinkedIn for the past year. And it's been incredible. So if anyone does webinars, I'm telling you start running LinkedIn events because the show rate is ours are insane, insane. And so we actually do is because we're doing LinkedIn now there's so many people that don't know who we are. So doesn't matter if it's setting up for a sales appointment, or setting up for a person to show at event. Because let's face it, it's about a 25% show rate. If they don't know you, yeah, it's pretty low. So what we do is we start a bit of like this sell by chat process, so we will see the person register, and then we will just message them Hey, Hey, Sam, as you registered for x y Zed, I've checked out your profile on LinkedIn. Can you tell me just didn't couple of quick blinds you know, what's the actual product that you're selling at the moment that you love? And we will just start a little bit of a conversation. So I kid you not. Our show rate is around 97 to 100% Whoa, do not kid you not that is huge. It's insane. never had before. And this has been happening probably since or I'd say about May June. It's been happening where we're having. It's purely because of the touchpoints that we're building a relationship with them to do from our good friend Tukey more introduced me to this, which is no like trust, how do they know us more like us more and trust us more to even spend their time to show up to a webinar. And that's the same thing for a book sales call, for everyone to call it a discovery call a consultation, a free complimentary session. It's what do you have as a touch point. And the other thing is the language that we use can make it or break it. So we never call anything an appointment. And I think this is really started to come through now mainstream while we started use the word, you know, discovery session and complimentary session. Yeah, we use the word appointment, because that's the logical brain. But we want to make sure if we're confirming it, and this is the last golden nugget. And this is something easy in some everyone can do here is when you're confirming the appointment, very logical words, the word confirming is very serious, right? We want to change that language. So you could either reach out by text message or via email. And it might be it's a change in language, you just say, I'm really looking forward to seeing you tomorrow at time, instead of saying, hey, Samantha, tomorrow is the time that we're doing a one hour discovery call. I can't wait to I can't I can't even get the I'm just confirming your appointment tomorrow for our discovery call. Right? Yeah, that would be what you do not want to do. Yeah, you want to say I can't wait to see you there. Just making sure you know, this is the link. And it's, it's coming from a place of service for them. Because if I'm confirming your appointment, it's about me yes about my diary, I don't want you to stand me up. Instead, we want to flip it. And so we are so excited, I'm so excited to chat to you tomorrow, if you've got a little bit of information about x y Zed. And looking forward to seeing you then at 7pm. Here's the links one more time. So everything's about that language. And that just helps you set up. So you gotta go to show rate, word or unreal, because we're talking about show rates is have a look at your show rates. If you can just if even if you don't work your KPIs. And yet your stats, just look and count the past week and see if you have an 80% show rate. If you don't have an 80% show rate and you're in a service based business. That means you're not doing enough of what Samantha started this conversation with, we're not setting it up well enough. So we got to have more touch points there. Because industry standards for most industries that are service based is about an 80% show rate for a discovery core complimentary session or a sales session.
Samantha Riley  18:11
Love that. And again, this is all coming back to that people want to be seen and heard and valued. That is the crux of everything that we're talking about here. But once you've done the setup, and once you've done the meeting, I would love to hear your thoughts on follow up. I love that. And the reason I want to dive a little bit deeper in this is because there are you know, when there's the rule of school, you should never ever follow anyone up and then you should follow them up till the day they die. Where are you somewhere in there?
Annette Lackovic  18:47
Okay, follow up for a lot of people is the F word. We'll say it's the follow up. The follow up is the F word. But we know the other F word that with a you know, the important thing and this is every sales process is different. And what we actually do is we help to work out if you need a two step sales process, a three step sales process. Some people have a four step salesperson, so you can do it as one style, which means they go from the discovery call or the consultation. And they do the presentation. They ask right there some people if they're a graphic designer, or if it's a lawyer, or if it's somebody that needs to then come out and quote to build something. There's a two step process because they've got to go away, they've got to create it, they've got to come back. So that's important to know. But either way, the most important rule I can tell you with follow up is to make it easy for yourself. Book it in there. And then as soon as you know it's not a definite yes, today. Oh, and I learned Wow. All the way back in the fitness industry days. When I was selling. I would say I don't know how many women a day and there was is a women's only health club and we see women after women after one on one. And then I had to start to write down on the back of their exercise application form just about them. Okay, Samantha blonde here are that's the dancer lady. She loves the car, she went to Adelaide. And I will write things to remember when I do my follow up call, but then I go to do the call. And I haven't told you I'm going to follow you up. Uh huh. So ice have not overcome the objection. You've said, Hey, I'm going to think about it. I'm going to Adelaide next week, we got a few things going. I really can't even commit to anything right now. And I'm just like, oh, okay, yeah, that's fine. Just go and have a think about it. And we can touch base soon, I haven't set anything up. So now it changes the table, which we call, I'm now the chaser and to be haisa is very uncomfortable. Because you feel like you're desperate. So instead, what we need to do is we need to be able to book that in to have the next conversation. And it would go something like this. Let's just say if you said you need to think about it. And it's to say you've got the Grand Prix going on, and you're going to Adelaide, whatever it might be. I go I totally understand. I need to think about things too. When you know, it's a busy time of year Smith, we got Christmas coming up. We've got so much on their plates. Look, how long do you think you need to think about it? Is it a couple of days? Is it a week? And what would you say a week?
Samantha Riley  21:27
Let's go with a week away? Yeah. Okay,
Annette Lackovic  21:29
perfect. Well, how about if we do this? What about if we organise a time to touch base? Again, I'm sure some questions are going to come up in the next week. So whoever you going to talk to or just things now when we've stepped off the phone, there's things you're probably going to think, oh, I should have asked for that. So let's touch base in a week's time. And we can go through all the questions and we can see if it's a big yes. And we can get moving forward and really build your business. Or if it's just in the right time. Yeah. So next week is Thursday. How's Thursday, look for you is the morning good? Or the afternoon? And then alternative choice, you
Samantha Riley  22:01
know, yeah, afternoons better? Yeah, yeah.
Annette Lackovic  22:04
And I'll go okay, beautiful. So afternoon, let's do the same thing. Let's jump on Zoom. Any questions you have? And then we can find out if it's a big juicy. Yes. And we can just get you started. Love it. Yeah. And then it's all open. It's open communication. I just want to find out if it's yes. And then what happens is, the person either one does show up, does have questions. And that's exactly what objections are. objections are just yesterday. And if we look at them differently, it's really just a question to find out more. And then we can re close. Yeah, I love that. It's just you know, it's is taking that pressure away. The golden rule is, with follow up as well is, the longer you wait, the energy dies. Yes, sales is around energy, what you do is around energy, how much you make is around energy. And you are building that energy, when you are on that call that very first call with them, you're building the desire, you're, you're feeling the emotion, they're seeing the value of your business, but they will start to go into more logical brain as time starts to pass. So normally, I will always say how long do you need to think about it is a couple of days? Or, you know, would it be a week? I'm not gonna say Would it be a week or a couple of weeks? Because the week is the maximum? Yeah. The only reason why the pain will stay there is because they're in pain. Yep. Do you know what I mean? So totally, if their business is losing money, or their staff aren't doing this, or if let's just say in fitness, the person who keeps putting on their clothes going, Oh, my God summers coming. I really need to join that gym. I'm still there. So it doesn't matter if it's a week later, two weeks later, the pains really high. Yes. So that's just a couple of rules of thumb. bootcut. While you're on there, offer them when do you want to touch base again? Sometimes you can feel Samantha you can feel it's just an overnight thing. Uh huh. You know, is it tomorrow? Is it just a couple of days and just give them that? That alternative choice just to see how long is their decision making continuum for themselves?
Samantha Riley  24:12
Yeah, totally. And when you book that interview, not interview, when you book that call in with them. She's
Annette Lackovic  24:19
used to interviews because there's
Samantha Riley  24:23
been an interview day today. It's just like interview on the mind. But when you're booking in that, that follow up, are you sending them some sort of like link straight away or an email or a text to say, hey, look, you know, really looking forward to that, make sure it's in your calendar, and are you doing things to also cover the objections or the questions that you've already heard? You know, he's sending case studies and that kind of thing is something is that something that you promote at that time?
Annette Lackovic  24:55
You can do a few different things. If you want to build the know like trust So you can start to put them into a little funnel. So there's strategies that I call keep it warm strategies. Yeah. And it's like how to keep them warm over like, especially if it's a week, you get some people that it needs to be a month, not that you would offer that. But if you know it happens and help people sometimes go away, and you know, it's just not right for a month, there's things that you do want to do, which is, if you see, you might see a book that you think that's going to be great for them. Let's just say if they've talked to you in the middle of that conversation, they've, they've said they want to break a habit. And then suddenly you go, Oh, atomic habits. That's a fantastic book. Hey, Sam, I was thinking of you today and just saw this book atomic habits. Check this out. So you can download it on Audible. It's amazing. I know, you said you want to break the habit of this. And you could just do things that are really thoughtful gifts, ideas. Or you could have a proper strategic funnel set up where it's keeping them warm. is about giving them a little taste as like little golden nuggets about whatever it is your genius zone. Yep. And we call them like little hot tips. So hey, here's the hot tip. You could do definitely testimonials, because that's the invisible sale. They see themselves in other people's stories. Yeah, but I do love just doing that all random stuff as well. Just that little text message or random email. We've got people that build houses and, you know, do renovations, and they do cool things as well. They go, Hey, how's it been in slanders saw this, check this out, and we could use it on your home? Like, Joe does little random things, which are beautiful, random acts of kindness, but in the sales process?
Samantha Riley  26:30
Yes. So good. Now, you have mentioned a lot already around scaling. And one of the things that I know that you've done that a lot of coaches really want to do is get to the point where they're not doing all of their sales or all of their coaching. Yeah, it doesn't matter what the actual job is. But essentially, it's that same thing, how do I replicate myself, and make sure that you know, the culture of the company, my brand, all of the things that I've worked really hard to build? How do I make sure that that stays consistent, and I hand it off to someone else? I would love to hear your thoughts around how you've done this. And some of the things that the listeners and as coaches can start to put into place now to start to think about being able to, to scale and to hand off some of those those jobs to other people.
Annette Lackovic  27:30
Yeah, yeah. First thing I feel everyone needs to hear is that you and your business have infinite potential. And when we are dreaming of scaling, or feeling the pain of doing everything, and knowing that we need people, that we are actually in the place of wasted potential. And what I mean is that you're wasting your fullest potential in what you can really do to grow that business. And you have infinite potential. And if you're able to be able to get your clients results, if you'd be able to grow a business, whatever it is that you're doing. It is replicatable. And everything that you do, and I can't think who said this same first, whatever you do twice, then needs to be turned into a process. You need that process. And nothing makes you scale faster than as soon as you hire someone. Because as soon as you hire someone or your next hire, you will realize what processes you need to get out of your head and onto paper or onto obviously, I'm such a pen and paper chick, but obviously we need it documented. Yeah, and have those methods and systems in place. But I forgotten the question that you asked now because I went on a different a different
Samantha Riley  28:58
know you, you might have forgotten the question, but you've absolutely stayed spot on because it's about how do we replicate ourselves? Yes. And bring other people in and keeping that culture keeping that that brand?
Annette Lackovic  29:10
Yeah, yeah. Yeah, definitely. Definitely the rule. Anything you do twice is worth Prospal. It's got to be a process because it's something that you're doing. And I think anything what's what stops most people from putting a system and process in place is because they're too busy. But what it actually is truly is it's the pain versus the importance. If they say Hey, I am sitting in wasted potential now. This is what's painful. If I can get out of that and move into my infinite potential, and that would create inspired action. Everybody could download their systems and processes because they just go okay, this is what I do. When I sit down with a customer. This is what I do when I take a payment. This is what I do when I set up a contract. This is what I do. When I set up their payment gateway. This is what I do. When we do marketing. This is what I do It's just choosing a category. But as soon as you go, okay, changing the energy of where your focus is, will help flip the switch for you to just easily Downloader.
Samantha Riley  30:10
Totally. And I think that one of the most frustrating things for me to hear. And I'm, I'm absolutely 100% positive that frustrates you too. And I don't need I haven't even asked you this question is when people say it's faster to do it myself. Yeah. And I'm like, Are you kidding me? It might be today. But in five years time, how much time will you have saved? Yeah, I think it is the, you know, that faster to do it myself is one of the the biggest things that holds people back.
Annette Lackovic  30:40
Yeah, it's I continually, continually, daily, weekly, Sam, learn this lesson, and have to remind myself, because it is, for me, I'm a very impatient person, and I'm training myself to not send my fast paced person around like, it's not a badge of honor. I love to get things turned around quite fast. In daily life, my son, I did enable him, He's eight years old, God bless him. I did enable him if I tried to do everything. Yeah. So even with what you're saying, taking it across, in anywhere in life to embrace it, because we've now got, you know, a fairly good sized team. And I do practice every day, and I want to do it. And I think it'd just be easier for me to do by the time I write this in Slack, which is our communication channel, I could have done this, but I'm going to do it and write it because I want to not be the crux of the business. And it's the same with my son, it's like, I will be not empowering him, I will not be enabling him. If I clean his room, believe me, I'm a clean freak. I have a cleaner come in every Thursday. And I say to him, I used to go in and clean all his bed up and everything. And you know, I've got to look beautiful in the morning and you know, be on podcast shows and do. And I thought this is not helping me. Yeah, and this is something that needs his responsibility. So even in life, even in life with what you're saying, it's like, how often are we doing it? Because really, in the long run, we want someone to do that. Got to be patient, bite our top lip or bottom lip, and just go through the grit. Yeah.
Samantha Riley  32:27
But in that, I think that, you know, if we were going to unpack that further, it is faster for us to do it the first time. But there's a couple of things at play. Number one, it takes practice to learn how to delegate faster and is slower the first few times you do it until you get used to, you know, what is the information that I need to make sure that I get across. But second in what you were saying there is we also want our team to be empowered. So by us actually delegating a task once, it may mean that it empowers them to create a new system. That certainly happens for us. So in our team, it does, doesn't it right in our team, we don't want to be the ones and I've worked with my husband too. We don't want to be the ones creating the systems. But our business is very systemized. I've got a background from McDonald's. That's the you know, that's where the system that's where the systems like huge. So we've created, you know, a system within our team to create the systems as they come in. If there's something that comes through, we are just share this quick story. We had a client that we onboard just last week, and he said, This is all really great. But what I would really like is this service, this service this service as well. And I just went yeah, we can do that anyway, are you know, and the team afterwards said to me, you said what? You know what I was on the phone with him Monday by Thursday, it was systemized, we are now able to take on more clients with that same service, because our team knows how to create a system quickly and what it means for that system. And you build that
Annette Lackovic  34:07
muscle Correct. Yeah, absolutely. Muscle. And the other thing is when we delegate, it's always sit in the place of your staff, staff members, your team, whatever you want to call them, they do not want to fail. They actually love being handed something new. And they actually want to do their best to not failed, correct. And it builds their strength. Like you said they might not do a great the first time. But they will build that muscle to get it better and better. And I love that you're saying that those systems and this is exactly like, gosh, my VA is in the background. They're incredible. They've got the strength that I don't have. Yeah, they do this they do that via Zapier is their best friend. I hear that name every day is never going to integrate this. And I'm like I love you guys so much.
Samantha Riley  34:56
Yeah, exactly. Exactly. Yeah. Yeah, I love that so much. Look, I have absolutely loved chatting with you in it for people that have listened to this and just like I have to stay connected with a net how can people find you stay connected and learn more about you know what it is that you're doing?
Annette Lackovic  35:15
Yeah sure look where I'm very active at the moment is the her printer podcast show. So go check that out. Go subscribe and come join me do it every fortnight at the moment ladies because I've got enough going on and I was saying to Sam look fortnight's where it is at the moment. This is where it's still fun for me. And I'm very active on Instagram as well which is net underscore lack of itch. And it sounds like it's a hate viic hatred. It's viic like a Veeck is how it looks like it sounds. But come hang out with me there ladies. And let's just get to know each other a bit more do a lot of inspirational posts around female entrepreneurs or if you're a woman in business, I think you'd love my Instagram page and love the printer podcast show.
Samantha Riley  35:57
Low I can honestly say the podcast is fantastic. I absolutely love listening to the podcast. So definitely go and take a listen we will pop all these links over at influenced by design podcast.com So that you can head on over there at just one click of the button. I used to say the mouse but now we do have the kids with just our finger just showing my age. And it has been an absolute pleasure chatting with you today. And thank you for coming and sharing your genius with
Annette Lackovic  36:25
Thanks so much, Samantha it's been great to be on the show.
Samantha Outro 36:29
Thanks for joining me for this episode of the Influence By Design podcast. If you want more head over to influencebydesignpodcast.com for the show notes and links to today's gifts and sponsors. And if you're looking to connect with other experts who are growing and scaling their business to join us in the coaches, thought leaders, and changemakers community on Facebook, the links are waiting for you over at influencebydesignpodcast.com