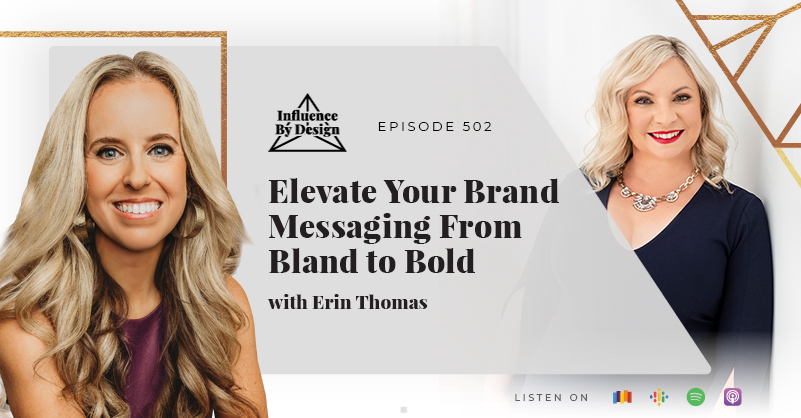 Good personal branding incorporates quality messaging and content that gets the attention audience. However, as busy business owners, it's so much easier to produce content that's plain vanilla, or simply put, boring. So how can you spice things up and transform your brand messaging?
In this episode of Influence by Design, we have the acclaimed professional writer, sought-after storyteller, and creative messaging consultant Erin Thomas to speak about how to elevate your brand messaging from bland to bold.
Being able to tell stories holds great value in amplifying your business branding but you need to choose the stories that connect with the right audience. The unique combination of scroll-stopping content and stories that showcase how you transform lives and businesses will truly resonate with your target market. 
Discover how you can create content that lands and uses compelling messages that impact your reach, sales, and leadership.
IN THIS EPISODE YOU'LL DISCOVER:
Messaging that stops prospects in their tracks – where do you start? (01:43)

The two main goals of quality messaging (04:13)

Using authenticity in your messaging – how deep do you go? (05:28)

The impact of a well-written bio and how you can create one for yourself (07:25)

The importance of revisiting and revising your purpose and values in your brand messaging (11:00)

How to turn your content from bland to bold (13:25)

Understanding what stories to tell and why your need to share them (15:57)

The power of

deeply

knowing your audience (22:03)

How stories enhance connection with your audience (26:07)

The effect on Erin's business when she fully embraced her unique Human Design (27:45)

Learning to trust intuition before making decisions (36:10)
QUOTES:
"The key to messaging is thinking outside the box; you want someone to feel something, rather than nothing." -Erin Thomas

"Your people are not just buying what you're selling, they're buying the experience of working with you and the years you've spent being able to do what you do. You want to convey the transformation that happens when they're working with you." -Erin Thomas

"Breathe more of your unique qualities and your uniqueness into your stories and your content." -Samantha Riley 

"Do more of what you love because that's what energetically attracts people to you." -Samantha Riley
RESOURCES
Weekly Free List of the Top Speaking and PR Opportunities
WHERE TO FIND ERIN THOMAS

​​SUBSCRIBE & REVIEW THE INFLUENCE BY DESIGN PODCAST 
Thanks for tuning in to this episode of the Influence By Design podcast. If the information in any of our conversations and interviews has helped you in your business journey, please head over to Apple Podcasts, click the 3 dots in the top right corner of your smartphone screen, follow the show, and leave us an honest review. Your reviews and feedback will not only help us continue to deliver valuable content but will also help us reach even more amazing entrepreneurs just like you!

BOOK AN INFLUENCE AUDIT
If you want to be known as the leader in your industry, book a quick 15-minute Influence Audit.  
We'll work together to identify:
Your current situation and immediate opportunities for growth
Uncover the #1 thing holding you back from not being booked as an industry leader
Develop a 3-step implementation plan to increase your authority and visibility
ABOUT ERIN THOMAS
Erin Thomas is the owner of Erin Thomas Communications and the co-founder of The Whitter Group, known for its acclaimed STAR Speaker Experience. She works with speakers, business leaders and service professionals around the world to get them visible, credible and profitable using powerfully-aligned messaging, public speaking and PR. As a writer and messaging strategist, her passion is helping people harness the incredible power of language to have the impact, influence and income they desire. She is currently looking to connect with individuals launching or growing their speaker brands, as well as folks ready to create bold, scroll-stopping content that not only gets them the results they deserve, but feels good, too. A Charleston, SC, native, Erin is currently enjoying that expat/travel life for the third time in Europe with her husband, daughter, two dogs and two cats that think they own the place. (They're probably right.)
TRANSCRIPTION (AI Generated)
Erin Thomas Snippet (00:00):
Our messaging doesn't matter to us. Our people are not just buying what we're selling. They're buying the experience of working with us. They're buying the years we've spent being able to do what we do. We want to convey that transformation that happens when working with us. I think that's bold comes when we give ourselves the permission to connect with them on that next level.
Samantha Riley Intro 00:17:
Welcome to the Influence By Design Podcast. I'm Samantha Riley, authority positioning strategist for coaches and experts. If you're ready to build a business that gives you more than just a caffeine addiction, and you dream of making more money, having more time, and having the freedom to be living your best life, then you're in the right place, it's time to level up. 
Welcome to today's episode of Influence By Design, I'm your host Samantha Riley.
 And today we're talking about messaging. Now, this is one of my favorite topics. One off, we all know that I've got lots of favorite topics, but definitely one of my favorites, because I know that this is the difference between you having a business that's not making money, and a business that is turning a lot of profit or bringing in a lot of profit. And I know you agree with me, Erin, my guest today. Welcome to the show. Hi, Erin Thomas, it's fabulous to have you here. Let us know where are you in the world because I'm here at the end of my day getting ready to go to dinner.
Erin Thomas (01:21):
I am in Stuttgart, Germany and Europe. It is 9:15 in the morning, I'm starting my day. It's fresh and exciting for me.
Samantha Riley (01:30):
I'm really looking forward to this conversation, we have definitely got some vibe happening. We are marketing nerds, we are human design nerds. So this is going to be fabulous. Let's start off messaging on your website, you say that you clients create messaging that stops your prospects in their tracks. Tell us what that means. I mean, it sounds pretty obvious, but I'd love you to deep dive into that.
Erin Thomas (01:56):
Yeah, absolutely. So I have been a professional writer and a messaging strategist for the last 20 years. So I have, I've been around the block a few times I've written the waves of trends I've looked at, you know what's working five years ago, that doesn't work this year. 
The key to messaging, in my opinion, is thinking outside the box. It is you want someone to feel something, rather than nothing, you know, when we're scrolling through our feeds, and we see someone's content, and we don't even stop to read it. Or we just think oh, you know, we want to be the person like, Ooh, what is she saying today? What is what's going on in this world today, we want people to stop their scroll. And that means making sure that everyone loves us, we're not going to be everybody's cup of tea, we want to be our right people's cup of tea and the best cup of tea possible. Totally. That's, that's my goal. Love it.
Samantha Riley (02:55):
And, you know, it's that vanilla. And I was talking to a really good friend just a couple of days ago. And we were talking about, you know, having Sass in our content. This came up because I was having actually an energy healing a few weeks ago. And the person that I was working with is like, Sam, like, you're so sassy. We want that to come out more. And I was talking to her. And I said, you know, we all know that we need to breed more of our unique qualities and our uniqueness, if that's a word into our stories and our content. 
But the conversation that I was having with this friend is it's really easy to slowly go down this slippery slope of vanilla and all of a sudden you're like, Oh, God, my own content even bores me. You know, it's a vulnerable show here, but we're all human. And it's very easy to get caught in that. And what I loved about your website is that there wasn't that vanilla. There was definitely the SAS there, I could read through and you know, you can get a feel for who that person is. And I think that's, you know, creating messaging, so that you can get an energetic feeling of who this person is, is what it's all about. Right? 
Erin Thomas (04:13):
I couldn't agree more. I think that infusing ourselves in our messaging is absolutely key for so many reasons. But like you just said one of those main reasons is by the time someone has decided to get on a call with you or decided to work with you. We want them to know a little bit about us we want to already a snapshot of what it might look like to collaborate to partner. 
What's our energy because quality messaging has two main goals one is to attract our people, but the other one that's equally as important is to repel yes the the wrong people. So you know I'm well aware that when people go to my website, there are going to be some that are like an old yes She gets it. She's quirky and fun and out of the box, and that's my thing. Yeah. And there's gonna be some that are like, whoa, whoa, yeah, this is good enough. Yeah, I can't imagine work. And that's fine. That's good. That's what I want. And that's what I try to help my clients understand is that that's, we don't want to be everybody's friend, a friend to many is a friend to none. Yeah, 
Samantha Riley (05:25):
totally, totally. So this is actually, I'm going to say this. And this could be a limiting belief on my behalf. So this will be interesting to see how this plays out. I think that this is harder than it looks to come out with something that is unique, which sounds crazy, right? Because where the, you know, there is only one of us and where this person, but to transfer, what's in our head. And the way that we show up in front of people at a dinner party or having a drink, you know, at brunch on Sunday is a lot harder to transfer into words on a website, or to transfer into a social media post. Do you see this?
Erin Thomas (06:05):
Absolutely. I feel this it is even for those butts who are knee deep in this every day all day, it is absolutely a challenge. We all have some limiting beliefs and baggage that we come with. We're also in this age of, and we have access to everything. So it's much harder today than it might have been, you know, in the dawn of advertising in the 60s 70s. Madmen era, when you know, there was only print media and some television media. So a lot of things could be new. 
Now, we are seeing what everyone's doing. The competition is so fierce, the industries are, you know, saturated. And it's really easy to think what can I do that hasn't been done. And I you know, the key there, I think becomes one working through your own mindset stuff to her. But the other piece is just allowing and giving yourself permission to sink into that authenticity. Like you don't need to copy what anyone else is doing. You don't even need to come up with your own way to do that. Come up with your own way period. Just let yourself and give yourself that permission slip to do things the way that feels authentic. Yeah, that feels good. And Juicy. Yeah.
Samantha Riley (07:22):
So where does one start? Just imagine that we're, we're sitting down, you know, to write let's start with a bio, for example, because BIOS can be super boring, you know, welcome to 1973. Yes, this is exactly how you know I've written on my resume BIOS can be tricky to write. And a really hot bio is something that can be a real massive asset to you and open a lot of doors where you could one start when we're trying to unpack what these uniqueness is, and you know, the words and the stories and you know, what we're infusing through?
Erin Thomas (08:03):
Absolutely. And I'll start by saying bios are one of my favorite things to start helping folks get because it is it's often like their business card. It's the first beast a lot of people want, you know, when you search for someone on the internet, LinkedIn is always going to be in the top three. So it's very important that your about page which is your bio, be right, you know, like it's your first touch with people. 
So the first thing I always start with is that foundational level before we start writing, before we start doing anything, we have to get clear. We have to get really deep dive into who you are, as in your life and in your business. What is your message? What are you doing? Why are you doing it? What is your North Star, we talk a lot about North Stars. If your Northstar is to hit, you know 200k This year, that is not a North Star. That is a piece of the North Star but but we need to go deeper. 
So let's start and work back from there. Let's zero in and get very clear on your talking points on your brand foundation. Some folks aren't even clear on their brand Foundation, which is core values, mission and vision statements, their brand tone, the voice, these are the things before we can write a bio, we have to be very clear on that sort of thing because then your bio can be written from that place. If you need your bio, it needs to sound like your brand and I'll hear from people oh it's not really my personal brand. I just want to do my business right? This is Oh my goodness
Samantha Riley (09:47):
Fact.
Erin Thomas (09:51):
All have a personal brand. Whether you want to or not, doesn't matter if you're Steve Jobs or not, you know, we all knew Steve jobs as well as we know, Apple, there are too and whether or not you want to admit that you have a personal brand, it is up to you to control the narrative. Otherwise, people are going to do it for you.
Samantha Riley (10:11):
Yeah, 100% 100%. And if you're listening to this, and you've missed that, please rewind 30 seconds, listen to that, because this is how important it's the
Erin Thomas (10:22):
heart, I believe, of messaging. And, and I know, we can maybe talk about that in a minute, but the personal brand, and it starts with your bio, because again, it's people's first connection with you often. So the vibe for your business should be similar to the vibe you want in your own brand. Otherwise, you've got these two, you're driving down two lanes that aren't crossing. And that's what we want to do with messaging is bring them close together so that they can interweave and feel good.
Samantha Riley (10:51):
Yeah, I like love that so much. You talked about the North Star there. And you talked about value and vision and mission? How important is it to know what it is? That is why you do what you do before you even start writing this, even if it's not in your bio, is that something that you feel is important? And that will help create that? Or at that point? Is that not so important?
Erin Thomas (11:16):
Yes or no? So I believe it's important to entirely be doing that work to figure out your why to your Northstar, your mission and vision. Does that need to be in your bio? Absolutely not. But it often will inform the language that we use, because we will have very specific goals. Your bio is not just a rehash of your resume, a lot of people come in and it lists out all their qualifications and all of their schooling, and all of their experience. And that's great. And maybe we can pepper in some of that we absolutely will. 
But that's not what people are looking for. You're looking to know like and trust you. So to do that, we have to get clear on Northstar mission vision stuff. That being said, a lot of folks, I think, believe that once they set these, that's it. I have my Northstar, I have my mission statement, I have my vision. That is not how these things work. These things are meant to be revisited. Revised, evolved, because we are humans. 
That's what we do you you know, with our as we evolve, our businesses evolve, our goals evolve our visions, all of this. So we have to keep revisiting it, which is why our messaging evolves. Yeah. And why we need to update because, you know, I know when I started my business 20 years ago, I have way different goals now. But those goals that I had then got me to this point, and I'm very thankful for that. Yeah, so revisiting and revising as many times as necessary. Okay.
Samantha Riley (12:55):
Love it. Love it, love it. Now, you know, we've talked about the bio a little bit, I thought that was a really great place to start. Because I feel like when you can nail your bio, and start to think about things that are important to you, or the tone that you want, or, you know, setting that vibe, that it's almost a little bit helpful to start creating things that are bigger social media posts, home pages, or websites. They're just like, Oh, they're huge. Should you talk about turning content from bland to bold? What is some of the necessary things that we need to think about when we're starting to, you know, think about what it is that we are bringing to the table? That is bold?
Erin Thomas (13:42):
Absolutely. So the biggest perspective shift that I like to talk about is switching it from us to, to them, our audience, our clients, our target market, storytelling is key. But when we only tell like it affects us, we miss the opportunity to connect. So I think the key to turning from bland to bold is to flip the script. How does this connect with them? How does this impact them? What value does this ad for my people? What can I provide to them? 
That will inspire, motivate, educate, and how can I do it? How can I speak to them in a language that resonates? You know, because it's, we're not selling? Does our messaging doesn't matter to us. People are not just buying what we're selling. They're buying the experience of working with us. They're buying the years we've spent being able to do what we do. Yeah, we want to convey that transformation that happens when working with us. I think that's bold comes when we give ourselves the permission to connect with them on that next level.
Samantha Riley (14:56):
Yeah, I love that storytelling. I find really An interesting topic. And the reason is, is that a lot of people find it really tricky to understand which stories to tell. And you're talking about flipping the script. And that's just adding another layer of complexity when you're already confused of what story to tell. What I hear often is, are, you know, I haven't been on drugs, I haven't been to jail, I haven't been homeless and lived in my car. I don't really have a story. 
Because, you know, we're often thinking that it's these big bold stories to tell. And I, I've found that a lot of people I work with almost hate No, I don't know that afraid is the right word. But they're a little bit timid to share, because they're like, Oh, who am I to tell a story? I've lived a really good life. And my parents loved me. And, you know, I've got amazing kids. And I've got a beautiful house. I haven't, you know, been sleeping in someone else's basement. How can we start to understand what stories to tell? And why? Because I think that's what you were talking about. They're flipping the script. But why are we telling the stories because we're not serving ourselves racked up that I was so sorry, I just realized how much I dumped on you. Then.
Erin Thomas (16:13):
I could talk for an hour about this. This is my my nerdy I love storytelling is my heart. And there's so much juiciness to dive into here. So one, we all have a story to say we were just talking about personal brands, we all have a story, lots of stories to it's important to remember that. Yes, those stories of childhood with or drug abuse or homeless. 
Those are incredible stories and motivational, inspirational stories. And the fact remains that the vast majority of people do not have those stories. So the people we are talking to are not necessarily looking for those stories. What we do have, you know, and yes, it's cliche, there's no, you know, we are the only us you know, we that's our superpower, everyone says that, but the thing remains that, let's say, I decide I want to learn to play golf, I am not going to go look for Tiger Woods to be my instructor, right? I am going to look for the local golf pro that has good reviews. In other words, I don't need the best of the best of the best, I need someone who is better than me, I need someone who is further down the road than me. 
So that's what I really encourage clients when they say, Well, I'm not I don't have the stories, or I'm not the, you know, I'm not well known that the Jeff Bezos of Amazon or whatever people aren't looking for that they're looking for you as the authority in your space. And that's the stories that you need to be sharing, establishing yourself as an industry leader, as a thought leader as the authority. So it takes off a lot of the pressure because we all feel like Well, man, there's someone doing it better. The same way when we were in elementary school, and we're like, oh, she's prettier, he's better at basketball. And there's always going to be someone better and further in the
Samantha Riley (18:11):
rear is just about the site. But there is people that are better. Let's just move on from that.
Erin Thomas (18:16):
Yeah, so we just have to let that go and sink into our own zones of genius and our own stories. Because chances are, you have stories that everyone is going to benefit from because we've all been in similar situations. The key is tying it to your audience and how you can use it as education for them. I'll use an example. So last week, my business partner and I spent a week in Italy, we did our annual meeting down there. And
Samantha Riley (18:46):
as you do what as we did,
Erin Thomas (18:48):
yeah, living in Europe, I love this. What we did though, is use ourselves as examples. We shared our adventures on social media on LinkedIn, we did a newsletter around it. And were we talking about work? No, we were inviting people in to us, gorging on pasta and strolling the canals eating gelato, and sitting in our Airbnb table working on work. And, but at the end, the story was we started sharing about our email list went up by hundreds of people. We got more views. Our social media audiences grew by over 400 people. We got 200 New LinkedIn newsletter subscribers, we got media pickups in excess of 300. 
These numbers confirm the importance of storytelling. Because our people want to know us. They want to trust us. They want to vibe with us. Yes, we got new we I think we came home to 11 new discovery calls booked. Are we When we're talking about messaging, we weren't talking about public speaking. You know, it wasn't about any of that. It was about being authentic. And we were, I mean, some of the days and we were drenched rats, it had rained, we weren't worried about putting on a filter and fixing our hair. And sure rating this this real. Yes, it was going live being like, Hey, you guys. This is what it looks like, this is real life, you know, we're going to find some food. I guess my point is, invite people into to who you are, and what lights you up. And our brand is built around. Freedom. Family, we're both mothers. We're both married. You know, we are building businesses around our lives. Yep. Travel. All of these. We want people who value those things, too. So we talk
Samantha Riley (20:52):
about them. Yes. Yeah, I
Erin Thomas (20:55):
get that part. Like I learned when I was younger, I used to try to not hide, but I didn't want people to think oh, well, she, she has an infinite home. So you know, I would take calls at eight o'clock at night, even if it meant, you know, that wasn't convenient. I'm a mom, you know, daughter's 11. Now, so we're not in that phase. But when I started owning like, this is my story. I'm a mom, I'm a wife. I'm a traveler. I'm an American expat living in Europe. And if that doesn't work for you, that's okay. Changed,
Samantha Riley (21:27):
and all of a sudden, other American expat moms that are going through, you know, different challenges of not being at home and having family being in countries that don't speak their native language that have children that that may be a younger and sleeping, of course, they're going to have that connection.
Erin Thomas (21:45):
Yes. And they can come in, and then they can see, wow, she's doing big things. She's running a successful business. She's making good money, like she's doing the things she wants to do. And living it and doing it on her terms.
Samantha Riley (21:59):
Yeah, yeah.
Erin Thomas (22:00):
That's what I want.
Samantha Riley (22:02):
I love that you're sharing, you know, what's going on in your life. And there was an instance that I saw, and I don't know if you've seen it, also about sharing what is important to you, and what is coming up, there was a tweet put out by a restaurant owner in Ireland this week, that was very controversial or not politically correct. I put it in air quotes, where it was around, you know, there's a very big on social media swell around trans people being able to go to the bathroom of their choosing. 
And he came out and said, in my restaurant, people that are biological males will not be loud in the women's restaurant. So if that's you don't come to my restaurant. Initially, he was a bit like, we've done the right thing. This could be a real big backlash. He has been fully booked since that tweet went out there accused at his restaurant, it has gone off because people were like, a heart. We know that, you know, our children can be safe in the bathroom, this is where we're going to go. He knew who his audience was. They aligned with his beliefs. And he just kind of put it out there. And I thought that that was a great story of really owning your beliefs and what you believe in and being able to share that and the right people being on that journey with you.
Erin Thomas (23:23):
100%. And I think you nailed it on the head that the most important piece of that for me is that he knew his audience. Yeah, he knew. And that takes work, to figure out your audience to do that research to track your analytics to figure out who are your people and to speak directly to them? I think that's key. I'm not saying I agree with his message.
Samantha Riley (23:44):
I'm not I actually have not said which side of the fence I'm on was purely This is the story. Yeah. And yeah,
Erin Thomas (23:51):
that is I think he that the fact that he and I believe in doing that from a messaging and that is a perfect example of what I was saying earlier, a friend to many as a friend to none, he was not so worried about alienating people, he knew very well that that would alienate them. Yeah. And he was confident enough in his knowledge of his base, that he knew that that would be great. So it sounds like that worked out absolutely in his favor. 
That's exactly the deep dive that I like for people to examine using the bio for example, that we were talking about when we start doing that I like for I call it up beyond the bio bullet list and I want you to dump all the beliefs the fun the ugly all of those things here so we can mine it for those types of things.
And some you may be like No, I'm not comfortable sharing that but some like that's the content we're looking for our Yeah, you know, is this you have that you want to share because niching down is the key as we all know, you know entrepreneurs have more you can niche down the But often the more longevity you can have, and people get scared back because they think I don't want to alienate buddy. Yeah, you know, I'm guilty of that too, because everybody needs messaging. Everyone needs a right. But no, when we niched down, and that's what the Irish restaurant door did,
Samantha Riley (25:15):
yeah, yeah. It's about being unapologetic in who you are, as well. And I think that's the beautiful piece when you share stories that are, you know, going back to the storytelling, unapologetically sharing stories about yourself without worrying about other people, even though, you know, going back to what you said about flipping the script, it is about them. So there is a balance there of being unapologetically you, but not making it about you.
Erin Thomas (25:42):
Absolutely. And he was more so letting his people know, this is something that I've decision I've made. This is if it's a safety thing for you, I have addressed it. Absolutely. He met his audience where they were. And I think that's great. Again, the permission slip that he gave himself, revert to be unapologetically him.
Samantha Riley (26:01):
Yeah, yep. Pat, on the back for that, right. What is the missing link that you often see, when people are starting to extract their stories are starting to explore what are the stories we're going to share, and I'm not talking here the stories like we just shared with someone just made a tweet, I'm talking about the stories that were that are really the foundation or stories of our brand?
Erin Thomas (26:25):
Well, I think it's important that everyone, it's it's about human connection, it's always come down to human connection. We can have great offerings, great services, great products. But at the end of the day, our business is about human connection. 
So the stories that we need to be sharing are inviting people to connect with us on a human level. People want to know, how did we get here? What brought us to this point in our life and our business? Why are we so passionate about what we're doing? What Was there an incident that made us passionate? When did we have an aha moment? That this is what I meant to be doing? Yeah, it's letting people peek behind the curtain? Yeah, it's talking about our business in a way that is not robotic, and not what they say, you know, it's letting people see the human behind the business.
Samantha Riley (27:16):
Yeah, you talking about the human aspect, I want to kind of change gears a little bit, because I know that you personally have or use human design in your business, to create your offerings and to create how your business feels to you. And I know that this is a really important piece, because then what happens when you're in alignment is that everything on the other side for your clients is in alignment. And I'd love to know, sort of when it was that you started experimenting with human design, and what you noticed within your business in yourself when you started on your human design journey?
Erin Thomas (27:58):
Absolutely. Well, I guess unconsciously. I started in my early 20s, when I finished my master's degree, and I got the job that I wanted in an ad agency, and it was very prestigious and, and all the things and I was miserable. I hated it. I loathed going to work, I lasted three or three and a half months. And so I started my business at 24. 
So it was that was the first I didn't realize, I just knew that things didn't feel aligned. But I knew that I wasn't like a lot of the people I saw around me, these people that could burn the midnight oil working around the clock, they could stay focused on projects for endless amounts of time. They could crank it out, they you know, it was these words of you know, they were in the trenches. And that was just not me. 
So that I started getting that that restless feeling around that time, you know, human design was still not a real time stream. It wasn't as mainstream. So I would say my late 20s. So would have been, you know, 15 years ago or so 12 or 15 years ago, was when I really started, I read a book. And I was like, oh, and I kind of realized the majority of people were raised as generators, because that's the large number on the most of them.
Samantha Riley (29:21):
70% of us around the world that are generators, and we're here to build things and the industrial revolution is built on that.
Erin Thomas (29:27):
And it's incredible, like, I mean, the energy that you have, and it's amazing. And but it had left me as a projector. That's when I discovered I was a projector it had left me feeling burnout, overwhelmed, but also lacking or lazy at times. Defeated, because like what was it about me? What did I have ADHD? Did I have was this? What was going on?
Samantha Riley (29:56):
You're asking yourself what is wrong with me? Why am I lying? Have the people.
Erin Thomas (30:01):
Yes. And I looked, you know, I even think thought back to, you know, my education and middle school and high school and, and I was different even then. And I had friends by this point and we were all kind of on this journey together discovering Oh, wow, you know, have a reflector friend. I have a manifester friend. Wow. Okay, so this is why we have felt like we were hitting brick walls. 
But this was the the gate opening in terms of my business, because all of a sudden, it was the permission slip, I needed to not run myself ragged not be trying to do launches and pushing it, you know, right to the 12 hour every, you know, yeah, it gave me pause. And by my early 30s, I was structuring, okay, I'm not meant to be working five days a week. 50 weeks, you know, like, this is why Gafford Americans did not work for me.
Samantha Riley (30:56):
Yeah, totally sound go hell we sorry. So knowing that you're a projector, or, you know, learning that you are a projector, how did that then change your business? The way that you structured your days, your weeks, your offers? And was this something that happened quite quickly? Or was there like a, I have to try this and see if it really works for me, like almost a phase where you didn't believe that it could work a different way.
Erin Thomas (31:25):
I'm very fortunate in that it was pretty quick for me, I immediately I mean, I'm the type that once I read the first book, I became a voracious learner, I had to learn all that I could I to this day, I still am learning about my human design and everyone else's. So once I understood it happened pretty quickly, at least the temps to put it in. 
And now it takes time in business to teach your clients how things are going to change to accomplish things differently. But the desire and the implementation happened pretty quick. So the main things that changed for me, were spaciousness. I learned the difference between flexibility and spaciousness. And you know, a lot of us go into business thinking, I just want a flexible schedule. And yes, that's true. But I realized that did not equate to spaciousness in my calendar. Yes, I could be flexible. And I could work in the morning versus the night. But I was still working too much. I did not have room to breathe. I did not have room to do the things that lit you know, sitting on fire. Yeah, yes. 
So I created How can I create spaciousness and my calendar that started looking like, I'm not going to work before this time in the morning, I'm not going to work after this time at night, I'm going to make sure that I have at least one travel per month. But it changed from working five days a week to working four and then to working three, we've at least external I still I still do an internal only one day, but it's not client calls. It's not client work. It's only on my business. Yep. That because what I found was, I was working for everyone else. 
But I didn't have time to work on myself and on my stuff. Because at the end of the day, I was tired. So building in a day that was completely internal. Totally, yeah. And then giving myself the other big thing was, you know, hustle culture, and it's getting better. But over this time, you know, everyone was into the hustle. And that constant looking for work? Well, a key piece of being a projector is waiting for the invitation. Yeah, totally. I quit immediately. The mail I wasn't doing like cold calling, but reaching out and all of that trying to I focused on my message on me putting out what and trusting that it would attract my people. And it did yeah, I quit hustling to find business. And I let it come to me by getting really strategic on what I was talking about. Yeah.
Samantha Riley (34:02):
What I love about this is that a lot of projectors first find out their projectors is they struggle with this waiting for an invitation. And it's almost like this feeling of like, Oh my god. So I've just got to sit back and wait. But in actual fact as a projector, by doing all of the things that you're talking about being your brand, you know, sharing content sharing stories, this is how you get the invitation by being very visible, being very authentic so that people think and go hmm, I really love what Aaron's doing. Let me reach out it is and
Erin Thomas (34:38):
it's I'm not saying it's an easy thing. I still have moments where you know, business has ebbs and flows inevitable You mean you're human Valley this, right when you're in a valley of business, you're like, Oh my God, I need to white knuckle this I need to you know and to have to remind yourself and sometimes when I do fall into that and I find myself doing all the things and I realize I'm very frazzled, I am overwhelmed, I think I'm, I got out of my groove here I need to. And any time I turn back inward, and start focusing on what I'm sharing and trusting the process, things have a way of writing themselves. And I don't think it's coincidence. I think it's
Samantha Riley (35:22):
how it's meant to lay. And that white knuckling that is the same for anyone, you know, where that any type, I should say, cuz as a generator, I noticed the same thing that when I'm doing that, it's like, Oh, stop saying do more of what you love. Because when I have that lit up, notice from whatever I'm doing, that's what energetically attracts people to me. So it's about, you know, we're all human, we have these things. 
But as we're able to experiment that with them, it makes it a lot easier to slip back into what we're meant to be doing a lot quicker to go, I realized what pattern I'm playing here, this isn't serving me, let's change it up. You're a splenic projector, which means that you really are designed to make all your decisions on intuition. Is there something that you found yourself always doing? Or is this something that you've really needed to trust? And you've kind of oiled that machine or, you know, works that muscle over time?
Erin Thomas (36:24):
I have definitely, it is a practice and a learning to trust. I have always had that. I've recognized that now when I look back. But again, the majority of us are we learned to think things through or to talk things through or not to be rash, or don't rush. And so early on, I mean, that was how I did things like even when I would get my I call it a ping, even when I would get a ping, I would think you can't rush into that. 
You can't say you can't just decide way that was a game changer with learning about my human design. Because all of a sudden, I now I trust, like when I get a ping, it's pretty solid. And it works. Good and bad. If I get a vibe from somebody like this is not a good fit. I don't force it anymore. I don't Yeah, try to you know, just because I get an invitation. If it's not right invitation. That doesn't mean I have to take Yes, yes. I think you know, a weird middle ground. Because those of us who are sitting around waiting for the invitation, sometimes it can be easy to be like jump on the invitation. I've got
Samantha Riley (37:31):
an invitation. Yes.
Erin Thomas (37:36):
Yes. And when you get that little vibe, I had a connect call yesterday that I knew during the call, this is not for me. And I told him at the end like that, I'm happy to refer him to someone. But I felt very mature. In that moment, I felt very like oh, look at me. It is being a splenic projector it has taken some getting used to but it's been really powerful in business. And the other piece is it helps me in my messaging. 
Because now I communicate that clearly, I may not call it I am a projector with splenic authority to my clients like the ones that are not human design. But I do believe in boundaries and being very clear. So I can let people know when they can expect to hear from me what days of the week I work. If you message me on a Saturday, you're not going to hear back from me. And I can be very clear because of what I know about myself. And that has been tremendously helpful in how I engage with my clients.
Samantha Riley (38:44):
Yeah, I love that so much. Because when we as business owners or entrepreneurs have the right energy. That's correct for us. And we're living in alignment with that the rest of the world just kind of works. Yeah, falls into place. Yeah, it does. It does. Aaron, I've just loved chatting with you. I feel like we do need out for hours. But we can't because I know that you've got somewhere else to be and my stomach is grumbling in his dinner time. I know that just you know you've coming back to you know, storytelling and building our authority and being authentic. I know that you've got a resource that you are willing to share with our audience around some opportunities. I'd love you to share a little bit around what that is.
Erin Thomas (39:31):
So on our website, the I have to but the website Wittergroupllc.com We have multiple resources available, but my favorite one is you can sign up to get weekly speaking opportunities delivered right to your door, and it's not always just speaking, it can be opportunities to publish, it can be opportunities to contribute to news articles, publications. It's very quick, simple, easy, no stop. rings attach, they just come to your inbox. And you can explore them and sign up. And that, you know, visibility is such a big piece credibility and messaging plays such big roles. So I think that's a very powerful tool to have an absolutely.
Samantha Riley (40:14):
Yeah, thank you so much for offering that. Definitely get on that if you're listening to this episode. As you know, I'm always talking about building your authority. And being the go to leader in your industry and being able to have access to these opportunities is definitely one of the ways that you can do that. So you can get that resource over at influence by design. podcast.com Erin, it's been an absolute pleasure chatting with you today and so much for having me and for staying late in your day to make it happen. I so much. Thank you been an absolute pleasure. 
Thanks for joining me for this episode of the Influence By Design podcast. If you want more head over to influencebydesignpodcast.com for the show notes and links to today's gifts and sponsors. And if you're looking to connect with other experts who are growing and scaling their business to join us in the coaches, thought leaders, and changemakers community on Facebook, the links are waiting for you over at influencebydesignpodcast.com